Solo Travel in Krabi Thailand: Facing Struggles and Emerging Stronger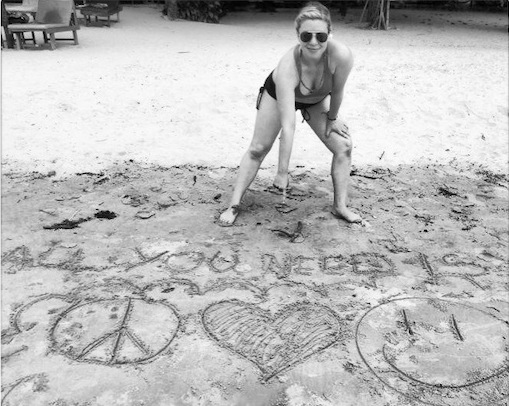 It's interesting to watch myself on the precipice of great change here in Thailand. I have one week until I become my jet-setting self once again. I am flying to Chiang Mai, a city full of possibility, and leaving Krabi, where I feel physically, emotionally, mentally and spiritually stifled. Right now, I'm focused on seeing the light at the end of the tunnel and continuing to breathe through challenging moments when all I want to do is escape. I appreciate that there is a framework behind all of this.
These difficult moments have made me aware of what I think I'm lacking, and what I need to practice more of as a consequence. Adversity builds character, but reminding myself that I don't lack anything and that I have everything I need has proven to be a more powerful statement.
Coming here was part of my path, and I have been experiencing what it feels like to travel alone. Up until one month ago, I had been travelling with friends and shared beautiful, memorable experiences with them. I've always been one to be happy when I'm connecting authentically with others.
Solo Travel in Krabi Thailand: Facing Struggles and Emerging Stronger
Solitude has never really been the name of my game. The bizarre thing is that even when I was with friends (and this has always been the case), I found myself drifting off into my own world, separating myself and having my own individual experience. Introverted. It seems that all of my life I have been craving the experience of travelling alone.
I never really saw myself doing this with anyone else in my vision. I always envied people who had these amazing, life-altering experiences on their own, standing firmly in who they really are, and just growing and living to the fullest in a beautiful, foreign land.
Now I have the honor and privilege of having this opportunity, hanging out with myself day after day for the last month. The only connection I have is with the little kids at my small school and with the Thai teachers for a few short hours. Otherwise, I am on my own with my own thoughts, as there isn't very much to do to distract myself in this small, simple town.
The self-indulgence of my ego with social media only goes so far, as it reinforces the idea that I am missing out and that I am disconnected. I know from practical experience that true contentment comes from connecting (through writing or meditation) with the part of myself that is eternal–the part of myself that lacks nothing.
The part of myself that needs no connection or attention from outside sources. The part of myself that doesn't need to run away, because it's all right here. How many times do I have to prove to myself that I am enough?
These are the lessons, right here, right now.
These are the lessons, right here, right now. This is why I am here, to do this work and figure it out. I am planting the seeds and carving out time (which I have a lot of) to realize that I am love and that I am missing nothing. It's all right here.
Solo Travel in Krabi Thailand: Facing Struggles and Emerging Stronger Related Reading
Solo Travel in Thailand: Out of My Comfort Zone, Part I
Have you traveled to Krabi, Thailand? How was your trip? Email us [email protected] for information about sharing your experience and advice with the Pink Pangea community. We can't wait to hear from you.
Solo Travel in Krabi Thailand: Facing Struggles and Emerging Stronger photo credits: Jodi Marie Smith