How One Woman Prioritizes Travel Over Everything Else: In Conversation With Jackie Laulainen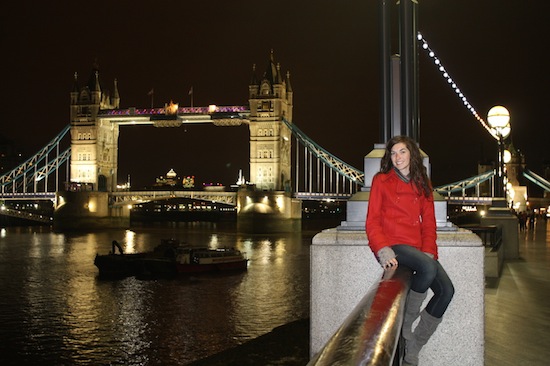 I love listening to podcasts when I run, and I was thrilled to discover The Budget-Minded Traveler by Jackie Laulainen. Jackie is turning 30 this year, and has been to over 35 countries all over the world. But the most amazing part of her story is that she and her husband manage to travel internationally for months at a time each year while making less than a combined salary of $30,000. Not only do they travel on the cheap, but nothing takes priority over their travels.
How One Woman Prioritizes Travel Over Everything Else: In Conversation With Jackie Laulainen
I understand that you became hooked on travel during your study abroad experience in Costa Rica at age 18. What was it about the trip that made you fall in love?

As this trip lasted an academic year, it is hard to pinpoint any one thing that made me fall in love. That being said, I knew from the moment I stepped off the plane that I was meant to be there. I can remember the smell of the tropical, humid air rushing to meet me as if the country itself were giving me a warm welcome hug accompanied by an incredible feeling of comfort of being there for the first time. It was the exhilaration of being on my own in a new place. The entire year followed suit. Everything pointed to yes.
I could say I was enamored with all of it, from the smells and sights, to my host family, the food, the dancing, the soccer fever, the people, the language, the pura vida, and the freedom of exploring a new place. I embraced it all, and it embraced me back. It was just a union meant to be and meant to start me on the journey of my life.
You run a start-up that's focused on travel. How do you manage the balance between work and travel? Do you ever find that your focus on work takes away from your actual travel experiences?
My work that is travel is my passion, if that makes sense. It doesn't feel like work to me, it feels like me being who I was meant to be, and I can't get enough of it. I look forwarding to "working" on my podcast episodes, my blog posts, my research, my networking, and of course, travel. I find it a challenge to keep track of every little thing we do or spend on the road so I can write about it later, but I have always loved a challenge. In fact, I have always struggled in working for other people, but when I'm on my own, things come organically.
I truly appreciate the opportunity to do what I'm doing, and while it does change aspects of the way I travel, I don't think it takes away. In fact, it enhances, because I use what I learn to equip others, and when you are helping others, you feel good about yourself. And it gives me a great excuse to spend hours talking to others about travel, something I LOVE to do!
Lots of long-term travelers set out into the world when they have no attachments, but it looks like you are married and still travel a ton. Is your husband a big traveler too? How flexible is his work when it comes to travel? Before you got married, did you both decide to make traveling a priority? Tell us more!

I was one of those travelers without attachments for six years until it came time for me to have a permanent travel buddy, which I am so thankful for. My husband studied abroad in Australia in college and had been to Europe, so he had at least done some traveling. But when we first started dating, I warned him, in a good way, but I made sure he knew that my life was a roller coaster of travel, and that I wanted him to ride with me. He said yes, and we moved to Italy four months later.
We make travel a priority in our lives in such a way that we refuse to let a job prevent us from doing what we "need" to do. If that looks like moving on to another position, so be it. It always works out, and since we do a great job of saving, prioritizing, and spending little, we have the freedom to make work happen around our travels, rather than the other way around. Listen to episode 2 of my podcast if you want to hear the real details about how we prioritize travel!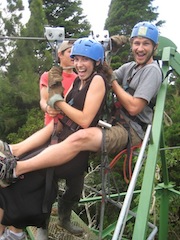 Solo travel vs. traveling with someone else. Which do you prefer and why?

Like I said previously, I'm so thankful to have a permanent travel buddy. I spent plenty of years planning trips on my own, meeting up with friends in different countries, traveling with random travelers (who are almost always amazing people), and then one day I ran into the biggest challenge I've ever faced while traveling, and I was alone.
From that trip on I vowed never to travel on my own again, for several reasons, here are two: One, because when shit hits the fan (can I say that?), you are under pressure all by yourself to get yourself out of a situation, no one is there to give you advice, to suffer with you, or to help you come up with ideas to solve problems. This can be rewarding but at the same time it's incredibly exhausting and can be just about all a person can handle.
The other reason is that I simply prefer to make memories with people so we can reminisce about them later, rather than try to explain things that just have to be personally experienced. I would rather someone else feel the magic with me as I bite into a lava-roasted marshmallow on a volcano in Guatemala, or geek out about the jaw-dropping beauty of the Dolomites in Italy, or be the first ones inside the gates of Machu Picchu when it opens, having the entire ancient scene to ourselves. Things like this have to be experienced, and I love having lifelong travel buddies that will always have these memories with me.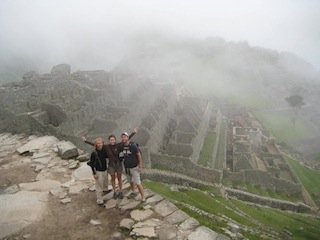 Your business is focused on budget travel and has great tips for everyone. As a woman traveler, have you found that sometimes you need to spend a little extra due to safety concerns? If so, when?

No. Honestly, when I look back, there are times when I could have paid even $5 more and been safer or in a cleaner place to sleep, perhaps a nicer bus, or taken a taxi instead of walking. But the thing is, I didn't. The most important things to keep in mind about safety are to be fully aware of your situation, don't let your guard down, and if you feel unsafe, change your situation because you're always better off safe than sorry. Bad things can happen to even the most prepared women, so your best defense is common sense.
Beyond that you don't have control. There is an entire chapter about safety in my book The Aspiring Traveler's Handbook, so I'm definitely not saying it's something I take lightly. What I'm saying is that it's definitely possible to stick to your budget and stay safe as long as you are smart about it. Make good choices! 😉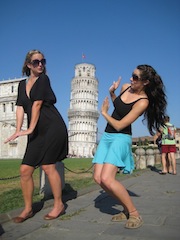 Tell us about the biggest challenge you have faced on the road.

There are so many parts to this story that it just does not fit in a nutshell, but I will do my best.
It's what I referenced in question four, and it happened one month in to a three-month trip in South America because of two rookie mistakes (even though I'd been traveling a lot for five years): one, I lost my yellow International Vaccination card (do not EVER lose this, and if you do, replace it immediately); and two, I missed the memo about a new visa requirement for Bolivia because I depended on my brand new guidebook, which was published literally one month before this requirement was put in place (do not EVER solely depend on a guidebook for visa information, no matter how new the book, always double check on the internet).
I had been living in Brazil and had just taken a 15-hour bus ride to Sao Paolo to catch a flight to Bolivia. I was thinking I'd be able to get myself through any hiccups I was bound to come across, because I was well aware of my problems already. But I was wrong.
Basically (and by basically I'm cutting a LOT out of this story), because of a direct correlation between those two mistakes, mixed in with a lot of fate (there were many signs), I had to completely change plans for the rest of my trip, all in the course of about three hours while stuck in the Sao Paolo airport without access to internet, while racing against the clock to make decisions, cancel flights, and change itineraries, oh, and everything took place in Portuguese. Everything.
How One Woman Prioritizes Travel Over Everything Else: A Conversation With Jackie Laulainen
It was one of the most memorably defining moments of my life. It was the biggest challenge I'd ever faced in a foreign land, not to mention a foreign language that I'd only been speaking for a month. I was alone but not the only one involved in the change of plans, as I had a friend who was leaving the US in two days to meet me in Bolivia, the exact place I couldn't get to.
It was after the hours of back and forth through the airport, decision making, researching, using up calling cards to contact my friend, and all around feeling of helplessness that I vowed never to travel alone again. Like I said, a lot was left out of this nutshell version, but maybe, just maybe you can get a glimpse of the magnitude of this situation and the pressure I was under.
I still to this day have not been to Bolivia, but as a twist of fate would have it, I have been to Hawaii 😉 (I really need to write a blog post about this one).
Budget travel through programs like Workaway and WWOOF can be fantastic. What sort of opportunities exist for parents who want to budget travel with their children?

As I am only a parent to a 100-lb rescue dog, I can't say I have done any research specifically for families traveling with human children. However, I do know that some Workaway hosts are happy to have families with children volunteer for them. You may just have to search a little harder. Families can also check out CouchSurfing.org for opportunities to stay with other people/families for free. There are lots of CouchSurfing members who can host families, many of them have children themselves.
Anything else–travel tip, inspiring quote, etc–you'd like to share with the Pink Pangea community?
I believe in personal discovery, growth, and transformation through travel, because I have experienced it. This is why I encourage others to travel and try to provide them with the tools they need to make it happen. But one thing I find true about most people is that they forget about their own resourcefulness. Traveling internationally breeds resourcefulness, so don't ever doubt your potential to figure things out, make decisions, and make travel happen.
Here is one of my favorite quotes from Mark Twain: "Twenty years from now you will be more disappointed by the things that you didn't do than by the ones you did do. So throw off the bowlines. Sail away from safe harbor. Catch the trade winds in your sails. Explore. Dream. Discover."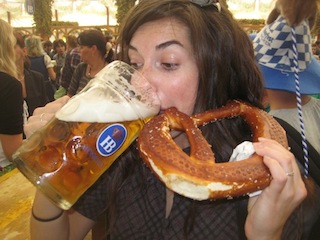 How One Woman Prioritizes Travel Over Everything Else: A Conversation With Jackie Laulainen photos by Jackie Laulainen.