Solo Travel in Thailand: Out of My Comfort Zone, Part III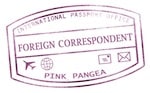 Once I arrived on the dock, a man was waiting for me employed by the Take Advantage of Tourists Tour. He identified me only by the small orange circular sticker the woman had placed on my shoulder after my double payment. He led me to a non-descript van where I nervously sat for a thirty-minute drive to another dock to board the catamaran.
Upon arrival, the van driver exchanged words with the ticket personnel to get my previously purchased boarding pass. After settling everything, I stopped in a convenience store to get a few hangover remedy essentials: a bottle of water, a choco-cherry Taylor Swift endorsed Cornell ice-cream cone and a bag of BBQ chips. I sat nibbling my chips and devouring my frozen treat impatiently waiting for the boat to take me to the island I should have already been enjoying had I avoided early incidents.
Eventually, some backpack-wielding passengers and I were herded down a long picturesque pier before climbing aboard. Shortly after all the cattle and cargo were loaded, we were cruising full-steam ahead through the open water.
The current was incredibly turbulent, resulting in many passengers vomiting into plastic bags or trash cans.
The journey to Koh Phi Phi Don was laborious and quite unpleasant. The current was incredibly turbulent, resulting in many passengers vomiting into plastic bags or trash cans. I opted to leave the air-conditioned cabin for fresh air on the stern's outdoor platform.  Feeling the lingering effects of my hangover, I plopped myself onto the cushioned bench where I laid basking under the warm sun that would present itself in between bouts of thick grey rainy-season clouds. My fleeting relaxation mode was interrupted when a seasick victim barreled over to my tanning bed and began profusely purging over the side of the boat.
This scenario, mixed with the incessant unsteady movement already exacerbating my compounding hangover culminated in me retching alongside him in unison. I suddenly regretted the dairy and BBQ chips combination consumed earlier. Priding myself on my stomach of steel, I tried to play off the whole thing as though I were merely trying to enjoy the view from a better angle.
Nearly two hours later the boat slowed its speed and began drifting towards a small island. As we pulled into the pier alongside the rows of colorful longtails bobbing atop the shallow water, I immediately forgot about my sickness and felt re-energized by the lively atmosphere. I excitedly hopped off the boat relieved to be back on steady ground.
Everything on Koh Phi Phi Don felt so carefree and casual.
Dodging all of the hustlers ready to smooth talk unsuspecting tourists, I began my mission to find a guesthouse I had read about in a travel brochure back in Railay. I curiously walked along the winding road, passing by and peering in at the creative cafes, beach bars and bohemian retail stores while taking mental notes for later.
Everything in the community felt so carefree and casual, exactly what one would expect and hope for after a long trek only accessible by aquatic adventure. I continued walking, periodically stopping to ask a diving instructor or blended drink vendor for directions (and a banana smoothie) before stumbling upon the guesthouse nestled near the road. I booked for two nights and was happy to drop my bags and head for the shower.
The entrance to the shower was a large step up into an oddly assembled antiquated wet room. There was a "window" spanning the entire length of the bathroom wall made of creviced cinderblock exposed to the outside path that passes the guesthouse. I resourcefully made a beach towel curtain using indentations in the surface and an old dirty mirror as hooks to ensure some hygienic privacy. After my quick cold shower, I dressed and began roaming the island.
Solo Travel in Thailand: Out of My Comfort Zone, Part III
My first stop was a sightseeing agency where I was coerced into booking something for the following day involving monkeys and famous movie scenes. Content with my purchase, I wandered the path following signs promising a viewpoint that rounded to meet a set of steps. I maneuvered myself up the stairs, occasionally pausing to take in the pre-view. But, more so to catch my breath.
In fact, I kept climbing until I reached an invitingly peaceful garden decorated with Tiki torches. I followed the signs pointing in the direction of the first viewpoint. As I approached the top, there was only one other woman taking in the impressive landscape. I took a few photos that do not look nearly as stunning on my iPhone as they do in my memory and continued walking up the mountain towards the second viewpoint. The trail to the sequel was much longer and steeper, alluding to a more poignant climax.
The paved path led through a wooded area covered by tall shaded trees before making a sharp turn that opened up into a viewing platform equipped with large rock formations.
Here you could look upon the seemingly small island and endless ocean disappearing beyond the vantage point. Laid before you are two coves symmetrically cutting into the sandy inlet creating a beautiful blue butterfly effect. The large rocks served as seats for the clusters of backpackers who sat silently absorbing and photographing the natural beauty before them.
Solo Travel in Thailand: Out of My Comfort Zone, Part III
I found myself an unoccupied boulder and sat down with my feet dangling over the edge in childlike amusement. I sat in awe of the simple splendor of the world, thinking about how far I have traveled, both physically and mentally in the past five months. In fact, I stayed until dusk, watching the sun set on another day in Asia and thought about my former life.
My friends and family on the other side of the world were just waking up as I sat on a rock overlooking the vast sea span, undergoing a little lesson in humility. As darkness fell, I worried about walking the trail alone at night and decided it best to head back towards civilization. Leaving the cliffs behind me, I sauntered back into the village to prepare for my first night out in the infamous island party scene.
Solo Travel in Thailand: Out of My Comfort Zone, Part III
Related Reading
Solo Travel in Thailand: Out of My Comfort Zone, Part IV
Solo Travel in Thailand: Out of My Comfort Zone, Part V
Have you traveled to Krabi, Thailand? How was your trip? Email us [email protected] for information about sharing your experience and advice with the Pink Pangea community. We can't wait to hear from you.
Solo Travel in Thailand: Facing Struggles and Emerging Stronger photo credits: Jodi Marie Smith