The 5 People You'll Meet in Ecuador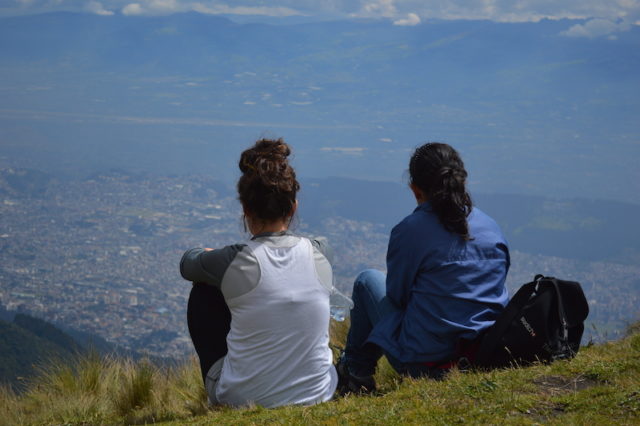 Arriving from frosty New York, I emerged in Quito's arrivals lounge like a creature from a different planet, cocooned tightly in a woolly hat and furry parka jacket, weary and bedraggled, teeth still chattering from the cold I'd bid goodbye to across the Atlantic. This was a world away from the place of sunlight, short sleeves, sandals, and salsa I had just entered, and I looked more prepared for Everest base camp than Ecuador travel.
But far from ostracizing me as a foreign alien who can't dress for the occasion, the first Quiteños I encountered treated me with kindness and generosity, setting the scene for all of my encounters with strangers that followed.
While I meandered through the arrivals gate like a startled rabbit, a security guard spotted me and guessed from my confused expression and searching eyes that I was a non-native (as if the startlingly white skin and extreme winter get-up wasn't enough). He came over, pointed immediately to my stomach, and stood there waiting.
The next day I returned to my door with the parcel waiting for me, and a note attached: "I went to get this for you in case you didn't know where to go. From your door guard." What a guy!
Eventually he reached into his back pocket to pull out a huge chocolate bar with an orange wrapper (which I now know from extensive consumption to be one of the best chocolate and peanut items available on Ecuadorian shelves), handed it to me, and asked enthusiastically, "You hungry? Eat! Welcome to my beautiful country of Ecuador."
That security guard set the precedent for meetings I would have with Ecuadorian strangers throughout Quito. My journey has been littered with sporadic acts of exceptional kindness from many Ecuadorians I have never previously met, such as:
The 5 People You'll Meet in Ecuador
1. My doorman
My doorman always bellows a cheery hola to me when I leave and return from work, accompanied by a flash of his pearly smile and a tip of his blue cap. He is the father of some insanely cute curly-headed children, who play with a ball and giggle on the front steps of my building like they're in a Gap Kids advert. He always holds the huge glass doors open for me when I'm struggling with bags from Supermaxi.
A few days ago, when I missed the delivery of an eagerly anticipated ASOS package, he really raised the bar. My perplexed expression must have been apparent when he handed me the missed delivery slip. I wandered upstairs staring at the lines of extensive Spanish wondering what on earth it said
The next day I returned to my door with the parcel waiting for me, and a note attached: "I went to get this for you in case you didn't know where to go. From your door guard." What a guy!
2. The family of my Quiteño friends
I have been fortunate enough to form a friendship here with some of the kindest siblings, I am sure, on the continent. I once mentioned in passing that I had never tried sugarcane. The next day, the pair arrived at my flat with armfuls of the stuff, after journeying to a special market to purchase it, just so I could have a taste.
And the apples evidently don't fall far from the tree; one of the greatest acts of kindness I have experienced here was from their family during Christmas and New Year. I, away from my own family and friends, was whole-heartedly welcomed into their home on both occasions to celebrate with them Ecuador-style. Their mum made delicious banquets of pork and rice and salad and we all sat and ate together.
Their dad regaled me with funny stories about the family and passed around some very amusing baby albums. On New Year's Eve we drank, ate grapes, and burned the giant año viejo jointly amidst sparklers, dancing, and bonfires. And when I was bid a hearty farewell their dad stated: "¡Mi casa es su casa! You are welcome any time! Any friends of our children are friends of ours!"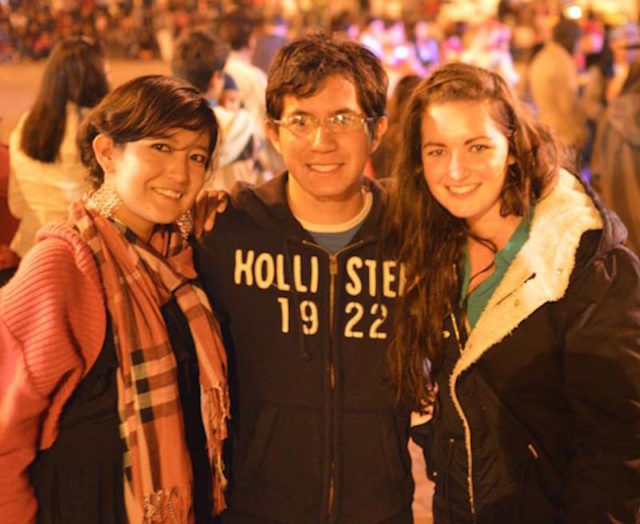 3. Fernando, the security guard
Every morning on my route to the office I am greeted by a cheerful wave from a security guard who, until recently, was nameless and mysterious in his chirpiness. A few weeks ago he gestured me over, shook my hand and announced, "Mucho gusto, amiga. I am Fernando and I am your friend here."
From then on, in the glorious morning sunshine I attempt to use my less-than-satisfactory Spanish skills to have a conversation with him. I've learned that he has five children, a dog named Sammy, and has been to the U.K. twice (I think).
The 5 People You'll Meet in Ecuador.
4. My friend's boss
When my friend's seemingly serious and silent manager discovered we had not yet been to the beautiful Quilotoa lagoon, he immediately and animatedly made plans to take us there with his family. We were loaded with copious amounts of food for the journey by his wife, and chatted with his lovely daughter about South America for the entirety of the picturesque journey.
And he proceeded to spoil us once we arrived: we kayaked on the gorgeous turquoise waters, we ate even more food, and we took the daunting donkey journey back to the top of the caldera — one of my favourite memories from Ecuador!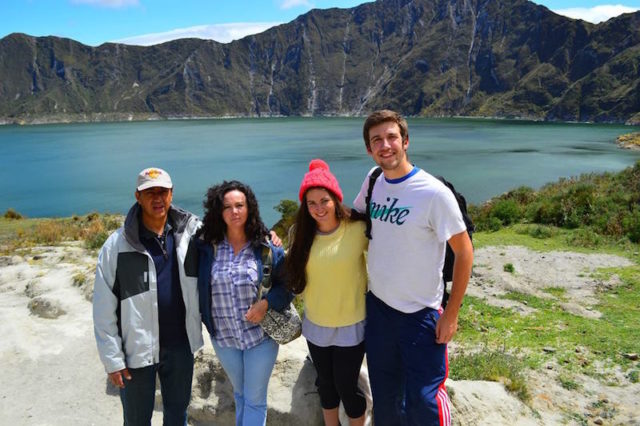 5. The strangers on my first chiva
My first experience socialising with many Quiteño locals was on a musical bus blaring salsa and reggaeton as it sped throughout the city. We danced, we drank, we laughed, and I was schooled in many unrepeatable Spanish phrases to the hearty laughs of everyone around. I even announced on this trip that I would stay in Quito forever, although this was partly fuelled by the wonderfully strong canelazo abundantly flowing all around me.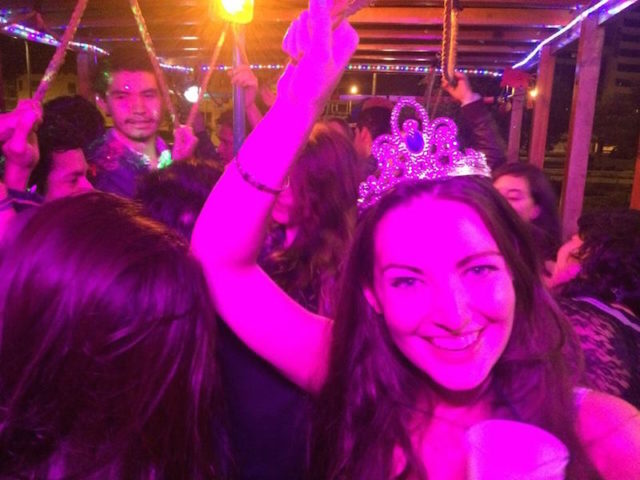 The 5 People You'll Meet in Ecuador
Have you traveled to Ecuador? How was your trip? Email us at [email protected]pinkpangea.com for information about sharing your experience and advice with the Pink Pangea community. We can't wait to hear from you.
The 5 People You'll Meet in Ecuador photo credits: Aine Stott