A Day in the Life of a First-Time Snow Musher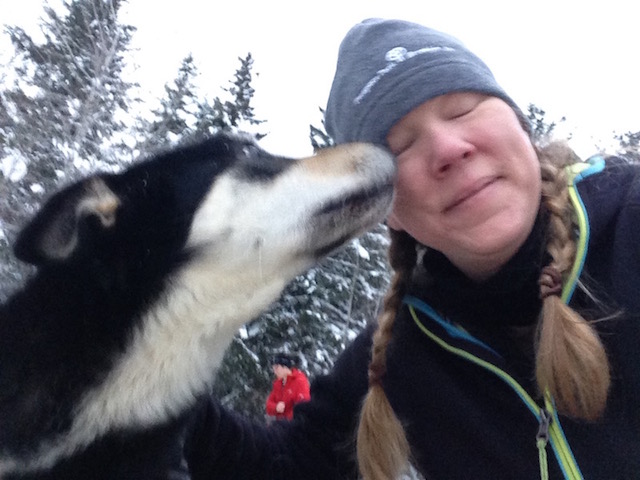 My travel partner, Jen Reiter, and I were excited to visit Nature's Kennel Sled Dog Racing and Adventures for an overnight mushing adventure in Michigan's Upper Peninsula. Jen was the 2014 Teacher on the Trail and we met at the start of the Iditarod last year. After two Alaskan adventures together, we thought we were ready to get on the runners ourselves and take a trip down the trail.
Jen met Tasha and Ed Stielstra, the owners of Nature's Kennel, at the Midwest Sled Dog Symposium for Educators, where she was a presenter. Nature's Kennel is the home to Tasha and Ed, their two children, 160 sled dogs and a stellar group of guides. Both Tasha and Ed are accomplished mushers. Ed is a seven-time Iditarod finisher and they've both won numerous humanitarian awards in races for outstanding dog care.
Whether you plan a half-day, full day, or overnight trip with them, it will be an experience you will never forget and an adventure of a lifetime. For those adventurous spirits who are considering an overnight adventure, here's the play-by-play on what to expect.
A Day in the Life of a First-Time Snow Musher
Friday
1:30pm: We arrived at Pellston Regional Airport, where the local sheriff's office is side-by-side with the car rental counter. We felt like we were taking a step back from life, and it was clear we were not in New York City anymore. We tried to quickly acclimate to the charm and slower pace.
2:30pm: We parked our truck among a fleet of snowmobiles when we stopped in Mackinaw for lunch at the Dixie Saloon. It's a rustic space with solid service and good food, with a great corner view to watch the world go by. Winterfest was that weekend and there was a lot of chatter about the outhouse races as the Dixie Saloon displayed their trophy toilet seat above the bar for winning the previous year.
We passed by the Old Mackinac Lighthouse for a stellar view, and then were off to cross the Mackinac Bridge, the fifth largest suspension bridge in the world.
Dixie Saloon Tip: Pulled Pork and Burgers are the way to go!
4:00pm: We arrived at Chamberlin's Ole Forest Inn as the sun was setting over Lake Manistique, just in time for dinner. The hospitality, the menu, and the setting of this classic inn left me feeling like I was on the set of a well-staged movie.
Chamberlin's Ole Forest Inn Tip: each room has its own story; dinner in the dining room is a social event.
Saturday
9:00am: We arrived at Nature's Kennel early the next morning and were greeted by Iditarod musher Ed Stielstra and team. Yes, we were going to drive our own team of dogs! Lida, our guide, gave us a tutorial on the sled, gear, and dogs, and made sure we were ready to race.
I was first up for the three-mile 'training run' before we went out on our big adventure. As excited as I was, my biggest fear was falling off the sled. It happens to everyone if they run dogs often enough, and soon enough, I found myself in the snow, putting my fear behind me.
Winter Adventure Tip: Pack extra wool socks. If your feet aren't warm and dry, you won't be happy!
1:30pm: After lunch and packing our sleds for camp, we headed out on a 20-mile run. It was bliss. The sound of the snow crunching under the sled, the hum of the dogs' paws, and jingle of the lines were true music. After about three hours and several stops, we arrived at camp. Straw beds and dinner for the dogs was the first order of business and then we settled in around the campfire to cook our dinner.
6:30pm: I thought it was late at night but the clock told me otherwise. We chatted about our time in Alaska and traded stories around the campfire. Finally, warm and cozy in my sleeping bag, it was amazing to fall asleep to the sounds of the dogs howling in the night.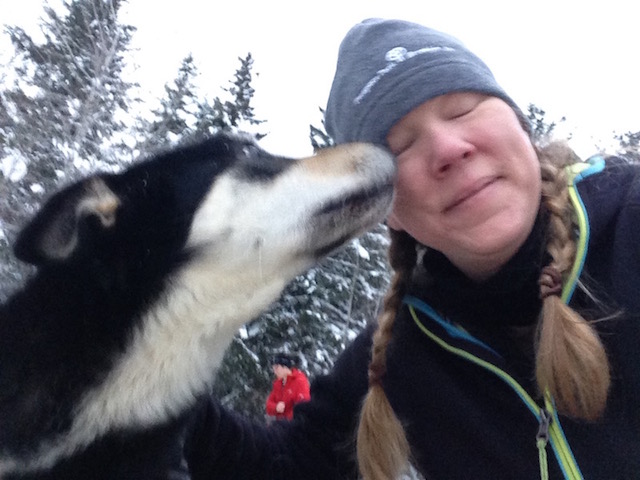 A Day in the Life of a Snow Musher
Sunday
6:30am: After breakfast for both the dogs and people, we mounted up. It was a more challenging run back but we made it to the kennel and unhitched the team, giving lots of love to each of the dogs who had just taken us on this great adventure.
5:00pm: Back at the Inn, we settled in for dinner and watched the bustle on the lake as the ice fishing shanties were dismantled and driven off my snowmobile. Other snowmobilers were coming in from their adventures and there was a harmonious hum as everyone traded stories. We sat back and surveyed the dining room, taking it all in. Though our adventure was coming to an end, we knew we would be back again soon.
Nature's Kennel Tip: You can take a half day/full day or overnight trip depending upon how adventurous you are feeling. Guides are super encouraging and provided great instruction for this first time musher.
A Day in the Life of a Snow Musher
Cold weather adventures are best enjoyed properly geared up. While your own dogsledding trip may take you down a different road, packing these basics will keep you cozy and prepared for whatever adventure comes your way:

Layers
No cotton
Base layer that fits snuggly and wicks moisture
Insulating wool or fleece layer
Outer layer should be wind/waterproof (parka or Anorak)
Wool-lined gloves paired with a waterproof mitten, which will keep your hands warm and cozy
Fleece hat
Waterproof boots with a felt/wool liner, liner socks and wool socks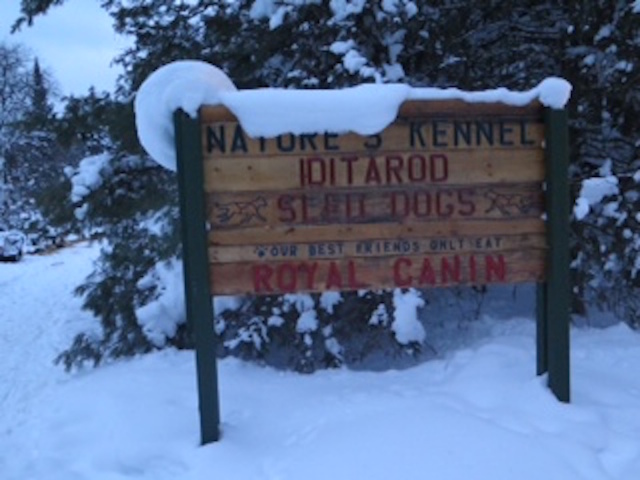 A Day in the Life of a First-Time Snow Musher photo credits: Kerry Quade