Top 10 Things to Do in Lansing Michigan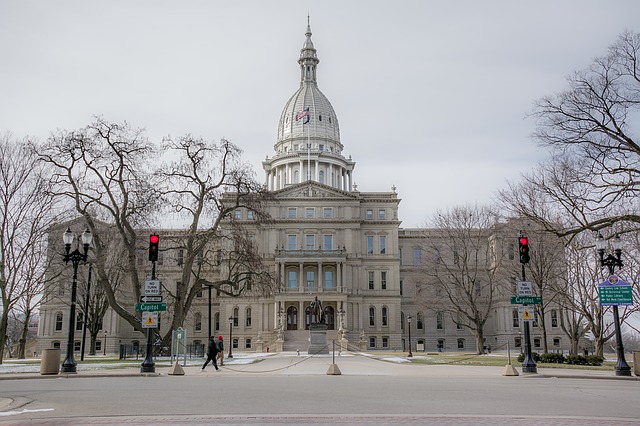 Being a world traveler and a local of Lansing Michigan makes me appreciate what's special about the greater Lansing area. I've explored the region like one of the other 4.8 million annual tourists. Lansing is Michigan's capital and the area has many advantages of the big city, but with all the convenience of a small town. It's the center of state government, home to Michigan State University (MSU), and automotive manufacturing. Here are ten things I enjoy in the greater Lansing area.
Top 10 Things to Do in Lansing Michigan
1. Michigan's State Capital Building
Michigan's state capital is a Victorian-era National Historic Landmark. The architect, Elijah E. Myers, modeled Michigan's capital after that in Washington D.C. Look for all of the special painting effects where inexpensive materials like plaster, pine, and cast iron were painted to look like wood and marble. The rotunda's floor is glass.
TIP: Free guided tours about the building's history and state government inner workings are available Monday through Saturday.
2. Michigan Historical Center and Library
It's striking to see the immense real white pine (Michigan's State Tree) growing inside the building. The exhibits range from military history, architecture, and the industrial revolution (with an emphasis on cars.) The Michigan Historical Center and Library is one of the top five genealogical research facilities in the nation. Be one of the 200,000 annual visitors who come to research their roots.
TIP: On Sundays, admission and parking are free.
3. RE Olds Transportation Museum
I can't talk about Lansing without mentioning cars. The RE Olds Transportation Museum is the only Oldsmobile museum in the world, and focuses on the part Lansing played in transportation, particularly cars. This museum has 60 vehicles built from 1886 through 2003; many are one of a kind.
TIP: Lansing is still a car town and driving is the best way to get around.
4. Turner-Dodge House (Dodge Mansion) & Heritage Center
James and Marion Turner, a Lansing founding family, built this historic mansion in the Classical Revival style in 1858. It features handcrafted oak woodwork, French-leaded glass windows and Ionic columns. The home has five fireplaces and twelve-foot embossed tin ceilings. Its furnishings appear as though the family will return soon. The house is open for self-guided tours.
5. Impression 5 Science Center
This 25,000-square-foot kid-friendly science center makes science understandable and fun for all ages. Impression 5 refers to the five senses used to explore the interactive exhibits. There are over 150 hands-on activities and more than a dozen exhibits.
6. Eli and Edythe Broad Art Museum
On Michigan State University's campus is the 46,000-square-foot Eli and Edythe Broad Art Museum. The building itself, designed by Pritzker Prize-winning architect Zaha Hadid, is a contemporary piece of art with a glass and pleated stainless steel façade. There's also a five-piece outdoor sculpture garden.
Its mission is to explore international contemporary culture, often with forms of video art and technology. The good news and the bad news are — the exhibits are always changing. There is always something new, but your favorite exhibit may be gone next time.
TIP: Admission is free. On Saturdays and Sundays there are free docent tours at 1:00 p.m. and 3:00 p.m. Family Day is the first Saturday of every month; enjoy free hands-on children's art projects.
7. MSU Dairy Store
Michigan State University began as Michigan Agricultural College, so it makes sense there's a dairy processing plant where they make ice cream and cheese on-site from the MSU Dairy Teaching and Research Center's award-winning milk. Find both ice cream and cheese at stores in either the MSU Union or Anthony Hall.
8. National Superconducting Cyclotron Laboratory
If you are interested in nuclear science visit the world's first and biggest superconducting cyclotron. The tour presents nuclear science's goals, a demonstration, and a vault walk-through showing where nuclei are accelerated, filtered, and studied.
TIP: Admission and the 90-minute tour are free, but it's best to register for a tour a month ahead of time.
9. Fireworks Glass Studios
In the suburb of Williamston, stop by the Fireworks Glass Studios and watch the glass blowers, as demonstrations are free. In addition to observing, you can play with fire and molten glass through the paperweight experience. Instead of taking home a pre-made gift, make your own souvenir through this hands-on activity. The glass-making experience offers hands-on fun for the gift-giver, under the supervision of a local artisan and a hand-made personalized gift for the receiver.
TIP: The paperweight needs at least 24 hours in the annealing oven to cool to room temperature before it can travel.
10. Outdoor Activities
Many of the locations listed here are near the Lansing River Trail. Michigan ranks second in the nation for the most trailways, and Lansing contributes more than 13 miles of River Trails, running from downtown Lansing to MSU's campus. Hiking, running, biking or blading are all trail options.
There are also more than 25 golf courses within 30 miles of Lansing. Zagat rated Forest Akers Golf course at MSU as one of the top golf courses in America. Golf Digest listed Hawk Hollow in Bath as one of the Top 100 Greatest Public Golf Courses.
Photo credit for Top 10 Things to Do in Lansing Michigan by Jodi K.