Volunteering in a Maasai Village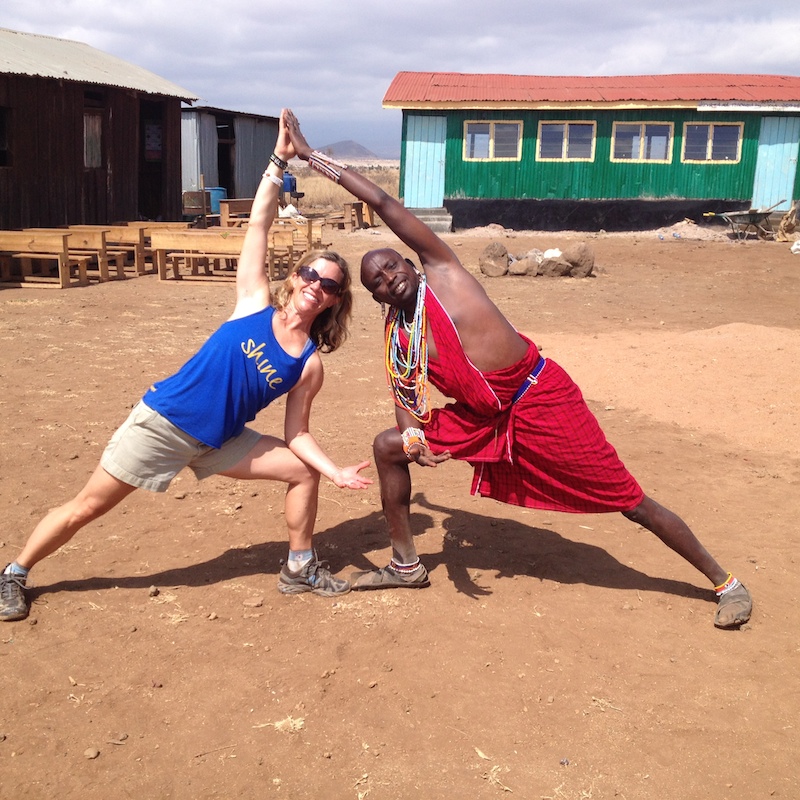 On June 23, 2014 I hopped on a plane headed to Nairobi, Kenya — a Massai Village. Prior to leaving I was scared. Scared of the unknown. At the time I was on a medication–what if my meds got lost or stolen? Would I end up in a Kenyan mental health facility? What would the food be like? What would the people be like? Would I be safe? What if, what if, what if? I knew, though, that despite the fear, I had a purpose.
That purpose was to serve to something much greater than myself. I would be volunteering there with Africa Yoga Project, a non-profit organization, which empowers over 8,000 people a week through yoga, in places such as prisons, orphanages, women's shelters and community centers.
Despite all of my fears, I got on the plane to Nairobi, Kenya, as I knew that was something much bigger out there that I could never anticipate. This wasn't about me. It was about getting myself out of the way so that I could serve others.
At the time I had been a mentor to a young Kenyan for a year and a half and I knew I was going to get to meet him. That anticipation was the drive behind me going.
After a couple of days in Nairobi, a group of nine of us (three Americans, one from Grand Cayman and five Kenyans) went by a safari van to the southwest corner of Kenya on the Kenya/Tanzania border, very close to the base of Mt. Kilimanjaro. I am surprised I survived the road trip. I guess it's okay to pass semis on the right side of the road as well as toward oncoming traffic. Once we were further away from Nairobi, we began to see elephants, giraffes and zebras on the side of the road, as frequently as one might see a deer while driving in the US mountains.
Volunteering in a Maasai Village.
I had no idea of what to expect of our accommodations. I was told I would get dirty and to bring old clothes that I didn't mind soiling. I thought we were going to be camping, but when we pulled into the Sentrim Lodge in Amboseli, I almost fell over. The lodge was amazing. It had a pool, food that was out of this world and we stayed in a luxury tent with running water. The best part of the whole thing was that we had a frog that lived in our toilet, so every time we flushed, the little guy would reappear. I think the resort got tired of my screaming every time frog made an appearance so they relocated him.
The first day we headed out to the Maasai village was one that I will never forget. Dirt roads for miles around. I was so glad our driver, Kenny, knew his way. Driving to and from our work site everyday was like being on a safari–zebras, giraffes, elephants, and many more. I felt like I was living in a scene from The Lion King.
At the time I was on a medication–what if my meds got lost or stolen? Would I end up in a Kenyan mental health facility?
Once we reached our work site, the entire village greeted us. The men and women sang and danced for us. The colors the Maasai wear are unbelievable. Some of the Maasai spoke English and many did not. Smiling is an international language and instantly I felt welcome. After the adults greeted us, we were taken to the school, where the children sang the ABC's. My heart melted and has not been the same since.
Our work assignment for the week was to fix up the elementary school. Over the course of the week we, along with many of the Maasai worked together. We painted the entire outside of the school, which was made out of tin. We lined the inside with plywood, as insulation for the hot days, which then got a great paint job filled with learning tools. The school got new windows and new concrete floors.
I was blown away at how we all came together and worked as one; Americans, Kenyans and the Maasai–all from different tribes and we all came to be together to be of service.
My heart grew while I was in Kenya in ways that I never thought possible. Going to Kenya was one of the best things I ever done in my life. I learned that serving others is actually the very best way to serve oneself. Being committed to something so much bigger than myself opened my heart wide open.
I was told before I went that I would want to go back. Even though I heard that repeatedly, I didn't believe it. Now that I've been, I can't wait to go back. It's already on the books that I will be taking my husband and kids to Kenya summer of 2016. I look forward to the day when my family and I can be of service together.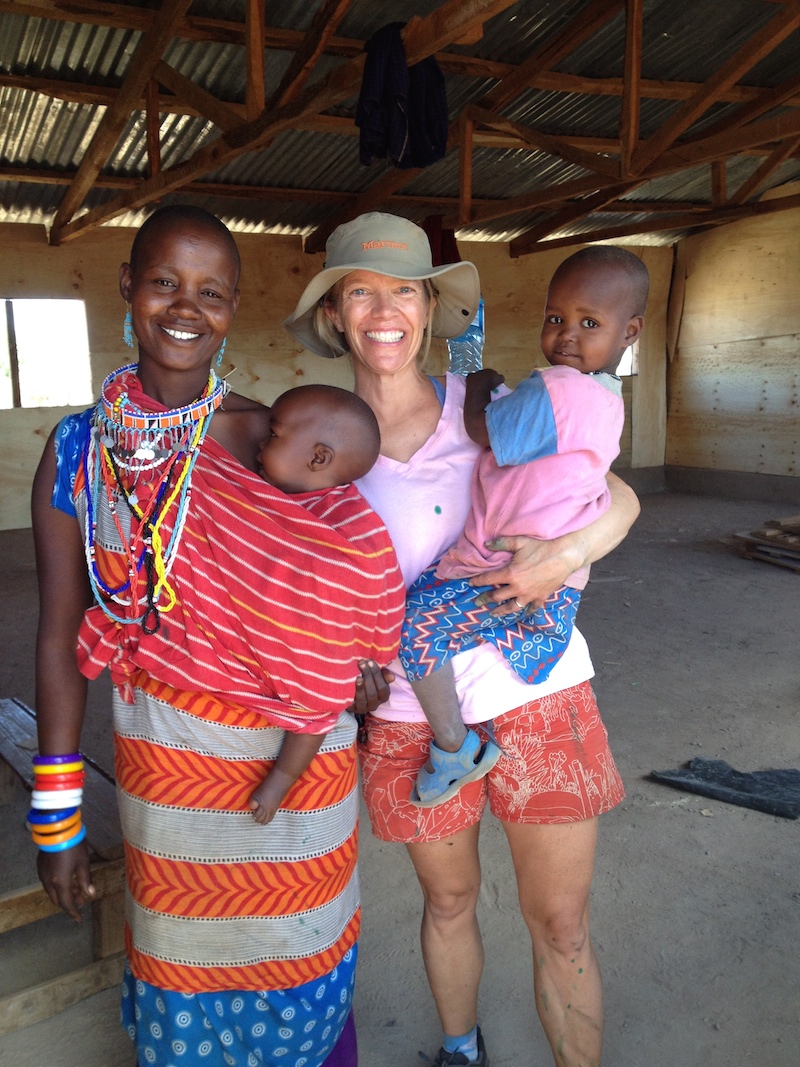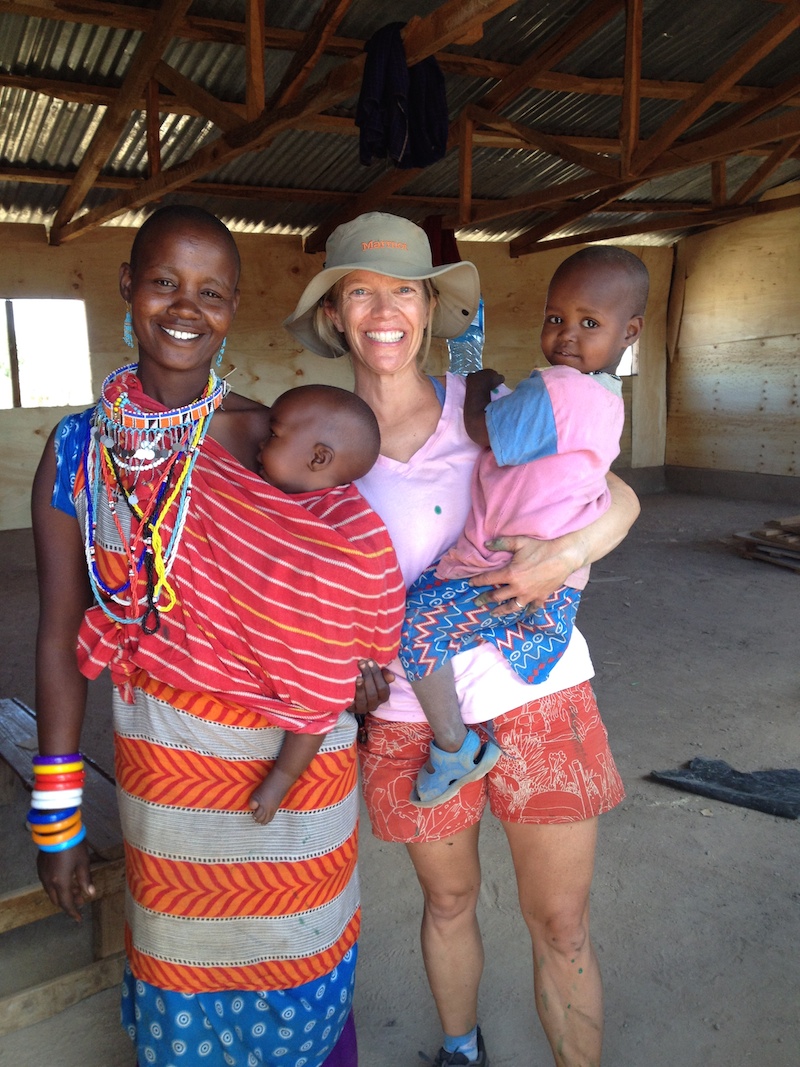 Volunteering in a Maasai Village photos by Julia Kidoo.