Red Room Taipei: Expressing My Creativity in Taiwan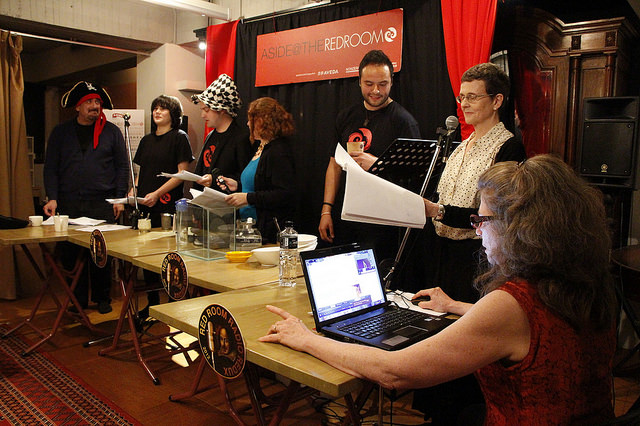 I am an avowed performance geek. I love storytelling, acting in plays, participating in open-mic poetry slams, and watching other people share their talents in music, dance, and art. The arts ground me in a way that is sometimes more powerful than my yoga and meditation practice. For me, performing is in my blood. It's something that I must do. More importantly, I absolutely love being part of a community where I can share ideas, and where I can enjoy the creativity of other artists.
Enter the Red Room.
Buzz for entry and climb the stairs under you reach the room over an Aveda salon in Taipei's Da'an District. You won't find any facials or shampoos; instead, this is where people experience makeovers for the spirit and the creative muses. Red Room was established in 2009 by Ping Chu and Ayesha Mehta. In Mr. Chu's words: "Through quiet hearts and deep listening, in a room filled with immense positive and creative energy, we discover our similarity." In an audience made up of locals and expats, we all come together for the sheer enjoyment of being together and sharing our art with one another.
Red Room brought me back to my roots, nurturing my love of drama, music, art, and sharing with others.
I discovered Red Room through one of my Western co-workers, who was active in the theatre scene. As I was dealing with depression and brutal hours at work and a hard commute, I had no time left for myself to devote to my own creativity. But for one Saturday night a month at their Stage Time and Wine event, I was able to kick back for a couple of hours, make new friends from all over the world, drink some wine from all-natural bamboo mugs, enjoy the creativity around me, and get up on the stage myself.
During the Christmas season, I exposed the audience to American Sign Language as I signed Amy Grant's "Breath of Heaven." Other performers have exposed me to ancient Chinese instruments, like the moon guitar, as well as Chinese puppetry, belly dancing, burlesque, beautiful music, and spoken word. At the last event, I saw these amazing young singers perform aboriginal Taiwanese music. What an opportunity to share an aspect of Taiwanese culture that remains unknown to most of us!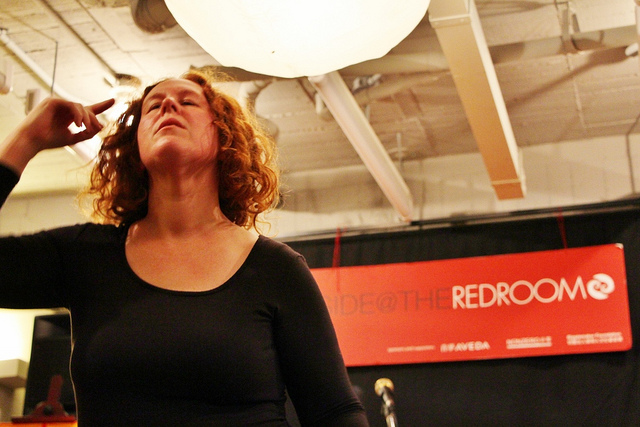 Red Room also hosts other artistic and philanthropic events throughout Taipei. Stage Time and Juice is a time for children and families to stand up and share their art with each other, in a gentle, fun, and nurturing environment. Although my son is not ready to perform anything yet, he enjoyed watching "Doctor Sparks," an educator and performer do a science demonstration with static electricity. The results were hair-raising in the best way possible, and now my son is crazy about science and talks about Doctor Sparks all the time.
At another event called Artists Break the Mold, which was a combination of visual art, gallery displays, and live music, half of the proceeds from the auction went towards relief efforts in Nepal. They also had the visitors to the event try their hand at painting their own canvasses at the venue called The Escape Artist. My son painted an amazing (and abstract) image of one of his favorite dinosaurs, the spinosaurus. Seeing my son light up and try something new with art was the best part of the whole event.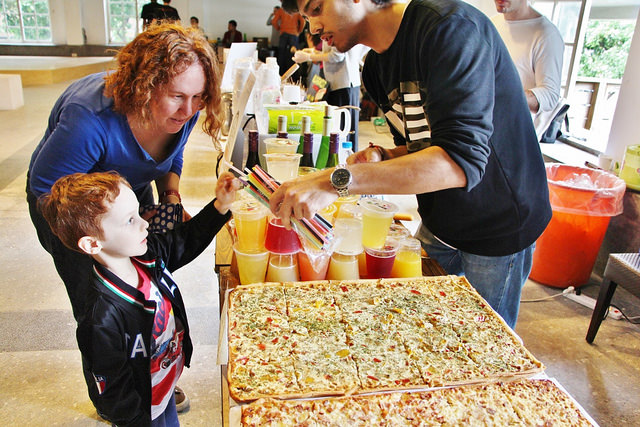 Finally, I get to explore my love of literature and drama by participating in Red Room's Radio Redux (R4). R4 is directed by American Ruth Giordano, and we perform dramatic adaptations of classical Western literature for the radio, live readings, and readers' theatre. I have performed Kate Chopin's "The Story of an Hour" for radio purposes, a live reading of the Mad Tea Party from Alice in Wonderland, and in a couple of reading parties, where we are free to read poems, short stories, or longer works.
Everyone takes turns passing the book around and can read for as little or as long as they wish.
Red Room brought me back to my roots, nurturing my love of drama, music, art, and sharing with others. It teaches me the value of active listening, because everyone has a rich story to tell. They only need a place to open their hearts, their voices, and their ears. No matter where we come from, Red Room gives us a place where art is the true tie that binds us all together.
Red Room Taipei: Expressing My Creativity in Taiwan, photos credit: Julia Kao, Red Room's Photographer.