Life at Sea: 48 Hours in Busan, Korea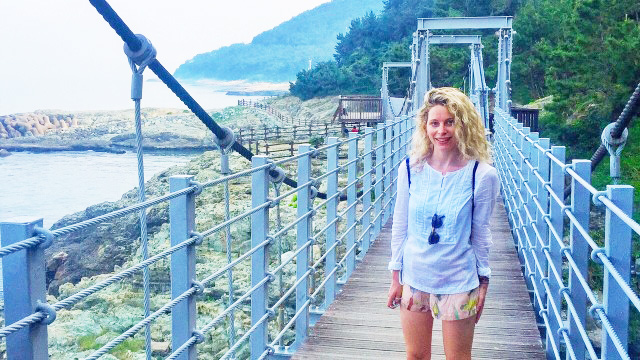 South Korea was easily on my bucket list of places to visit, granted that list is very long; I couldn't wait to go there. I was surprised to find that many of my American friends did not feel the same, and have never considered South Korea to be high up (or even on!) their must-see list.
While South Korea is a relatively small country, it contains an absolutely rich offering of natural beauty, crazy delicious national dishes, intensely vibrant nightlight and a complex and well-preserved and rather rogue history that has made its people into a true community.
I loved South Korea for its general feeling of overall safety and amazingly hospitable and generous people. Despite being pale, blonde, and blue-eyed (aka: I was not blending in any time soon), I was never catcalled, followed, or made to feel emotionally or physically violated even once. That was an absolute first for me as a traveler.
Here is my personal guide of highlights to provide a small window into the beauty, history and culture of Busan, Korea and to hopefully add this awesome city to peoples' travel bucket lists.
Life at Sea: 48 Hours in Busan, Korea
Day 1:
OPS Bakery
I would call this a "western-style" breakfast shop, because in Korea typical breakfast does not include pastries. The pastries are inspired by European baking techniques but are crafted by a wonderful Korean-born baker. I enjoyed many yummy pastries, some familiar, and some a completely Korean-inspired departure from traditional European baked goods.
Haedong Yonggungsa Temple
This Korean temple, built in 1376 was the very first in the country to be built into the coastline right on the sea. There were even a few English translations here that helped me learn about the rich history of the Temple during my visit. The symphony of crashing waves and the soothing chant of the monks' prayer service brought the colorful architecture to life. I arrived around 8:30am and was able to spend nearly an hour there before (literally) busloads of tourists began arriving.
Coffee Stop at JM Coffee Roasters
A year ago, I read that Korea was in the midst of a coffee revolution, their coffee production doubling in the past three years. While I was expecting to drink a ton of Soju and Green Tea during my trip, and I definitely did, I also was pretty excited to explore the Korean coffee scene. I am not talking about the Starbucks coffee trend explosion that the Korean rapper Psy playfully rags on in his song Gangnam Style.
But he does have a point that even locally grown coffee is pretty expensive, you might really need to revert to a diet of the inexpensive local bean paste dish to afford it. I loved the multi-level urban chic and all-glass cafe of JM Speciality Coffee Roasters. It was right on the water and a perfect pit stop after I walked through the fishing village near the temple.
Busan is the perfect escape from the intense heat in much of inland Korea. I spent time playing in the surf before exploring the neighborhood market place where I bravely snacked on local eats. There was no English in the market and no English signs, so I relied on the shared language of pointing, bowing and smiling. I even stumbled across a fashion show on the scenic boardwalk by the beach. This area of Busan is known as the host of the annual International Film Festival in the fall, BIFF.
Igidae Park
Only after hiking up a super crazy steep climb on a cement hill and being met with a Korean-only directional sign and a set of wooden steps did I arrived to Igidae Park for a late afternoon sunset hike. The park is a set of cliff trails hewn into the side of the hills. The route takes you across suspension bridges, through dense forest trails, into an awesome geo park and to so many incredible vistas. I could only describe this place as a cross between FernGully and Jumanji. It is not easy to find, I got the impression the city likes to keep it a secret from tourists, but this is a pretty good directional map I found on a fun blog.
Dinner in Haeundae Beach
I enjoyed Bulgogi on Marine City Road near Haeundae Beach. My friends and I loved cooking our food at our outdoor table on the sea, enjoying way too much Busan-style Soju (it's different all over the country!).
Day 2:
Jagalchi and Gukje Markets
These are great markets to hit in the morning. Both are located downtown near the main train station. Jagalchi is an epic fish market with both outdoor and indoor stalls. I saw the entire contents of the ocean here. In Gukje Market, which is a market for everything, ever, I tried Ssiat Hotteok for the first time, a hot and soft pita-like pancake that is fried in oil and stuffed with brown sugar and sunflower seeds.
This was so delicious it felt like I was experiencing a religious moment. I could have spent hours exploring the panoply of wares in the many rows of stalls in this market offering new and used goods of all kinds.
Lunch in Shinsegae Food Court
Shinsegae in Busan is the biggest department store in the entire world, taking up over 3.1 million square feet and featuring 14 floors of entertainment. Besides the vast architecture, incredible escalators and curated shop selection there is a floor dedicated entirely to food courts. I tried vegetarian Bibimbap in a stone bowl that retains heat and keeps the food hot the entire meal. None of the chefs spoke English but a very thoughtful bilingual gentleman saw me struggling to explain the word vegetarian and came to my rescue.
Jjimjilbang – SpaLand
Travelling doesn't have to mean full speed, full-time. Shinsegae houses one of the most notable spas in Korea. SpaLand was everything that I could want in a Jimjilbang. After changing into my spa clothing I relaxed in saunas of every temperature and theme, each labeled with the benefits and remedies it provides. I also spent a nice amount of time in the women-only bathhouse. Sauntering around in the nude, the required garb for this area, I found a lovely sodium chloride natural pool outside and forgot about the world.
Evening Adventure
Nothing is more traditional in Busan than beer, soju and fried chicken by Gwangali Beach. The Gwangan Bridge is a light show in itself and the majestic reflections on the sea made a beautiful backdrop for dinner. In true local fashion, we listening to local bands play on the beach while lighting up our store bought sparklers and fireworks, late into the evening.
Life at Sea: 48 Hours in Busan, Korea photo by Dena Lewittes.