Seoul Travel: Keeping It Confucian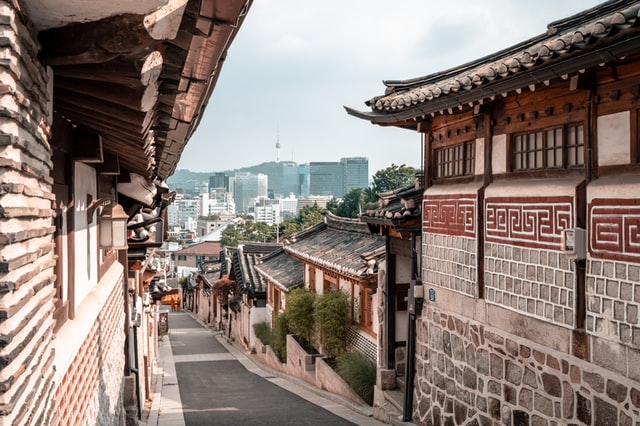 A political exchange between the governments of the United States of America and the Republic of Korea (South Korea) took me to the southern half of the Korean peninsula. For two weeks, I would have the opportunity to meet and speak with a number of Korean politicians, government officials and policy analysts and become further acquainted with the realities of Korean politics and the relations between the United States and South Korea.
My first impression of the capital city of Seoul was a sensory one. Here are a smattering of tips & informative expat blogs about Seoul travel.
My first impression of the capital city of Seoul was a sensory one, and just as I'd expected: the hot air smelled like kimchi and sweat. I was, for the most part, comfortable with my surroundings–I'd been studying the language, the place, and the culture for quite some time by that point, and culture shock was way past me. We were based in Gangnam, Seoul (one of the richer parts of town, apparently), but would venture down south to Jeju Island, take a short trip out to Hwaseong Fortress in Suwon (archery practice, anyone?), and make our way to the Demilitarized Zone to check out the North Koreans. Also, for my homestay stint, I stayed with a Korean family in Apgujeong-dong, Seoul–apparently super fancy and home to wealthier families.
You'd like some quick tips for a trip to the Land of the Morning Calm, you say? I'll try my best:
Knowing a little Korean goes a long way, but don't feel bad if you can't seem to pick it up. Phrases and keywords suffice and may help make getting around a bit more pleasant.
Enjoy the bathhouses/???/jjim-jil-bang (many of which run 24/7 and allow you to sleep the night for a VERY low price)–you're only naked for the bathing part (and you're only going to be in the bathing room with other women), and you can later hang around (clothed) in the many saunas and other amenities they may offer.
Knowing the customs is great for avoiding the awkward situation of insulting someone without even knowing it, but don't knock yourself out trying to keep track of all the very Korean things you should be doing, or you won't enjoy your stay in the country at all.
Don't feel bad about scanning those who may approach you. As a foreign woman, you'll be reminded often of how different you are and look, and while you'll often get positive responses to your presence, there are some seedy characters you should probably actively avoid.
You will fall in and out of love with the place in a kind of cycle if you're there for long enough, so do not fear.
If you make enough friends in Korea, be prepared to be invited to go hiking a lot. You might want to, just to get a taste of one of the national pastimes. Bring appropriate clothes.
Follow expat bloggers, for much wisdom is to be found in their words. I will provide some links at the end of this post.
If you just flew over to Korea all boozed up from wine tasting in Italy, knocking back shots of vodka in Russia or a beer festival in Germany, be prepared to feel even groggier in the morning–drinking in Korea is as much a tool for socialization as it is also often a deal-breaker in terms of social and even professional acceptance and integration. It is internationally known and recognized that the drink and food are gateways to the soul, and the Koreans take that about as seriously as anyone else. You'll hear about soju (??), makgeoli (???), and maekju (??) a lot, among other things.
Do not be afraid to bargain in the markets. There IS a "Foreigner don't speak Korean" price. Just go for it and give it your all!
Explore the country's exhibits of modernity as well as its ancient relics. There is an abundance of both.
Explore the nightlife. It might not be for everyone (and it really depends on where you go), but it deserves a shot.
Be prepared for lots of staring, especially outside the big cities.
Women in Korea often play a role (although these days you see more trying to break out of the box). As a foreign woman, you are somewhat automatically entirely excused from satisfying this code of behavior. Be comfortable with who you are. Being different (and you automatically are branded as thus) is a whole lot more interesting, anyway.
Korean culture dictates that Korean people are intrusive and distant about different things from which you, I or someone else not raised within or in proximity to that culture may recognize as the familiar breakdown of things.
If you are interested in romance, Korean men are apparently a special breed of frustrating, so try not to let them drive you too crazy.
Foreign women are built differently. This is the reality, to some extent. Don't feel bad if you go shopping and find that the size 0 is practically their large. Also, from what I have heard, sanitary napkins that can handle heavier… uh, loads are only to be found in a few supermarket chains, so keep that in mind. I will update this post as soon as I can get a hold of that information.
The -?/-bang/-room culture may fascinate and surprise you a bit. Some are more useful (computers and Internet access), while others are well… interesting. For example, the DVD-? may seem an innocent concept at first, but it turns there's more than just DVD-viewing going on in those rooms..
Korea is not a well-oiled tourist machine yet. This leaves a lot up to you and your Lonely Planet travel guide.
Check out the penis shrines. Seriously.
Here are a smattering of some of the more interesting and informative expat blogs about Seoul travel:
http://thegrandnarrative.com/ – Korean Sociology Through Gender, Advertising, and Popular Culture
http://briandeutsch.blogspot.com/ – Coverage of Korean news, culture, education, and events.
http://askakorean.blogspot.com/ – Ask The Korean anything!
http://imnopicasso.blogspot.com/ – Another Reluctant Expat
http://chrisinsouthkorea.blogspot.com/ – Awesome travel tips!
http://www.roboseyo.blogspot.com/ – Another K-blogger!
http://www.seoulartfiend.com/ – For the arts-y types.
http://hotyellowfellows.tumblr.com/ – Dating in Korea.
Photo by Unsplash.