Living in Ecuador: In Conversation with Nicole Will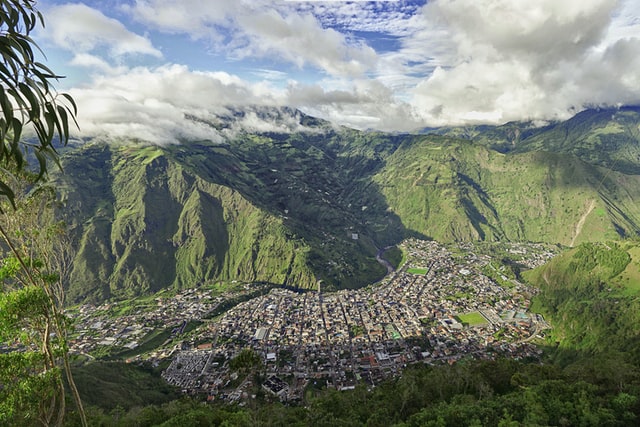 Nicole has been living in Ecuador for several years, and shares her passion for this lovely equatorial country here, in the real deal.
Tell us about yourself! What do you do when you're not traveling the world? Where do you live? What made you decide to go to your most recent destination?
I have a wanderer's heart and have followed it since college by filling my life with seasonal work in stunning places all over the US. I worked on a ranch in Colorado, for an adventure camp in the Florida Keys, at a ski resort in the Sierras, and finally ended up in the mountains of northern Georgia working with at-risk adolescents in the field of wilderness therapy. This final position was the most meaningful of my life but sleeping under a tarp for 8 days at a time completely out of touch with friends and family just wasn't sustainable for me.
After three years, I decided it was time to come inside and find an "adult" job…but there were none that appealed to me in my area and I wasn't ready to take on another seasonal position. Over the course of a few months, I put together a list of pieces that would make up my ideal lifestyle and created a business through which I could live that life. I have now been a travel specialist in Ecuador going on 5 years and split my time between the United States and this lovely equatorial country.
We chose Ecuador because my partner had completed years of study for his PhD here and had fallen in love with the country after a single week. We knew combining our passions was the right thing to do and here we are! My restless spirit is oh so happy with a few months in the Andes, a few in Galapagos, and a few at "home" in the States though I have to tell you, my heart tells me that "home" is attached to so many places and people now that I know I'll never be able to settle on one. In the coming years, we will expand our area into Colombia, Peru, and Argentina. Who knows what else life will offer?!
How long did you go for? How did you spend your time?
I have lived in Ecuador off and on for the past four years. While I do spend a fair amount of time working in Quito, I can more often be found hopping on a bus to explore the many diverse worlds of this amazing country. Within just two hours of Quito, you can experience the windswept highland plains, drop down into a tropical cloud forest paradise, find the perfect souvenir at South America's largest traditional market, relax into hot springs, ride horseback through an inhabited volcanic crater, and stand in both hemispheres at once.
If you are willing to go just a bit farther, you'll find the Amazon jungle and of course the famed Galapagos Islands. There truly is something for everyone here in a country that is only the size of Colorado! If you are passionate about nature, culture, history, adventure or all of the above, Ecuador has something to offer you. I spend my time searching out these experiences and couldn't be happier!
What were your most memorable experiences? What were the biggest disappointments?
It is difficult to narrow my time down to my most memorable experiences but I can say that they all revolve around people and nature. The folks I have met along the way have truly opened up the world for me while we formed the fast, deep bonds common in the traveler's existence.
As for nature, I have laughed, sobbed, and felt at peace all over this country…while riding around a bend on horseback and being confronted by the massive face of Cotopaxi volcano…reaching the rim of the most stunning crater lake after a 5 hour uphill climb…watching dozens of hummingbirds in their flurry of activity while swinging lazily in a hammock…sunbathing next to marine iguanas…diving down to rest on the ocean floor in a cave full of sharks…and hopping into the ocean to swim alongside giant manta rays.
I've seen volcanoes, red/black/green/white beaches, jungles, the mysterious and disappearing cloud forest, historic cities, wide open plains, and stunning glaciers. How could I pick just one?!
What do you wish you knew before you went?
I wish I had known how to relax! Nothing here runs on time and the lifestyle is much more laid-back. It has been so good for me to learn how to move with the pace here, to let go of expectations, and to enjoy the moment rather than being hyper-focused on the end goal. I rest easy now knowing it will happen in its own time and I think I have fewer grey hairs because of it!
Any favorite restaurants/hotels/hostels/sites you'd like to recommend? Tell us what made them great!
In Quito, I always recommend staying in the historic Old Town. Casa Gardenia is my go-to hotel for an historic building with a modern touch and Casa San Marcos is my top pick if you're looking for a beautifully restored colonial vibe. The best luxury pick is Casa Gangotena and, if budget traveling is your style, try a social hostel like Hostel Revolution or Community Hostel. Both are located closer to the historic center. Unless late night parties are your thing, I do not recommend staying in the area known as La Mariscal.
Not much happens there during the day and, if you're trying to sleep, the thumping beat of bass from all of the area bars will keep you up until the wee hours of the morning. Looking for something near the airport? Try the restored family home of Posada Miro Lindo. Airport transfers are included in their room rates and the family will welcome you with open arms.
Nicole has been living in Ecuador for several years, and shares her passion for this lovely equatorial country here, in the real deal.
I have favorite accommodations in every town. Really, I could write an entire post on the subject! If I can help with a recommendation in a specific town, let me know. I'm happy to share what I know!
The same goes for amazing sites to see but I will recommend one that is often overlooked: Salinas de Guaranda is a tiny town tucked away in the Andes south of the towering Chimborazo volcano and just a few hours outside of Riobamba. Historically a town of salt miners, Salinas de Guaranda is now full of cooperatively owned enterprises where wonderful goods are produced including cheese, chocolates, artfully woven articles, sausages, and even essential oils. You can tour the co-ops but don't stop there. Hiking in the area is gorgeous as well. Ask specifically for the sea of clouds.
Is there anything that women specifically should know before they travel to your destination?
I read often about how foreign female visitors are the targets of unwanted male attention here and it is true. Be prepared for the machismo culture but also know that I have experienced the greatest kindness from strangers here traveling as a single woman. In fact, I have traveled alone and with a partner and definitely felt more cared for and supported when folks knew I was on my own than I ever did as part of a pair. I do travel with a fake wedding ring and find that I am less often harassed when I have it on.
At first, I felt a bit threatened by the brazen way in which men would approach me or call out on the street but it has honestly become part of the background noise. You might be asked quite frequently about your relationship status and have a pushy encounter or two but, at the end of the day, the kindness and hospitality you experience will hopefully far outweigh the uncomfortable moments.