An Odd, Fun Time at South Korea's Mud Festival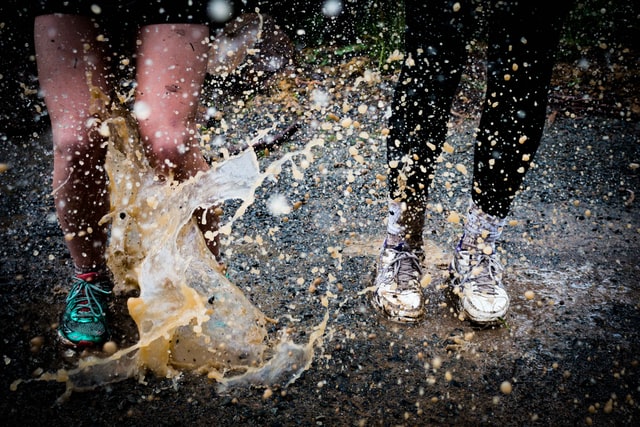 Think you might find yourself in vibrant South Korea next summer? Plan a visit to the Mud Festival on Daecheon Beach. It's accessible by bus, and the experience is one you won't soon forget. Every year, the women of South Korea (and sometimes their male family members) flock to the coast for a few days of wallowing in the mud. It's a seaside holiday with a serious twist. Instead of just soaking up the rays you can join a game of mud-ball, where participants sit in an inflatable pool filled with mud and splatter one another by throwing a ball back and forth. Or you can check out my personal favorite, the mud slide, also inflatable and covered in… you guessed it. There's mud wrestling (popular with male spectators) and mud massages (for a fee). And if none of those activities suit you, you can always just roll around in the mud that's readily available.
An Odd, Fun Time at South Korea's Mud Festival
Why on Earth?
We generally think of South Korea as a country where women are fairly demure. This is changing, but it still seems unusual to have so many women, young and old, doing something most cultures would find downright sexy and rolling around in the mud in bathing suits. It's for a reason – Koreans believe the mud has healing properties. The mud that covers the beaches in summer is used in a variety of skin products year round, including facial masks and lotions. It is believed to prevent aging, be moisturizing, and even cure ailments like eczema and acne. Thus women cover themselves in the mud, let it dry on their skin until it begins to harden and crack, then jump into the sea to wash it off.
The mud is also thought to counteract the effects of pollution, which is bad throughout the country. The air is smoggy, sinus infections are permanent, and as locals will tell you, the rain will make your hair fall out. (This is why everyone is armed with an umbrella even on nice days.) Women have rigid skin care regimens to combat the pollution, often involving at least 12 steps and no tap water. The mud festival is the yearly icing on the skin-care cake, and women spend big to buy mud products to use throughout the year. (I saw no difference in my skin, but the products are a great reminder of your visit.)
Public baths
When you're ready to remove the mud, it's typical to go into the ocean (nice and warm) and wash off what you can. However, this won't get you clean as the surf will be grey and cloudy already. You'll need to stand in line for the public bath house. It's a long wait, up to 45 minutes, so be prepared. Once inside, you'll find a big open space with many showerheads and a lot of naked women. While culture dictates that women be modest around men, they are very open with one another, and being naked in front of your girlfriends is not taboo in this context.
Women will also touch one another, even while naked, and if you're of European or African descent, you're going to stand out. Women from rural parts of Korea will likely have not seen a person who looks like you nude, and they may very well approach and touch your hips, waist, or chest. This is jarring for most of us, but it's sheer curiosity. Still, if nudity or touching aren't for you, best to avoid the public shower and get a hotel room so you can bath in private.
What to do afterwards
Hang around after you wash. There is plenty to enjoy during the festival once you're done with the mud. The town has a sort of seaside boardwalk feel to it, and there are loads of excellent restaurants, some of which you might even recognize (i.e., there's a T.G.I. Fridays right near the beach.)
Be careful in the evening, as the festival tends to attract pick-pockets, and be careful when booking a hotel. Most Korean cities have a lot of prostitution, and the cheapest hotels are meant to be used for that purpose. I was startled to check in and find a giant mirror on the ceiling above my bed.
Tips for attending the mud festival

Be mindful of your things at the Mud Festival. You won't want to bring a purse to the beach with you because everything will be covered in mud. There are some lockers available, but it's best to get a hotel room and secure your possessions there. Do not ever leave them in a bus or a car while in Korea, even if your driver has assured you it's ok. Thefts are frequent.
Drag some friends with you if you can, and convince a male buddy to join you if possible. If you are alone, jump in with other foreigners. Men are much bolder at this festival than they usually are with approaching foreign women, and you may draw unwanted attention just by virtue of looking different.
Bring a hat. It's very easy to get burned at the festival even though your body is covered in mud. Nothing's worse than a burnt hairline!
Be aware of your surroundings, but enjoy. This is an extremely unusual festival, and while it has become increasingly popular with tourists in the past decade, you'll still have a great chance to experience something quite unique to South Korea. Plus, you're guaranteed to get some great stories from your time spent in the mud.
Photo for An Odd, Fun Time at South Korea's Mud Festival by Unsplash.