Warm Hearts in a Cold Seoul: Travelling to Korea in Winter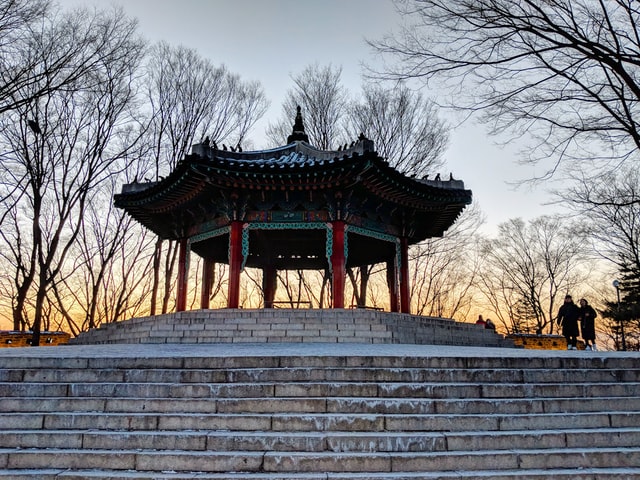 Normally, when I travel, I mistakenly assume that the weather is going to be absolutely perfect for the whole trip. I blame this on growing up in Arizona, where that would be the case for 340/365 days of the year. So when my best friend and I decided to cross South Korea off our bucket list, the end of December seemed like as good a time as any to go. Korea in winter? Why not!?
Weather-wise, we were caught off-guard: Korea gets COLD. The high temperature during our trip never rose above 0ºC. However, just because we were freezing didn't mean we didn't have an amazing time. With a bit of creativity, we explored Seoul to its fullest and came back home with cold faces but warm hearts. Here are some tips for travelling to Korea in the middle of winter.
What to pack?
To be honest, my friend and I weren't totally unprepared for the wintry chill and we did the best we could with what we had. The key is layering. We bought Heattech shirts and long-johns from Uniqlo, which kept us at a baseline level of warmth. Over that, we wore thick sweaters and completed the look with puffy jackets. Scarves, gloves, and face masks (think balaclava, but only the lower half of your face) are essential to brave the wind when you're outside.
A tip for choosing the right shoe: opt for one that is relatively easy to slip into and out of. Most Korean hostels and some businesses require shoes to be taken off, which can be a pain if you brought tight boots (like I did). Finally, what made the biggest difference for our comfort was buying hand warmers to stuff into our pockets and shoes.
Warm Hearts in a Cold Seoul: Travelling to Korea in Winter
What to do?
There's so much to do in Korea in winter! In addition to visiting the Korean palace, many skin-care stores, and street food stalls, our 10-day trip was packed with fun side adventures, both indoors and out.
Cafes: Between activities, we spent our time in a number of Seoul's boutique cafes. Grabbing a hot drink helped us continue to brave the cold. Seoul's café culture boomed in the 2000s, leading to nearly 18,000 coffee shops in the city's boundaries. While Starbucks is the most common coffee chain, it was easy to find unique coffee shops on nearly every corner. Our favorite was a 2D-themed café with the best matcha lattes: it was definitely a reality-bending experience inside. Another café we loved is Seoul's only sheep café, which serves some seriously good waffles and maple-leaf lattes. Korea has many animal cafes, each with incredible food, and adorable animal staff. Finally, we saw ourselves in our coffees when we visited a café that printed our faces on our purple yam lattes! This café was located within the quirky Trick Eye-Museum, a must-visit for anyone who likes to take selfies.
Lotte World: We took the wrong underground metro line on our way to meet friends. As the doors parted, the platform we were deposited onto was actually an indoor, underground amusement park: Lotte World. Incredibly, Lotte World fits a roller coaster, arcade games, and an ice rink below an unsuspecting street. Our plans for the day changed and instead of shopping, we spent the afternoon being kids again.
Making kimchi: You can't go without eating your body weight's worth of kimchi by the time you leave Korea. We totally embraced this fermented delicacy and took a kimchi-making class in a local resident's home. The fermentation generally takes weeks to complete, but our host had started the process prior to our class. We focused on learning to mix in the right ratio of peppers and spices. Kimchi is eaten throughout Korea, and as you move south from Busan to North Korea, the kimchi becomes progressively less salty. The colder northern weather stops microbes from growing in kimchi and lessens the need for antimicrobial salt.
Love forever: Namsan tower rightfully boasts that it has the best view of the city. While it's a hike to make it to the top, sky gondolas make the trek a lot easier. The gates along the top of the tower are covered entirely in an assortment of love locks. Namsan is one of the few places where tourists can leave behind a memento of their everlasting love. The effect is a gorgeous, colorful foreground contrasted against the city scene in the back. While you may not physically feel warm at the top of the tower, you will definitely have warm and fuzzy feeling rush over you being surrounded by years of love.
Nami Island tour: True Korean drama fans will recognize the moon-shaped island 70-miles north of Seoul – Namiseom Island. Winter Sonata, one of the first Korean dramas to become wildly famous outside of Korea, was set on the island, and Nami stands today to commemorate its continued commercial success. To be honest, I hadn't watched the drama before I went, so many of the famous scenes were lost on me. However, I didn't dare miss out on the legendary Nami Island snowman pancakes. The warm, crunchy pancake with red bean paste in the middle matched the hype (and was another way to stay warm outdoors). The island itself is gorgeous and easy to explore fully in just a couple hours.
Jjimjilbang: A trip to Korea is not complete without a stop in the local jjimjilbang, or public bathhouse. Separated by gender, jjimjilbangs offer a large collection of saunas, heating pools, and warm rooms. Before entering any body of water, you must remove all clothes and thoroughly shower. It can be a little strange to be completely nude with strangers around you, but no one bats an eye and it's easy to relax. In common areas, robes are required, and you can fill-up on mounds of excellent Korean comfort food: bibimbap, tteokbokki, and kimchi ramen.
Each night, our bellies were filled with a combination of kimchi, Korean street food, and a variety of lattes. By the end of our trip, we realized we had barely scratched the surface of things to do in Seoul.
Don't let the wintry chill of Korea deter you from visiting: it's easy to fill your itinerary with many warm activities during your trip to Seoul. Just don't forget to buy hand warmers!
Photo for Warm Hearts in a Cold Seoul: Travelling to Korea in Winter by Unsplash.