5 Places Female Travelers in Egypt Must Visit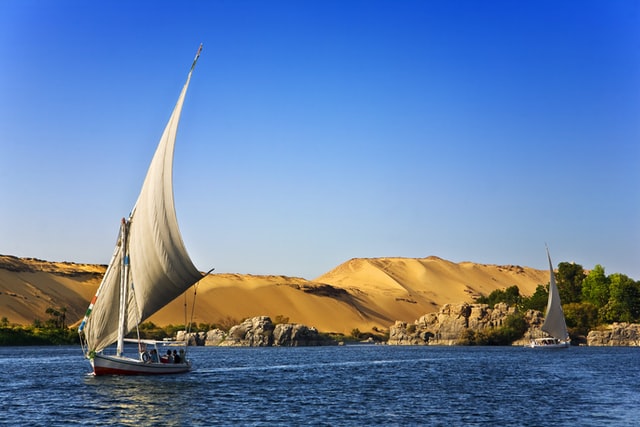 Egypt is a country that many women feel apprehensive about travelling to. But Egypt shouldn't be feared; rather, it should be embraced and explored with an open mind. It is definitely a male dominated country, but during my visit I didn't experience any problematic sexism. Every country has its good and bad aspects, so just enjoy the opportunity to travel to this amazing country. Here are a few places that female travelers in Egypt shouldn't miss.
5 Places Female Travelers in Egypt Must Visit
Cairo
Cairo is the capital city and heart of Egypt. It is where you can find the Great Pyramids and hidden souks, waiting to be explored. Don't let the constant busy-ness of the city deter you from spending some time here, visiting the museums and exploring the everyday street happenings.
In Cairo, female tourists don't need to dress in niqab or hijabs, as not even all of Egyptian women wear them. Skirts, shorts, jeans, and tank tops are all appropriate.
Great Pyramids of Giza
The reason I went to Egypt was to see the Great Pyramids, as I had always dreamed of seeing them. They are on the outskirts of Cairo. Going with a tour guide is the best way of having a carefree time at the pyramids, otherwise prices are expensive and you will be hassled a lot. A bonus of having a tour guide is that you will learn so much more about the place and its history.
Egyptian Museum
The Egyptian Museum in Cairo contains the largest collection of Ancient Egyptian antiques: over 100,000 pieces to get lost among. Travel back to the time when Pharaohs ruled Egypt. It would actually take months to go through the entire museum. If you are feeling overwhelmed, go with a tour guide and they will show you the most fascinating and important pieces, telling you the stories behind them.
Luxor
A little piece of tropical bliss along the Nile River, Luxor is full of resorts, Faluka boat rides, souks and mosques. This beautiful place is a perfect escape from the crowds, so relax by a pool and even sip on a few cocktails. Stay at a resort overlooking the Nile River, for a chance to dip your toes into the longest river in the world.
Valley of the Kings
Step back thousands of years to where the great leaders of Egypt rest today. Here you will find Pharaohs such as Tuthmosis, the many Rameses and of course King Tutankhamun. I was speechless when I walked into King Tut's tomb and saw him resting in a glass box. I stood there for half an hour, observing every detail.
It was good timing, because as of early June 2017 they will be closing King Tut's tomb off and only allowing visitors to see a replica, not the real boy king. Just like the Great Pyramids of Giza, going with a tour guide is also appropriate when visiting the Valley of the Kings.
5 Places Female Travelers in Egypt Must Visit
Related Reading
How Travel in Egypt Exceeded My Expectations
Have you traveled to Egypt? What were your impressions? Email us at [email protected] for information about sharing your experience and advice with the Pink Pangea community. We can't wait to hear from you.
5 Places Female Travelers in Egypt Must Visit photo credit: Unsplashl