Best Ways to See the Cherry Blossoms in Tokyo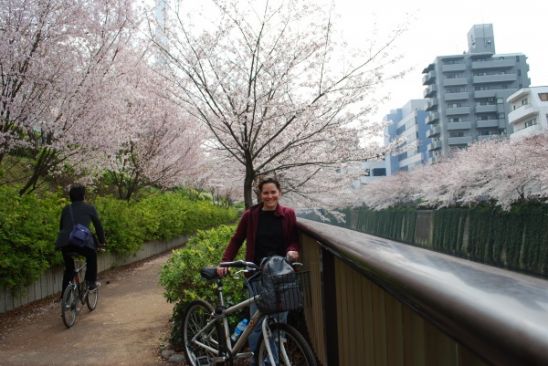 In Tokyo, it's sakura season! Bursts of pink and white are softening the city's hard edges and obscuring the dismal architecture – even the drabbest apartment building looks positively cheery with a cherry tree out front in full bloom. Of course Tokyo has green spaces and other pockets of beauty, and they provide great escapes from the congestion, concrete and steel at all times of year, but these gems are made more precious with the appearance of the cherry blossoms.
The best part is that Tokyo is one of the safest places to be a tourist (or resident, for that matter) on the planet. Women can travel alone without fear of harassment, theft or worse. Obviously you should be sensible and take the usual precautions. Many hanami – literally "flower viewing" – parties in the various parks are basically drink-fests on blue tarps, and can get pretty rowdy. This weekend's scene at Yoyogi Park should get interesting as some revelers set up sound systems and the dancing gets underway.
For more peace and quiet, take a stroll along the canal in Nakameguro, or bring a picnic lunch to Shinjuku Gyoen National Garden (which doesn't allow alcohol). If you're headed to the temples in Asakusa, consider taking a cruise up the Sumida River to get there, stopping at Hama-rikyu, one of the city's best public gardens, along the way. Kichijoji, a suburb 25-min. away from Shibuya by train, has beautiful cherry trees in its fabulous Inokashira Park, and makes a great day trip.
You can read Maryanne's blog at: http://mtokyoblog.blogspot.com. Photo credit by Maryanna Buechner.