Football Works Miracles in South Africa: Volunteering with Ambassadors in Sport
For the past three months I've been traveling around the world and I have another three and a half in front of me. I've been traveling in South Africa, the United States, England, France, and now Spain.
I had the opportunity to go to South Africa for the month of June to work with Ambassadors in Sport (AIS), a non-profit Christian organization that brings hope through football (soccer). It was such an amazing experience.
South Africa is a country of great contrast. One side of the road would be very modern and very Western, and the other side would be a slum with huts. From discussions and my own observations, it seemed like the white people love to play ruby, whereas the black people love to play football.
The kids broke my heart. Not only are they battling illness, but many had no family whatsoever.
As a volunteer for AIS, I helped organize and coach day camps for the kids. The other volunteers and I set up different games and drills for the kids, rotating the kids and coaching them through each station. It was a lot of hands-on work. The kids loved the games and just having the opportunity to play football with proper equipment. South Africa has four national languages, one being English, so we didn't really have much of an issue. Some kids spoke Zulu, but still had some understanding of English. Football itself is a worldwide language.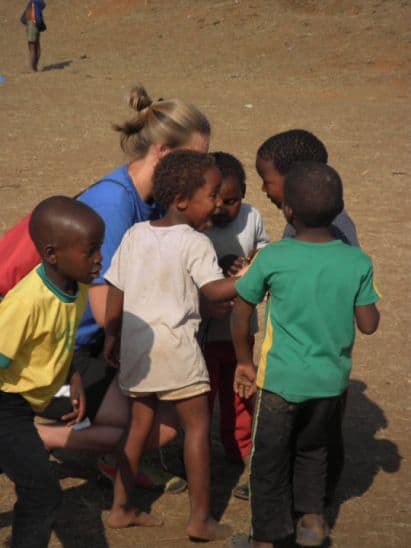 We also spent a lot of our time working in HIV orphanages. Those kids broke my heart. Not only are they battling illness, but many had no family whatsoever. They were some of the most amazing kids I've ever met. The smiles on their faces said everything! We also set up lots of free clinics for the kids in different towns.
While in South Africa, we stayed at a school for the deaf in Soweto and on a church floor in Durban. As a volunteer, you just go with the flow and are glad that you have food to eat, a place to sleep, and a shower. What you see every day is humbling and you don't think about what you are missing out on.
I loved my experience in South Africa and would love to go back someday. The best part of it all was seeing the World Cup, which showed that football could bring a country of such contrast together.
Photo by Abby Norman.