Madrid Futbol: A Championship to Remember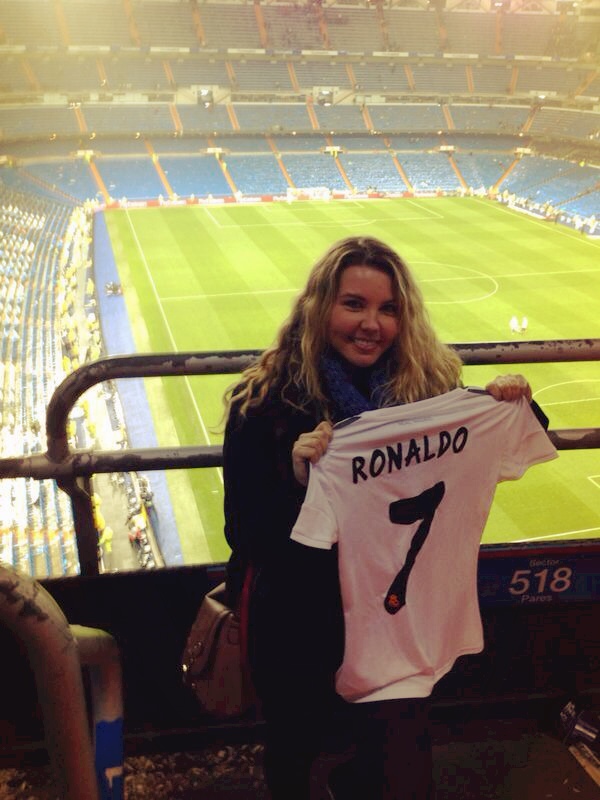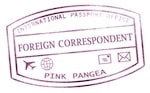 Today, I decided to kick up my "Sporty Spice" brain and give you the latest soccer buzz from Madrid. If you aren't interested in this type of article perhaps a guy you know (father, brother, husband, boyfriend) will appreciate it a bit more than you so please share it.
I have a personal background with the sport of soccer. I played soccer in high school for three years and a bit outside of school, on and off, for some years. I enjoyed my leisurely time on the field with friends, and I always loved pickup games. Despite my brief background and knowledge of the sport, I knew I must watch at least one professional soccer game during my time in Spain to truly experience the reality of why this is the most popular sport in the world. Needless to say, when the opportunity presented itself, I was more than thrilled to accept it and I caught the fan fever in Madrid!
As the reigning World Cup Champions, Spain has become one of the world's top countries to generate great soccer players and also recruit others from around the world. My first game was not a disappointment nor is the atmosphere of Madrid at this time of year.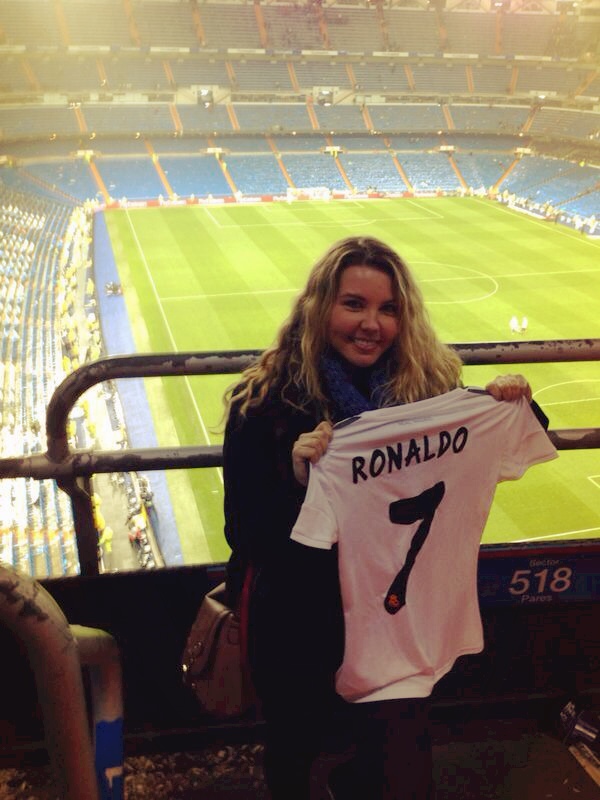 For those who don't know, allow me to introduce the two best professional fútbol clubs of Madrid – Real Madrid FC and Atlético de Madrid. Within the last month, I have had many conversations with Spanish people surrounding the topic of Real Madrid versus Atlético and who supports which, and here is what I have gathered: You can think of the two clubs (teams) as those in the movie, Dodgeball. Historically, Real Madrid is like the "Globo-gym" of Madrid and Atlético represens the "Average Joes" trying to overcome adversity.
If you haven't seen the movie, please do, but to clarify my analogy, Real Madrid is stereotypically known as the rich, controversially government-backed fútbol club, which has more than enough money to maintain success. On the other hand, Atlético represents the second-class citizens and underdogs who haven't been able to match Real Madrid in wealth or wins.
With that being said, I must explain why I am a Real Madrid fan.
With that being said, I must explain why I am a Real Madrid fan. It definitely wasn't based on the information I just provided, which for the record, I didn't discover until many days after I took my oath to support Real Madrid for life. I simply chose Real Madrid as my favorite fútbol club since they were the first professional fútbol club I watched live in Madrid. Well that and I have to admit I also enjoy watching Cristiano Ronaldo too. Afterwards, I was hooked on Real Madrid and I haven't looked back since.
My small knowledge of Madrid's fútbol clubs was obtained while attending a match and, in the months that followed, from additional conversations and online research. There are a few differences and similarities between European and American football. The match at Estadio (stadium) Santiago Bernabéu was fantastic! The stadium's accommodations are very nice, while holding 85,454 seats and providing typical refreshments at expected prices. The stadium is mostly open to the sky with covered upper levels. It can be chilly during the fútbol season, so the stadium installed heaters in the ceiling to keep spectators warm.
One similarity in particular to football in the U.S. was the cheering and chanting of the Real Madrid fans. At Auburn University, where I attended college, the fans and the students alike cheer and chant along with the band during home football games.
Similarly, the Real Madrid fans chanted from a lower level section throughout the match. However, their chants and cheers were more like songs about former and current players, the plays completed on the field and their love of the fútbol club, Madrid and Spain. It was interesting to hear and observe the constant beating of the drum along with the melodies belted from the stands.
I can imagine that many other Americans may have difficulty, at first.
On the flip side, the most obvious difference is the fact that American football and European fútbol are not really the same sport. The second difference I quickly noticed is that Spain and probably most of Europe, I assume, have multiple fútbol leagues, tournaments, cups, etc. I find it difficult to keep these leagues in order but information about the leagues' origin, ownership, significance and award system can be found on the internet.
I can imagine that many other Americans may have difficulty, at first, in learning the European fútbol leagues as we have only one major football league to worry about, the NFL, or two if you include college football's NCAA.
Another difference is that most souvenirs are bought outside of the stadium from vendors at kiosks or at the official team stores located near to the stadium. By the way, the most popular items to wear are jerseys, of course, but also scarves! Yes people, the scarf reemerges again! Proceed to use the scarf during the chant/song portion of the match by swinging it around in a circular motion to show support. You'll look super Spanish.
In addition, a points system can determine European fútbol matches, which I have yet to figure out. From what I do know, in this system a club can win by overall points scored in the season or tournament, not the number of matches won. Don't worry, I'm sure I'll figure this system out eventually.
I'm sure I'll figure this system out eventually.
An unfortunate difference I also noted was that unlike many college and/or professional sporting events in the U.S., there is no tailgating before the match. However, another positive difference is you don't have to worry about commercial breaks or interruptions during these matches. Yay! The halftime entertainment was anything but spectacular, but the fútbol playing and final score made up for what was lacking. It was a blowout night by Real Madrid against Rayo, another less known fútbol club from Madrid, of 5-0!
At this very moment, Madrid is buzzing with fútbol fever! Atlético de Madrid just won the La Liga Championship (the Spanish league) title against Barcelona on Saturday, despite losing two of their best players early on in the match. It has been 18 years since they last held this title. Way to go Atlético!
However, this weekend, the ultimate European fútbol club will be decided in the Champions League final. This is the most important and prestigious of them all. And, the final match is between Real Madrid and Atlético!
Real Madrid has held this title nine times while Atlético has not appeared in the Champions League final. According to UEFA's website, it appears that the final, which is in Lisbon, will be the fifth in the UEFA Champions League between two teams from the same country and the second in succession following last year's all-German encounter between Bayern Munich and Dortmund.
It will be the second between two Spanish clubs, after the Real Madrid-Valencia CF decider in 2000, and the very first (also in the European Cup) between two clubs from the same city. This is exciting news for Spain!
Both teams are stacked well for this match. Atlético is coming off of their high as La Liga champs, but Real Madrid has confidence, experience and the best scorer in the league, Ronaldo, with the all-time record of 16 goals so far this season and the team captain, Iker Casillas, who is one of the best goal keepers in the league. It has been said Real Madrid has one of the strongest, if not the strongest, midfielders.
However, one downfall for them in going into this match is the fact that one of their best players, midfielder Xabi Alonso, who is the so-called "brain" of the team, is unable to participate. Alonso acquired too many yellow cards in a previous tournament round against Bayern Munich, which benched him for the final. In addition, some people are nervous regarding Ronaldo's health as he was kept out of the match last Saturday after warm ups.
Madrid Futbol: A Championship to Remember
On the Atlético side, you have Diego Costa, a great forward who is third in the rankings for most goals scored, but he also acquired a hamstring injury early in Saturday's match. In addition, Atlético's Arda Turán was also injured during Saturday's match against Barcelona. However, what Atlético lacks in talent, it can make up in spirit, which was proven in La Liga's championship. After losing both Costa and Turan, Atlético came back from being down 1-0 against Barcelona to win the league championship by a draw for the first time in many years!
At this point, it appears both teams have their strengths and weaknesses. Regardless of who wins, it will be a record-extending victory for Spain. The country has won the Champions League a total of 13 times and Real Madrid holds nine of those wins. The other countries with multiple victories are Italy (five), England (four) and Germany (three).
The celebrations will commence after the final match in Lisbon, Portugal, and depending on who wins, the madrileños and madrileñas will decide where to party in Madrid. Will it be at the Cibeles fountain for Real Madrid or the Neptuno fountain for Atlético?
Either way, the city will be ecstatic and full of fun come Saturday evening, and I will be happy regardless of the match's result. You can watch this historic event between the Madrid rivals to decide who claims the victory! In the U.S. it will air live this Saturday, May 24th at 2:45 PM EST.