Making a Difference for Girls in Nepal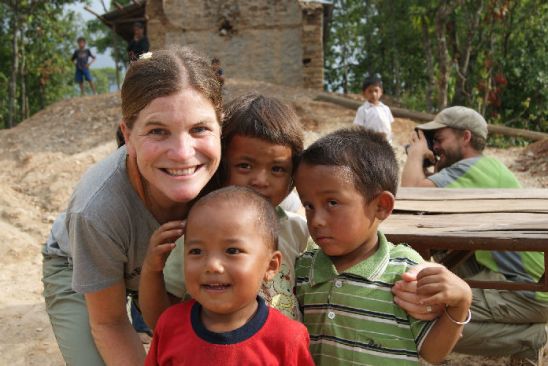 Seven out of every 10 girls in the Everest Region of Nepal don't get to go to college because of a lack of housing for girls. With your help, we can change that.
In November, Edge of Seven began construction on a women's hostel in Salleri, Nepal and building will continue through July 2011. The hostel will house 40 college-bound girls from rural areas where higher education is not available. Below is an account of the first volunteer group.
The last two weeks have been productive and inspiring. As we did just a few months ago in the hills of Jarang, Nepal, we have transformed a plot of land into a building foundation in a matter of days. More importantly, we have built the foundation to educate 40 girls from the most remote parts of the Everest region.
We arrived last Tuesday to our new home outside of Salleri, Nepal and were welcomed with a traditional Buddhist ceremony. We are staying with Sherpa families, the native people from the mountainous regions of Nepal, and Sherpas are predominantly Buddhist. Sherpas are also the most famous mountaineers from Nepal since they have been helping Westerners summit Everest and the other toughest local peaks for years. Staying with a Buddhist host family was an interesting contrast in culture and traditions from the Hindu families that I've lived with in villages past.
After the ceremony, we jumped right into digging. The shovels were calling us. After a few hours of moving mountains, we closed our arrival day with tea and cookies in our new posh lunch quarters. Karma, my Nepali partner, set up an Everest Base Camp style food tent for lunch and tea breaks. We upgraded meals for this hostel project from Dal Bhat twice per day to French Fries, sandwiches, sardines, salad, spam, spaghetti, and (I am not joking) apple pie. Even our host families mixed it up with noodle soup, Sherpa stew, potato pancakes, momos, and Tibetan bread. I'll start referring to my waist as Sherpa handles.
It felt like late fall in the mountains. We rose with the sun around 6 am and enjoyed tea and breakfast with our host families before heading to the project site. We kick-off the manual labor around 8.30 am, about the same time as it started warming up from the 40s of the night to the 50s or low 60s of the day. The weather was absolutely PERFECT for digging trenches, hauling rocks, or carrying planks of wood up the steep hills. It was an unusual November and instead of clear skies, a mystical afternoon fog has rolled in every day around 2 pm. The first few days it was pretty cool but now that I'm typing near the airport in Phaplu since all planes have been grounded for the day, I'm not as impressed with the fog.
We broke for lunch for an hour at noon, continued working side by side our Nepali volunteers and skilled workers throughout the afternoon, and called it a day just before dark at 5 pm. My favorite time of day is always the evening with my host family. I loved coming home every day, putting on my sweats, and enjoying a warm cup of tea in the "family room." I have upped the "gross factor" with this project by not showering. There is no hot water ever in rural villages and I couldn't be bothered to sacrifice warmth for cleanliness. Luckily, I invested in paper showers from REI before leaving the U.S. At night, we played with our host brothers, Pasang and Karma, before heading to bed. Pasang is in third grade, and Karma is I second grade, and loved playing table tennis and practicing their English with us. I spent most of my evening smiling from ear to ear in their company.
We also got to know our host sister, Nimdita, quite well. We interviewed girls and women about the value of education in this part of Nepal and we were fortunate enough to hear from our Bahini, our sister. Her parents, uneducated, could not afford to raise Nimdita so at the age of five, she was sent to live with her "sister," a family friend. For the last nine years, she lived away from her nuclear family so that she could pursue education. During her free time, she cooked, cleaned, and helped her sister farm. When asked what she would do in the future, she responded that she'd like to be a social worker to help educate others to develop rural Nepal. I could not detect a trace of resentment for the choices made by her parents. It's simply her life.
We interviewed many more like Nimdita, girls who are determined to go to college despite all odds. We spoke with girls who are literally skipping meals to use that money for rent. We heard from girls who are living four people to a small rented room without beds or furniture in hope that they will become something other than housewives. We marveled at girls who feel unsafe on a daily basis because they share space with the local saloon that is a several days walk from anything familiar, in order to study for one more year. These are the women who will push Nepal forward. They are beyond inspiring.
When asked about our hostel, all glowed. Those who are in grade 8 or 9 wanted a spot desperately because they felt that this housing option, unlike the rented rooms, provided the security and amenities that they needed to focus on their studies. The girls in grade 11, bearing great burdens of living alone in a strange place with the threat of financial ruin around every turn are willing to do anything for a room in the hostel. And finally, and most surprisingly, those who are older and have already missed the college window, tear up when they recognize that the hostel will not benefit their own education but may help their sister, friend, or daughter.
The volunteers, like me, have been forever altered by this community. We've also interviewed the volunteers and while living like locals in rural Nepal can be tough, each one would do it again in a second. This has been a life-changing experience for each one of us. I head home more driven than ever to support these women, to support change.
At 16, my days were consumed with sports, negotiations with my parents to extend my curfew, and a phenomenal education. My days were filled with opportunity and promise. Nimdita's days are filled with farming and selling vegetables to pay for her schooling, collecting firewood to cook every meal for her family, and spending every spare moment of her life thinking about every other person before herself. Her days are filled with chores and uncertainty. The difference between a teenaged version of myself and Nimdita: I was born in the U.S. and she was born in Nepal. That's it.
We're building a hostel to empower these girls. They are ready. I hope that you join me.
If you are interested in volunteering for 2 weeks in Nepal in 2011, please visit www.edgeofseven.org or email [email protected] for more details. Photo by Edge of Seven.