Things You Shouldn't Leave Before Doing at Iguazu Falls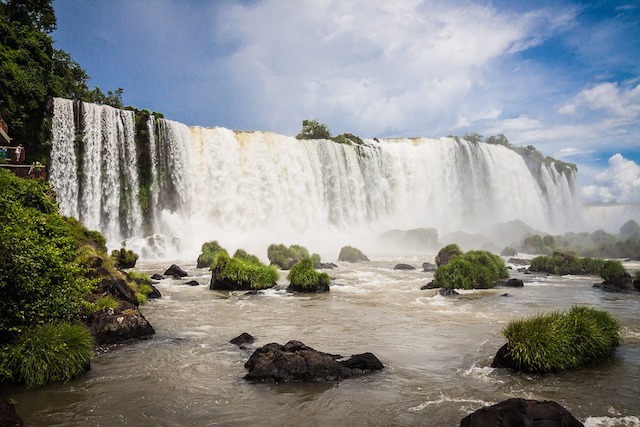 The Argentine province of Missiones has a selva, or jungle-like setting, that looks just like the setting of Robert DeNiro '80's movie, The Mission. While Missiones serves as part of the border with Brazil, the province is really known for Las Cataratas de Iguazú, or a system of more than 275 waterfalls. I can't even begin to describe the immensity of the waterfalls in Brazil and the amount of water pressure produced by the falls, but I can highly recommend that you make a trip to Iguazú. After having traveled throughout Argentina over the past several months, I would rate it as a must-do trip and one of my favorite parts of Argentina! The main attractions at Iguazu are:
Things You Shouldn't Leave Before Doing at Iguazu Falls
1. La Garganta del Diablo, or the Devil's Throat
Getting to La Garganta del Diablo requires walking along an 800-meter metal walkway to reach a platform that offers an amazing up-close view of the falls. As I walked along this catwalk above the tranquil water, the only indication of the impending falls was a white mist in the distance. But once I reached the lookout point, the wind from the water was so fierce that it felt as if you could be blown over the edge and down the falls at any moment!
Moreover, the turbulence from the falls created such a deep and thick mist that it obscured the actual bottom-half of the falls. Watching the enormous volume of water descend continuously, the conversation flowed from awe to a topic near and dear to my heart: Swimming. As a lifelong swimmer, everywhere I travel, I am always looking for a place to swim. My mom is also always on the lookout for places to swim.
As a result, when traveling we try to stay in hotels near a pool, or that have access to a lap pool, or even a lake…In fact, just a few days before, my mom lamented that it was too bad that I couldn't swim in a man-made-but-very-dirty lake in a park in Mendoza. But damas y caballeros, or ladies and gentlemen, for the first time in my entire life, I found a place that my mom was CERTAIN that she did NOT want me to swim near. I give you La Garganta del Diablo.
2. El Paseo Superior
This series of catwalks provides a nice view of the falls from the top and leaves you pretty dry.
3. El Paseo Inferior
This path gives an up-close look at the falls along a winding hillside route. However, this hike takes you through a splash zone and it's more than likely that you'll get a little wet. Coupling this hike with a boat ride to follow is a good idea—since you end up even wetter on the latter.
4. Boat Ride
A must do. And wear a bathing suit. The boat company takes you on a little jungle jeep ride to the docks and then once in the boat, you head back up the river towards the falls. While approaching the falls, there was so much water pouring down from above that it was impossible to keep your eyes open! It was an incredible and invigorating way to experience Iguazú and was definitely a highlight of the trip!
5. You can say that you've been to Brazil
As a U.S. citizen, you must apply in advance for a tourist visa to visit the Brazilian side of the falls. The Brazilian side offers a different view of La Garganta del Diablo; however, the international border between Argentina and Brazil goes through the middle of the river, if you take a boat ride, the only thing missed is the actual passport stamp.
All in all, Iguazu is just incredible.
 Things You Shouldn't Leave Before Doing at Iguazu Falls