Getting Around Vietnam in a Cyclo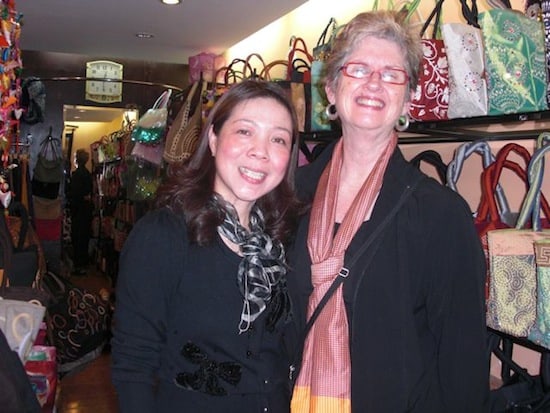 Getting around Hanoi involves walking (wonderful), bicycles or motorbikes (scary), cars (expensive and time consuming), or hiring a cyclo. Above is a photo of Mr. Lap, my cyclo driver this summer. Each day I let him know my schedule for the next day using the help of a friend who understands my English, or I call him on his cell phone and hope I've pronounced the time of day with enough accuracy that he'll arrive when I expect him.
Cyclos charge about 40,000 Dong (a few US$) per hour and the driver will pedal you about the central area, or as far as you want to go. They are masters at the complex traffic involved in central Vietnam, and enter intersections fearlessly, and without mishap. The seats also come with plastic rain curtains that keep you dry in Hanoi's monsoon rains.
I have been using Mr. Lap to drive me to and from my office and meetings at a hotel near West Lake. Colleagues tell me that the route requires us to travel along streets that are off limits to cyclos, because they have heavy traffic. I suspect Mr. Lap is more interested in the revenue than in the risk of getting fined. But the frequency with which I travel that route probably suggests I need different transport, or we'll both be in trouble.
But traveling in a cyclo lets me see the sights slowly, immersed in the life on the streets.
But traveling in a cyclo lets me see the sights slowly, immersed in the life on the streets. While there are office buildings in Hanoi, the sidewalks are where most business is transacted and where most ordinary daily activities occur. From early in the morning to late at night, small stools and rattan shelves of varying sorts host the families, shop owners, clients, and all manner of goods for sale: raw chickens on a wicker tray, fresh greens and herbs, grocery staples and bottled water, as well as silk purses, lacquer ware, newspapers, and the immense variety of street food. Every day I buy my bottle of water from an elderly grandmother who sits all day long with a display of different sizes of water bottles along one of Hanoi's most upscale shopping street. I've asked several times to take her photo, but she always refuses.
On the same block at the corner is a tiny food stall–the "kitchen" is a couple of charcoal burning stoves holding soup pots, some boxes and shelves holding supplies. Customers sit on tiny, low stools; the menu is soup, tea, unshelled pistachio nuts, and local beer. The sidewalk from mid morning through late night is packed with patrons sitting on these stools.
Any pedestrian trying to get around the corner just walks onto the street around the crowd. In fact, pedestrians are lowest in the pecking order of who gets to use the sidewalks. Motorbikes parked on the sidewalk are the highest priority because they pay to park. Shop owners selling goods or food and their customers are next in order, and foot traffic just has to accommodate and walk in the street.