Here's What to Do in Santa Cruz de Tenerife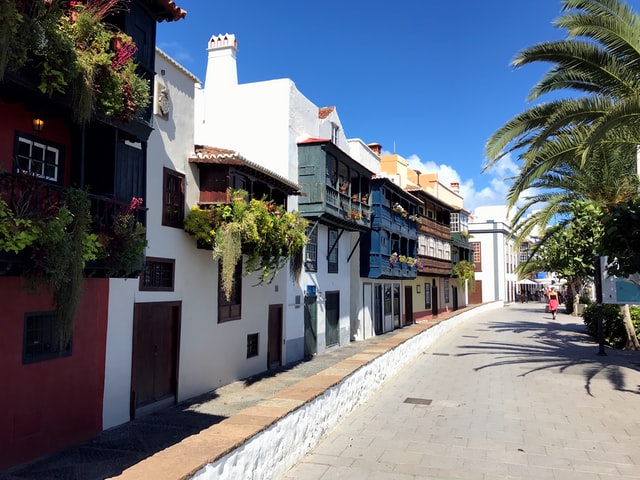 Santa Cruz de Tenerife is the capital of the Tenerife in the Canary Islands, but it's a relatively small place by capital city standards. It's full of hotels, shops, bars and cafes, with friendly locals to help to make your stay pleasant. If you want to avoid the resort hotspots like Playa de las Americas and are looking for something slightly calmer but still warm and sunny, Santa Cruz is a good alternative. Fly to Tenerife south (TFS) and get a local bus 111 (journey about an hour).
A few airlines do fly to Tenerife north, which is much closer, but flights are a bit more expensive. My trip to Tenerife was in December, therefore not peak tourist season, so most places were quite quiet during my visit. I can imagine a very different picture in July or August!
I chose Tenerife for my trip for several reasons—relatively cheap flights from the UK, almost guaranteed sunshine and as a safe destination for a solo female traveller. Would I go back? Absolutely! This was my second trip there in two years, so I'll most likely go for the hat trick in 2016. For a calm, relaxing break, this is a great destination.
Here are some suggestions for ways to pass the time on a break to Santa Cruz.
Here's What to Do in Santa Cruz de Tenerife
1. Walk around the town and beyond
Santa Cruz is a town with lots of places to walk around, including the seafront. I walked north along the coast until it got too industrial (I wasn't keen on walking where my view was of oil refineries), although most of the sea front is about boats—ferries, cruise ships and container tankers. It's not the most picturesque waterfront view, but there is a cycle and walking route that is clearly marked and well maintained with plenty of benches for frequent rest stops.
Walking south is slightly nicer to look at, with the imposing Auditorium in view. I can't decide whether its design is magnificent or ridiculous. It's like it's trying to be the Sydney Opera House but not quite managing to match its splendour. Next to the auditorium is a paved area with a few trees and places to sit amid the sound of the sea. Here you'll also find some superb artworks. On the rocks around the auditorium are paintings of musical artists, present and past—find your favourite composer or pop idol!
There is a City Sightseeing bus that takes you around various places of interest—if you're pushed for time, this would be a very pleasant way to spend a day. If you've got time on your hands, why not get a leaflet on the route and walk it instead?
2. Take a bus to Playa de las Teresitas
The 910 bus runs every 10 minutes from the main bus station to the nearest large beach to Santa Cruz. For the sum of €1.25, it takes about 10 minutes for the journey through the industrial coast and out the other side to a small town and a pretty, enormous golden sandy beach.
The beach itself is in a beautiful curved bay with hills surrounding it all the way along. It is protected by a wall of rocks across the bay, making a harbour for lots of small fishing boats but also providing a pretty safe area of water for swimming and other water-based activities.
During my visit, much of the nearer end of the beach was covered with sun beds, though most were empty during my visit. There were piles of others dotted around, no doubt ready for use in the summer peak when the beach probably heaves with people. The outer edge of the beach was home to several cafes and there were also plenty of clean toilets to use. The far end was virtually empty—no sun beds, just sand and the odd person dotted here and there.
The lack of people made this a very peaceful place to be, and the sun was warm and welcoming. I also felt perfectly safe on my own—no random people approaching to try to sell stuff or just generally bother me! For me, this was a fantastic place to just sit quietly, read and write a bit, drink and snooze.
3. Visit the Parque Maritimo
The Parque Maritimo is a complex of swimming pools and sun loungers right by the sea. I'm not a fan of swimming, and I actually forgot to bring my bikini with me on this trip (!), but this place is perfect for somewhere to sit and relax in the sun without getting sand everywhere.
The board at the entrance said €2.50 to get in and €2.50 to use a sun lounger, which I thought was quite reasonable. However, on speaking to the member of staff at the gate, the entry fee was actually only €0.50 so it was an absolute bargain!
Part of the complex was closed, but it hardly mattered as there weren't many people there (so plenty of choices for places to sit). I found a spot nowhere near anyone else (there's a theme of not interacting with people here!) and had a little row of sun beds to myself (although I did only use one!). I positioned myself as close to the sea wall as I could, meaning that the sound of the waves crashing onto the rocks just about drowned out the noise of the traffic from the main road around the town.
There were several pools of varying depths, an outdoor gym, and a café and changing rooms/toilets, making it an ideal location for a relaxing day.
4. Go to an event
As my visit included Christmas Day in Santa Cruz, I was lucky enough to be able to see an open air performance of 'Carmina Burana.' I didn't actually get into the arena of the concert but could hear and see it pretty well from a vantage point outside. I was perfectly placed for the post-concert fireworks (was not expecting that!).
If you're not lucky enough to happen upon something, there are a couple of options that you could plan for.
Firstly, the auditorium holds concerts, musicals and various other events. After I left the island, 'Sister Act' the musical was about to start—probably sung in Spanish, but would be great fun nonetheless!
Secondly, Tenerife has a league football team named Club Deportivo Tenerife who play in the Spanish 2nd division, so if you need a sporting fix while you're on holiday, check the fixture list before you book your flights!
5. Visit a museum or art gallery
There are plenty of cultural diversions in Santa Cruz de Tenerife. I chose to go to the Tenerife Espacio des Artes (and not just because its initials spell TEA) in a centrally located and rather imposing modern concrete building.
The nice man on the reception was very welcoming and spoke to me slowly in Spanish—I just about understood everything he said—telling me all about what exhibitions were on and where to find them. It cost €7 to enter. I could have fibbed and said I was a teacher of the arts to get in for free, but I felt it only fair to pay full price!
Several exhibitions were available to see—mainly photographic, largely in black and white, but with one set of paintings by the surrealist Óscar Domínguez. The displays weren't quite what I expected—I think I'm used to walls full of massive canvasses of oil paintings with a few sculptures here and there for good measure, so it wasn't quite what I thought it might be. However, some of the photographic collections were quite striking and there were some interesting films to watch too.
Here's What to Do in Santa Cruz de Tenerife.
6. Go shopping
This is one of my favourite pastimes in foreign parts. I can't resist a good shopping street, and Santa Cruz has many. I love finding shops that I don't have where I live in the UK. The only problem is resisting the temptation to buy lots of new stuff, as I won't have space in my bag to get it all home! There was a cool shop called 'Tiger' which I also found in Reykjavik and Milton Keynes last year. It's the kind of place where I could spend a fortune but have bought nothing of significance.
I limited myself to three small items that I knew I would be able to squeeze room for in my bag. There was a similar shop called 'Ale-hop' which had an enormous bright basement, full to the brim of things you never knew you wanted but felt an incredible urge to purchase. There was also a rather large pick 'n' mix sweet shop containing my favourite sweets (in many different flavours) that I only seem to be able to buy in Europe. Much of the shop will be returning home with me. Well, as much as will fit in my already full bag!
7. Take a local bus to explore another town
If you fancy some time away from Santa Cruz, there are so many choices for places to go as the transport system connects to virtually everywhere on the island. Puerto de la Cruz on the west coast is a popular trip; however, I took a bus south to Candalaria, a small coastal town with a beautiful square, overlooked by a picturesque church and guarded by a row of imposing statues.
I went on foot north from Candalaria to Las Caletillas, a very pleasant walk along the coast. For some of the way, it was possible to walk along the black sand and rocky beach. Sometimes there was a clear, open promenade. In other places it was necessary to go inland to bypass harbours or hotels or rocks. I'm a big fan of listening to the sound of the sea, so this walk gave me a perfect opportunity to do so.
Here's What to Do in Santa Cruz de Tenerife
Have you traveled to Santa Cruz? How was your trip? Email us at [email protected]pinkpangea.com for information about sharing your experience and advice with the Pink Pangea community. We can't wait to hear from you.
Here's What to Do in Santa Cruz de Tenerife photo credit by Unsplash.