Top 25 Tel Aviv Restaurants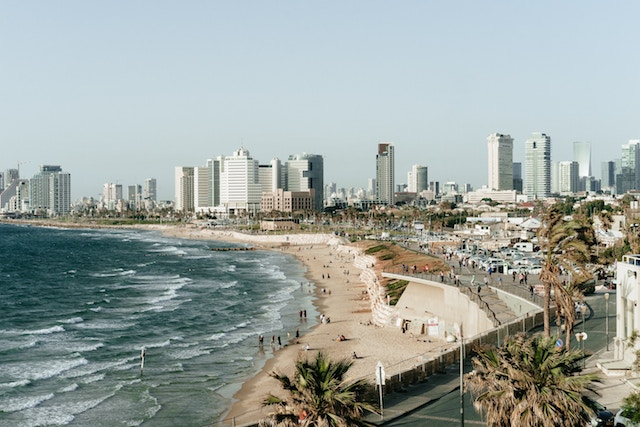 Since living in Israel for about 7 months, I have tried countless restaurants in Tel Aviv and eaten some of the best meals of my life. Although Israel is known for shawarma and falafel stands on every corner, Tel Aviv has restaurants that specialize in different cuisines. I have picked my favorite 25 Tel Aviv restaurants and have separated them into six different groups. If you are ever here and need a good restaurant, definitely consult this list!
Top 25 Tel Aviv Restaurants You'll Want to Enjoy
Asian
1. Moon Sushi (Bograshov 58, Tel Aviv)
Located in the center of the city, Moon is one of the best places to get your sushi fix in Tel Aviv. Moon is expensive, so prepare to spend when eating here for dinner. It is a unique restaurant because of the conveyor belt: you can choose which rolls you want as they slide past your table. Make a reservation if you're coming on the weekend. However, if the original Moon is booked, try their second location, Moon D-Light, located around the corner on Pinkser 30.
2. Hanoi (Lillenblum 18)
This Southeast Asia restaurant is a casual place where you sit on old box crates and eat on tables that are constructed from similar material. I recommend the Pho if you go. They also have pork belly and shrimp shumai on the menu. Make a reservation if you plan on going as there is usually a line out the door.
3. Thai House (Bograshov 8, Tel Aviv)
Located near the beach. Amazing and authentic Thai food that came highly recommended from all of my friends. They have a wide selection of different Thai dishes on their menu. This is one of the more expensive restaurants in Tel Aviv.
4. Peking Duck House (Bograshov 34)
A Chinese restaurant a few blocks away from Thai House. I recommend the Spicy and Crispy Shrimp. Various noodle, meat, seafood, and vegetable dishes on the menu. Reasonably priced food; expect to pay about 70-90 shekels a person depending on what and how much you order.
Top 25 Tel Aviv Restaurants
Israeli
5. Ha Achim (Ibn Gabirol 12, Tel Aviv)
Means "the brothers" in Hebrew. A Middle Eastern/Israeli restaurant located in the center in my favorite area of the city. You'll taste good Israeli food that's different from the typical falafel and shawarma stands on the street. They have good dips and salads to start. I recommend a kebab dish for your main course!
6. Miznon (Ibn Gabirol 21 and King George 30, Tel Aviv)
One of my top five restaurants in Tel Aviv and definitely my top choice for Israeli food. Miznon puts a creative and fun twist on the typical pita: stuffing the pita with hamburgers, calamari, and even fish. They do have vegetarians options as well. While you wait for your food, help yourself to plenty of pickles, hummus, and tahini – all self-service. There are always fresh ingredients, and it's a good deal with prices ranging from 40-60 shekels.
7. Yonita (Nahalat Binyamin 10, Tel Aviv)
A small restaurant right near Shuk HaCarmel (Carmel Market). It's best to come here on Tuesdays or Fridays when the Nahalat Binyamin arts and jewelry fair occurs. I highly recommend the shakshuka. In fact I haven't even tried anything else on the menu. It's so good I order it every time.
8. Abulafia (Yefet Street 7, Ibn Gabirol 73, and the Tel Aviv Port)
Both a bakery and a restaurant, but I suggest visiting the bakery. They offer a wide variety of savory pastries. My favorite is the sambusac, a dough pastry, similar to a calzone. There are different types of sambusacs but I recommend the pizza one. You order at the window and receive your pastry warm, straight from the oven. There are multiple locations but the most well known is in Jaffa.
Hummus
9. Hummus Hason (59 Herzl, Florentin, Tel Aviv)
My favorite hummus place in Israel, not just Tel Aviv. It's always filled with locals and has a small, neighborhood feel. They have the best hummus with meat that you will ever try. And the falafel are perfectly cooked. I promise you won't be disappointed.
10. Mashawsha (Pinkser 40, Tel Aviv)
A vegan friendly restaurant located in the center of Tel Aviv. It's another great hummus place. Because it is so well known, there is often a wait. But it's definitely worth it.
11. Abu Hasan (1 Ha'Dolfin Street, Jaffa)
Located in Jaffa and commonly referred to as the best hummus in Tel Aviv. Come early or expect a long line. Basically you can't go wrong if you want hummus.
American
Top 25 Tel Aviv Restaurants
12. Benedict (Rothschild 29 and Ben Yehuda 171, Tel Aviv)
An amazing restaurant that boasts that it serves the best breakfast in Tel Aviv. It's a personal favorite of mine because of the available side order of bacon. Everything is good, from the pancakes, to the eggs, to the international breakfast specials.
13. Nola American Bakery (Dizengoff 197, Tel Aviv)
Another great café/breakfast place in Tel Aviv. I discovered it recently and already can't wait to go back. They have a variety of breakfast food on the menu, but they also have lunch and dinner meals as well, including my favorite mac and cheese. They offer a wide selection of pastries that are indulgent and delicious.
14.) Wings (Herzl 12, Tel Aviv)
Just what it sounds like, a wings restaurant in Tel Aviv. You can chose from a huge selection of sauces for your wings. I recommend the Texas, which is a honey barbeque sauce. Don't forget an order of sweet potato fries with soy ranch dressing.
15. Wolfnights (Ibn Gabirol 67, Tel Aviv)
A chef burger restaurant with a few locations in Tel Aviv. It has one of the best burgers in the city, but you will pay for it. The extra cash is worth it, especially when you are topping off your burger with bacon.
Other Cuisines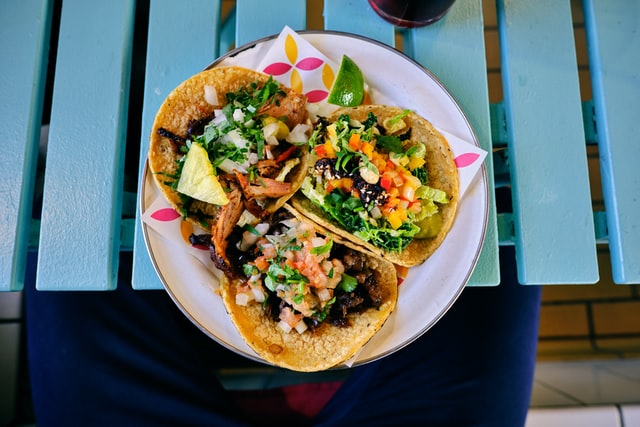 16. Los Burning Tacos (Allenby 47, Tel Aviv)
A small "hole in the wall" type restaurant located across from Shuk HaCarmel. It serves as a front for Deli, a bar located behind the restaurant. The tacos and quesadillas are amazing. Ask for the pork tacos even though they aren't on the menu. The best Mexican food I've had in Israel so far.
17. Vicky Cristina (HaTachana, Tel Aviv)
A tapas restaurant located near Neve Tzedek in the Old Railroad Station (HaTachana). The restaurant is split into two sides, Vicky is the tapas restaurant side, whereas Cristina is a wine bar. The tapas menu has a wide variety of meat and fish dishes. Definitely get the potatas bravas, you can't have tapas without them.
18. Hapizza (Bograshov 51, Tel Aviv)
The best pizza in Tel Aviv. The restaurant has a great atmosphere with most of the seating outside along the street. Everything is good, but I recommend the house pizza and the tuna salad.
19. Pundak DeLuxe (Olei Zion Street 7, Jaffa)
A BBQ joint. If you ever need a barbeque fix while in Tel Aviv, Pundak DeLuxe is the closest you will get to true BBQ food. It's in the middle of the old Jaffa flea market, so the vibe at the restaurant is really cool.
20. Rak Basar (Shalma Road 19, Tel Aviv)
The name means "only meat," and that's exactly what you will get at this restaurant. You go up to a counter and order exactly what you want, whether it's chicken, steak, sausage, or portabello mushroom for all you vegetarians. Come here for a fun night out and get the unlimited house wine for 25 shekels a person.
Cafes
Top 25 Tel Aviv Restaurants
21. Cafe Xoho (Gordon Street 17, Tel Aviv)
A café located right near Gordon Beach. It's vegetarian and also serves a lot of vegan dishes. It's a great place to take your computer and just hang out for the day.
22. Cafe Habima (Sderot Ben Tsiyon 31, Tel Aviv)
A cute café located in the middle of the pedestrian walkway on Sderot Ben Tsiyon. It is right across from the Habima Theatre. Come relax, sit outside, and eat good food!
23. Cafe Louise (Rothschild 9, Tel Aviv)
A café that serves good and healthy food. It's as simple as that. They serve breakfast as well as lunch and dinner. Breakfast is served until 12:50pm. Although the kitchen is not gluten-free, they offer gluten-free and vegan dishes.
Dessert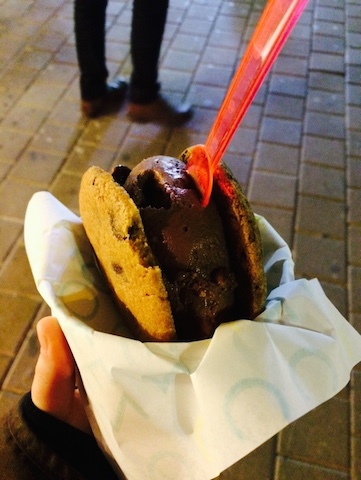 24. Cookeez (Dizengoff 116, Tel Aviv)
A new dessert place that opened in Tel Aviv a few months ago that puts a fun twist on a favorite, the ice cream sandwich. You choose from a variety of ice cream flavors as well as cookies to create your perfect ice cream sandwich.
25. Anita (Shabazi 25, Neve Tzedek, Tel Aviv)
My favorite frozen yogurt place in Tel Aviv. They have a huge variety of toppings, both chocolate and fruit. There are also multiple sauces you can choose from to top off your dessert, I suggest the nutella with nuts or the Oreo sauce.
I know that deciding what to eat for breakfast, lunch or dinner can be the hardest part of the day. I hope that this list helps anyone who visits or lives in Tel Aviv to have a fantastic meal. No matter which restaurant you choose from on this list, you won't be disappointed. But why not just try them all?
Top 25 Tel Aviv Restaurants photo credits by Molly Winik and Unsplash.