In Conversation with Expert Packer Ali Garland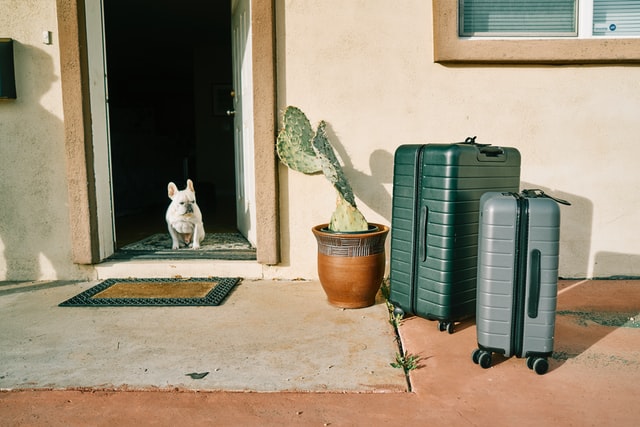 As a chronic over-packer, I was excited to read a new book by Ali Garland Packing Made Simple: A Simple Guide to Packing Light. In her extremely readable book, Ali, who runs the site Travel Made Simple, outlines how to successfully pack, strictly using a carry-on. As someone who easily packs my entire wardrobe for a weekend getaway, convincing myself that I might need certain items, I found Ali's guidance very helpful.
In addition to providing sample packing lists, giving travelers helpful tips for managing the weight of checked luggage, and guiding readers in selecting the right baggage, Ali makes it clear that it's not fun to lug around an oversized bag on your adventure. As an experienced traveler, Ali's advice is trustworthy and exceptional.
In Conversation with Expert Packer Ali Garland
I'd love to hear more the big trip you took when you were 14. Where did you go and how did the trip impact you?
When I was in middle school, I had a teacher who organized tours to Europe, and you had to be a graduating 8th grader or older to go. I decided to go the first year I was eligible, and the trip was to London, Paris, Nice, Monaco, and Geneva. I was hooked! It was so fascinating to be in these places with so much history and such different cultures.
I ended up going on the trip the following two years (those trips involved various cities in Italy, France, Spain, Germany, Austria, and Switzerland) and my travel addiction was firmly in place. Without those first trips, I'm not sure I would've thought much about study abroad and travel as I got older. Now I have a hard time going more than a few months without traveling!
What's your favorite brand of luggage or backpack?
I have a hybrid suitcase/backpack from eBags that I really like, but the brand I always go back to is REI. I love their store, and their brand of backpacks always work well for me.
What's the weirdest/most unnecessary thing you've heard someone trying to pack in their carry-on luggage?
A few years ago I was going through security at an airport in Portugal, and a guy in front of me got pulled aside because of something in his carry-on. It turns out he was traveling with a bunch of tools, and somehow it never occurred to him that hammers, screwdrivers, and pointy drafting tools would be considered weapons.
What's the longest trip you've taken using only carry-on luggage? What did you pack?
When I took a 5-month round-the-world trip a few years ago, I went with a carry-on only. I had a handful of t-shirts, 2 pairs of shorts, a pair of jeans, 2 long sleeve shirts, 1 light sweater, a bathing suit, probably 10 pairs of underwear and 5 pairs of socks, sandals, flip flops, sneakers, prescription medicine, laptop, camera, Kindle, and the normal assortment of shampoo, toothpaste, etc. I always wore my sneakers (the bulkiest shoes with me) and my jeans when flying, and for about half of the trip, I was carrying my winter coat with me since I was traveling to both warm and cold weather destinations.
It was tricky, and I did have to check one of my bags on a few flights that had really strict weight limits, but for the most part, it worked really well.
If you could only bring five things in your carry-on what would they be?
My Kindle, laptop, camera, prescription medicine, and my wallet which has money, credit and debit cards, and my passport in it (oops, is that last one cheating?)
A Conversation with Expert Packer Ali Garland
What do you think is the number one nonessential item people often pack in in their carry-ons?
I've heard of people packing sheets or sleep sacks, but there is no reason to bring these on your trip! Hostels provide sheets. Very rarely they charge a couple of bucks for the sheets, but they still have them. If you come across a hostel or guesthouse that doesn't have sheets at all, or one that seems really dirty, don't stay there. I also once met a woman traveling in Laos who had an emergency foil hypothermia blanket. I don't think hypothermia is really a big risk in steamy, hot Laos.
Do you have any travel advice for women travelers that you'd like to share?
As much as I believe men and women should be equal, it just isn't reality in a lot of the world. Women have a few extra challenges to deal with when traveling, but it's no reason to stay home. Solo travel, especially as a female, has really improved my confidence over the years because it forces me to take on those challenges in an unfamiliar environment.
When I get through it, as I always do in one way or another, it's a huge reminder that I'm stronger than I think I am, and that the world isn't as scary as people would have you believe. That confidence boost is almost like a high.
Is there anything else you'd like to share with the Pink Pangea community?
When in doubt, travel is almost always a good idea. It has changed my life in countless ways. I met my husband through travel blogging, I live in Berlin because travel showed me that there's an incredibly interesting world out there, and I am a stronger person for having traveled. Nothing can replace those experiences.