7 Habits of a Highly Effective Traveler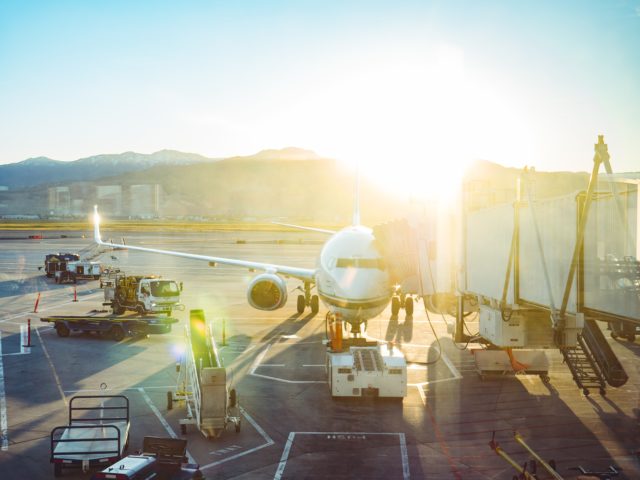 Pink Pangea is a community of well-seasoned women travelers, so I won't insult you by telling you things you already know. Of course you always travel with a copy of your passport, inform all your banks and credit cards of your travels, and know the best way to pack a suitcase. Of course you know that a scarf is the most versatile item you can take, to journal/blog as often as you can, and to never buy new shoes right before a trip.
These seven habits go beyond that, from the realm of simply effective traveling to HIGHLY effective traveling. These are a few habits I've picked up, developed, or perfected over the past 15 years or so of adventuring, and each of them has changed the way I travel for the better. I hope they do the same for you!
7 Habits of a Highly Effective Traveler
1. Use Google maps to plan your trip
You might think this is a no-brainer: of COURSE you use Google maps to plan your travel! How else are we supposed to get around? But I am not talking merely about plotting points on a map and figuring out how to get from point A to point B; I have taken Google maps to a whole other level with color codes and daily itineraries.
You type A folks out there – you're going to love this, I promise. Here's a step-by-step guide to transforming your next trip with Google maps.
2. Use Pinterest to envision, plan, and remember your trips
I've used Pinterest for years, but recently, I've discovered a new use: travel planning and "virtual" scrapbooking. In 2013 Pinterest rolled out their travel boards, which really are just regular boards with a map attached to them. I've found the site to be useful for travel in two ways: inspiration while planning, and "scrapbooking" afterwards.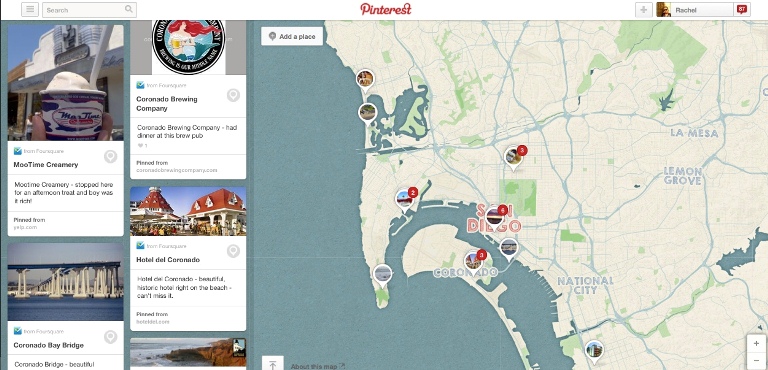 3. Travel with items on their last leg – then toss (or donate!).
This might seem wasteful… except if you are like me, you keep socks who've lost their mates and shoes whose soles are so worn down that wearing them is actually hazardous.
I squeeze every last use out of things… and when they're on their last drop I take them on one final trip! Instead of keeping around (or washing out daily) my undies and socks, I toss them at the end of each day – hardly a loss, as the underwear have most likely lost all their elastic and the socks either don't match or almost have holes – or both.
My load is therefore lightened a little each day, AND I make more room for buying new things. Or, if your shoes/jeans/jacket are a little too worn for you but still perfectly fine, donate them to a local charity, where they will certainly find another use.
4. Bring pre-printed address labels.
I love sending postcards to people back home – it's such an easy – and cheap! – way to let your families and friends know you're thinking of them. But it was such a pain to compile all the addresses I needed, write them out, blah blah blah.
Then, as I was mail-merging some address labels one day at work, I thought – why not do this for my postcards? I now have a word document saved on my computer, formatted to fill Avery address labels 5160, with all the addresses of people I normally write to. Find instructions here, print out before your next trip, and never procrastinate writing postcards again!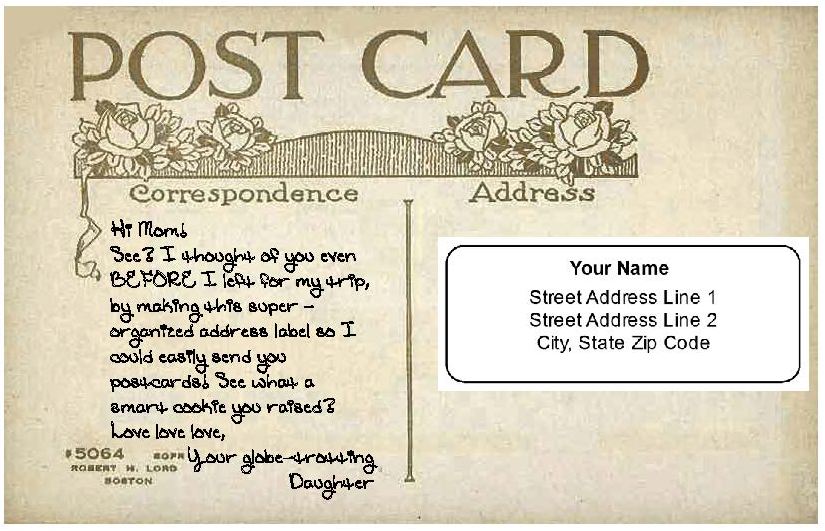 5. Take the opportunity for gift shopping!
When I first started traveling, I used to buy gifts for everyone in my life – my cousins, my friends, my cats. And it began to add up! I've started to employ these two tactics to keep my shopping under control, while still letting my loved ones know I was thinking about them.
A. Do 75% of your gift shopping in a grocery store. You were probably going to buy fancy chocolates and local liqueurs anyway – don't pay gift shop prices! Buy the products that the locals do, where they actually buy them – much more authentic. And your aunt probably doesn't need more tchotchkes anyway.
B. Stock up on the year's holiday presents. You can still buy presents for everyone on your list, just withhold them until the next birthday or holiday! You can even pick up an extra postcard to use as a gift tag. Your present will seem extra cool, AND you won't have to brave the Black Friday shopping craziness.
7 Habits of a Highly Effective Traveler
6. Pick a signature scent.
This one I discovered totally by accident. When I spent my junior year abroad, I brought just one scented thing with me – pumpkin spice body lotion. I used that lotion every single day. When I moved to a new town for spring semester, I took the little bit of lotion that remained with me.
As soon as I opened up the bottle in my new room in Grenoble, whoosh! My fall semester zoomed me straight back to my room in Aix-en-Provence. That was when I realized the powerful connection between scent and memory, and now I always try to pair a new scent with a new location.
Then, when I want to remember my trip, all I have to is take a whiff. Sometimes I even buy a new scent when I arrive, and it becomes a physical souvenir as well!
7. Who has time to scrapbook? Make a memory box.
I used to be so good at scrapbooking – saving every ticket stub, map, and postcard, printing out my photos, and beautifully arranging everything in 12X12 tomes that chronicled my adventures. But sometime after college I lost the interest, the time, or both, and my trip mementos began to accumulate in hastily labeled envelopes and ziplock bags – an inglorious end to the tidbits I had so carefully saved.
Then I saw an idea on Pinterest of using wooden craft books as memory boxes for just such items. I now do this for all my trips – it relieves my guilt over the unsightly envelopes, and who prints off photos anymore? Between this and Pinterest (see above) my trips are well-remembered and documented.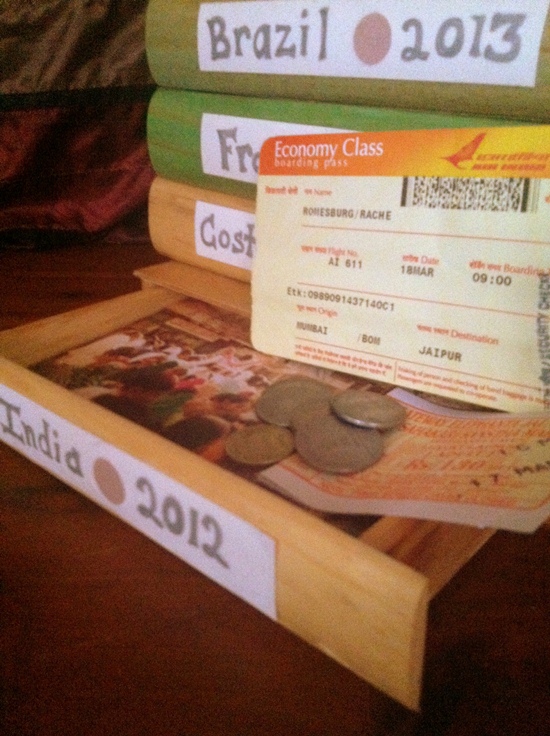 That's all for me, but I'd love to hear YOUR ingenious habits and travel hacks! Feel free to share in the comments section!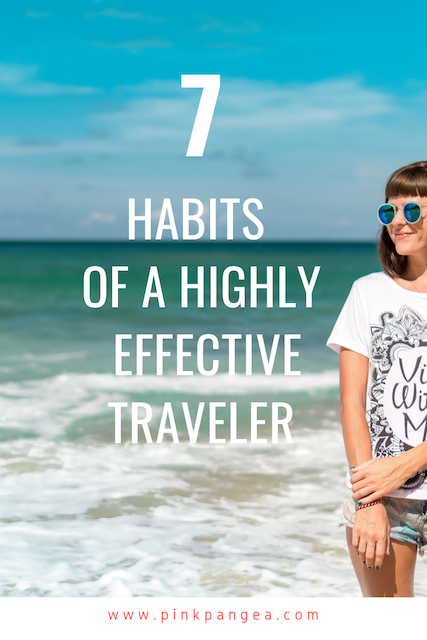 7 Habits of a Highly Effective Traveler photo credits Jodi Marie Smith, Rachel Romesburg Rice and Unsplash.