Visiting Koh Phi Phi, Thailand on a Budget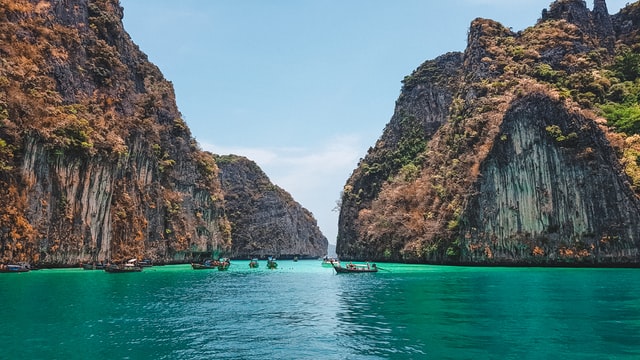 With no cars allowed, gorgeous turquoise water, white sand beaches, and some of the best diving and snorkelling, who wouldn't want to go to Koh Phi Phi in Thailand? When I visited this past December I fell in love with the laid-back island vibe that Koh Phi Phi had to offer, and although my few days spent there cost more than other parts of my trip, it is still a budget destination.
Thailand is a relatively cheap country to travel to and within, but the Thai islands in particular hold the reputation of costing a lot more than other parts of the country. Although this is entirely true, places like Thailand turn us into very cheap people. When I initially arrived in Southeast Asia, everywhere I went I felt like I was ripping people off. It blew my mind that I could get a full meal for $3 US, or that I could go get an hour-long massage for a few bucks. Before I knew it, I was used to these kinds of prices!
The gorgeous, turquoise water of Koh Phi Phi!
Visiting Koh Phi Phi, Thailand on a Budget
I visited Koh Phi Phi near the end of my trip, when I was at the peak of being in the cheapskate mind frame. While Koh Phi Phi seemed ridiculously overpriced in comparison to the other places we had visited, the truth was, Thailand's version of "expensive" still isn't really that expensive. Plus, just like in any other place you visit, there are always ways to stick to your budget.
Getting There
The only way to get to Koh Phi Phi is by a ferry or boat, unless of course you plan on tackling the ocean and swimming there. A one-way trip from Phuket, Krabi, Lanta, or Ao Nang all run around 400-600 baht, which is equivalent to approximately $12-$18 US. Tickets don't need to be bought far in advance, and often you can arrange better deals through your guest house or hostel.
Food
Koh Phi Phi and Thailand as a whole make it easy to eat cheap no matter where you go. The difference is, in the islands you may opt for more street food or fast food versus sit down meals three times a day. There is no shortage of cheap and safe street food vendors to choose from in Koh Phi Phi and I managed quite fine by having a Thai pancake and fresh fruit shake for breakfast every morning, and pizza or a sandwich on the beach for lunch.
This left us with some extra money to go out for a sit down dinner every night. There are also convenience stores on every corner, so stocking up on some snacks for your hostel or hotel room is a great way to cut back on needing full meals all the time.
Accommodations
Koh Phi Phi is definitely a hot party destination, although it also attracts honeymooners and families too. Because of the diverse visitors who visit this island, there are several options available in terms of accommodations. You can opt to stay right on the beach in the middle of the nightly party scene for pretty cheap, although you are guaranteed to have drunk roomies and get minimal sleep.
There are also other hostel options available just up from the beach, which are still walking distance due to the sheer fact that there are no cars in Koh Phi Phi. We stayed at a hostel called Phi Phi Dream, we had a private room, quiet sleeping quarters, and only opted to pay a bit more than other places ($20 US/night each).
Activities
There are several great things to do in Koh Phi Phi for free or inexpensively. You can kick back on the main beach or venture to Long Beach (about a 40 minute walk from the main docks). You can also check out the Phi Phi Viewpoint that has amazing views and only costs you a few dollars to enter, and there are also live fire shows and entertainment every night on the beach. Additionally, you don't need to pay to have fun here and that's what makes it so great!
For those who do have a bit more money in their pockets for day trips and activities, the most popular tour, which is a day-trip around the islands, runs for around $30 US and includes lunch, and a full day of activities and snorkeling. You can also easily barter with a local boat driver to take you around to a particular island or beach for pretty cheap–if you are talented at bartering!
Shopping
Everything you find on Koh Phi Phi you can find in markets in other parts of Thailand. The only difference is that they'll charge you more (or try to) in Koh Phi Phi. If you are going to shop, barter with every sales person, because you'll notice they ask for way more in the islands than they would anywhere else in Thailand, but if you can wait till you're in another part of Thailand like Chiang Mai or Bangkok do, because you'll get a better deal.
Koh Phi Phi is one of my favourite places on earth. It was worth every penny I spent there and although it was one of the more expensive places I visited in Southeast Asia, it still cost next to nothing in comparison to traveling through Europe, or North America. A trip to Koh Phi Phi will be worth every penny, and don't let the more expensive price tag stop you from paying this place a visit.

Visiting Koh Phi Phi, Thailand on a Budget
Related Reading
9 Things that Surprised Me about Traveling in Thailand
Have you traveled to Thailand? What were your impressions? Email us at [email protected] for information about sharing your experience and advice with the Pink Pangea community. We can't wait to hear from you.
Photo credits: Lauren Marinigh and Unsplash (top).