Dating Overseas: Encounters with British Boys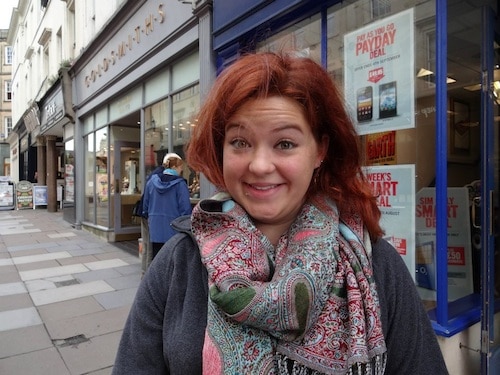 So I've been here in Bath, England for five days now. A lot of the time has been spent getting an orientation of the city and the classes I'll be taking while I'm here. (I know, who really studies abroad to study?!) Anyway, I've been getting to know the other 43 people in the program, the instructors we'll have for classes, and I've even met with the company I'll be interning for! Study abroad has been good to me so far.
So after all the hard work and focus these past few days, last night most of the 44 of us in the program went out for our first, real, official, night out in Bath. Since I'm only 20, alcohol is a no-no in the States, but here, it's a whole different ballgame and the grocery stores that sell beer, wine, and liquor make for an easy playing field.
We met up as a big group then headed out to a bar for English trivia night, which quickly turned into the Americans yelling every time they got the right answer. After the bar, some of us headed to a club down the street from our flat called Po Na Na, which left us all singing the Rhianna classic "Ooh na na, what's my name?" all night long.
Once sufficiently hydrated at the club, a friend and I decided to put the moves on some British boys. We spotted them across the dance floor, and shimmied our way over to them. In my experience in the States, this move means one thing: Let's get down boys. Which is exactly what I was expecting to experience. But, much to our shock, the guys literally ran away. Like they scampered to the farthest corner of the room they could find so we would leave them alone.
We laughed it off and returned to our other friends, some of who are also British students. Then, over the din of the music, one of the British students yelled to us "Boys here aren't like that! They have to make the first move!" At the time, I laughed it off but now this morning I'm rethinking it.
I'm not the most courageous, ballsiest gal out there, but if I'm out and I see someone, I don't have a problem going for it really. This idea that it's more acceptable, and kinda required, to sit back and wait around for a guy feels icky to me. Very 'the 1950s called and they want their rules back.' But, I'm in a new culture. And they play by different rules. So I guess the best I can do for now is add this to the list of British oddities:
•       The driving on the wrong side of the road.
•       The massive amounts of tea.
•       The constant rain.
•       And now, the waiting.