Living in Namibia on a Farm I Now Call Home
A rural homestay in the middle of nowhere Namibia? Now that was an experience just too rare to pass up. Riding in the kombi on the bumpy "roads" from Windhoek to Khorixas made my nerves more and more apparent.
"Is my Damara-Nama good enough?"
"What will I do if the wilderness is literally my toilet?"
All of these anxious thoughts quieted down when I was dropped off in front of a my new home: a multi-room hut made of cow dung, mud, and sticks with a tin roof. My first introduction was to my homestay mother, Valvuca. She appeared leathery, worn, and resolute, but her toothy smile and greetings put me at ease.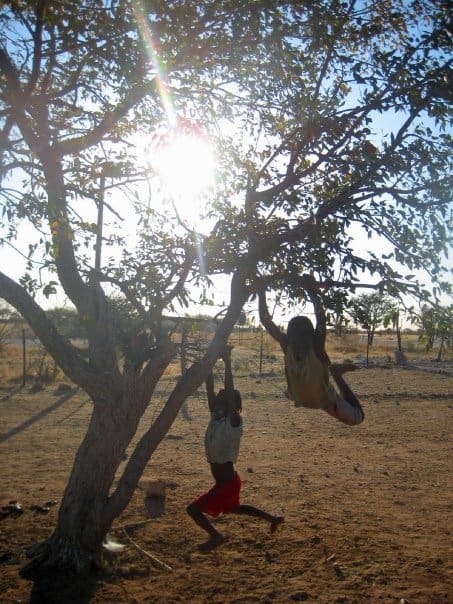 My homestay mother was an older woman who didn't speak any English. Her husband had died many years prior; I never fully understood how. Her daughters had left to the capital for work, and her two younger grandchildren stayed with her on the farm. Many other men and women, of all ages, would come and go; their relation never really mattered. Everyone was family. Everyone gave Mom a hug and everyone helped out where needed. It was an interesting community to witness.
My family were subsistence farmers, and lived close to the main road; Mother had heart problems that required easy access to the nearest medical center (still many hours away). Her pastel-colored quilted dress was stained in all the right places; her shoes familiar sneakers.
Daybreak comes much earlier when the local rooster is your wake up call. Stumbling out of my room, Mother would already be dressed and starting the fire in the courtyard. She'd motion me over to help move the black iron kettle over the flames to warm the ontaku, a fermented drink they couldn't seem to get enough of. In the meantime, she would tend to the animals.
When the sun fully rose, the farm work stopped. The children would be up by then, and we would pass the time by drawing numbers and letters together in the dirt. Mother would seek recluse in the shade of a tree, only moving to refill her round cup. She would laugh and smile as !Othema braided mine and Maizy's hair to look the same. She would doze in and out of sleep as Ethan and I swung from trees and named the goats. It was November, but it was hot.
As the afternoon became evening, Mother would wake from her nap, rekindle the fire, and return to the fields to finish her daily work. I would collect the chickens' eggs and fetch water from the tap down the road. We would all come together to dine on fat cakes and watch the sundowner. As the night settled, so did we.
Each day was more or less the same: a quiet, simple life.
Megan Lee loves having the opportunity to share the good word about studying abroad for Go Overseas! Keep up with Meg on Twitter (@peglegmeg).