Sri Maha Bodhi: The Oldest Tree in the World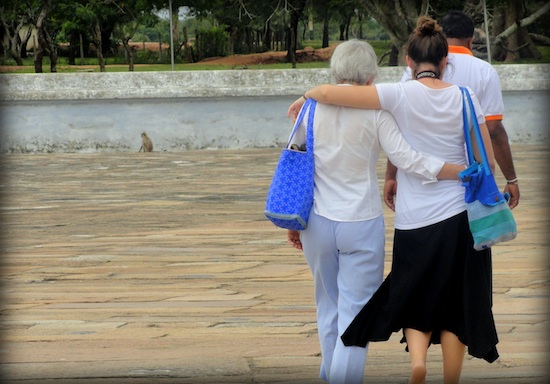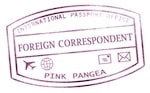 The oldest tree in the world is showing its age. It's been tended to by an uninterrupted succession of guardians for over 2,000 years, but what remains of the Sri Maha Bodhi (the "sacred Bodhi tree") is a large branch supported by a golden railing, surrounded by a protective and sacred temple. This tree is a very spiritually and physically significant part of one of Sri Lanka's two famous ancient cities, Anuradhapura. The morning I was there, there were hundreds of devotees making offerings and sitting amidst prayer flags flapping in the wind. Lotus flowers were everywhere, the sun was shining, and a sense of gratitude hung in the air.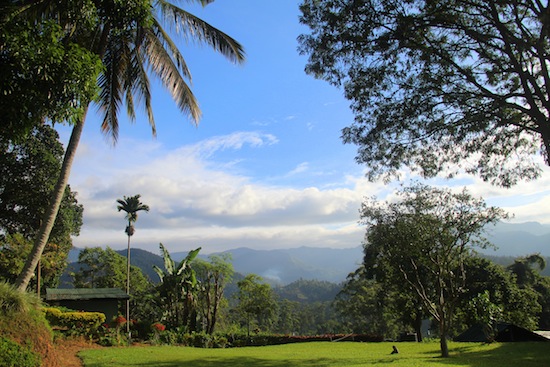 Lonely Planet sums up the history better than I can: The huge tree has grown from a cutting brought from Bodhgaya in India by the Princess Sangamitta, sister of Mahinda (who introduced the Buddha'szteachings to Sri Lanka). The Sri Maha Bodhi thus has a connection to the geographical heart of the Sinhalese religion, which isn't surprising – there is an incredible sense of interconnectedness that exists in Sri Lanka, something about the island (which, fittingly, used to be named "Serendip" and is where the word "serendipity" originated from) that has things falling into place and almost always, it seems, working out. I've lived in Sri Lanka for five months, but I feel that interconnectedness most poignantly when I'm in cities like Anuradhapura, enveloped in history and ancient Sri Lankan culture.
Sri Maha Bodhi: The Oldest Tree in the World.
"The ruins of Anuradhapura are one of South Asia's most evocative sights," my guidebook informs me before I set out to explore the city, and I quickly come to wholeheartedly agree. (FYI: It's a city that's best navigated with a driver or on bike.) The complex is full of archaeological and architectural wonders – huge stupas, ancient pools, and crumbling towers, all built when Anuradhapura reigned over Sri Lanka as its capital for a thousand years, beginning in 380 BC. Today, Anuradhapura's wonders are preserved holy sites, open to tourists but often used for ceremonies, giving the whole city a very authentic feel.
When I've had enough of the many monkeys in Anuradhapura, it's off to tea country, to a lovely bungalow tucked away in Hatale, just north of Kandy. (If you're looking for a gorgeous get-away while in the hills of Sri Lanka's central province, check out "Hatale Tea Bungalow" on Trip Advisor – I highly recommend it!) After a dinner of traditional hoppers and coconut curry, I fall asleep under the fullest sky of stars I have ever seen.
Old and new worlds overlapping.
And when I wake up the next morning, it's to the sunny hills of tea country. There's a swing in the garden whispering my name and a couple of rambunctious monkeys in the nearby trees, eating the same kind of fruit I'll soon have for breakfast. My mom and her cousin, who are visiting me for a week, are sitting in chairs nearby, reading and enjoying the morning sun.
It's one thing to be living in Sri Lanka for a year, soaking up island life and exploring every crevice that I can – it's quite another to have the chance to share one of my favorite places with my family, to adventure with them. As I'm sure many of you know, traveling with family can sometimes be stressful and is sometimes more trouble than it's worth… but this week traversing ancient cities and hills of tea bushes has reminded me that no matter where you are, traveling with people you're close to can be such a comfort. Old and new worlds overlapping. Shared memories in special places. Bonding over what's strange and exciting and new. So, if you have family that you enjoy traveling with, consider yourself fortunate – and go plan an adventure or two!
Photos for Sri Maha Bodhi: The Oldest Tree in the World by Natalie Lampert.