Along the Chagres River: Visiting the Chagres Tribe
Greetings from Panama! Today was magical to say the least. Our lovely tour guide, Pedro, drove us to the Chagres River to meet the Darien tribe. As we exited his Hyundai we were greeted by the tribe chief and escorted to our canoe. While drifting along the Chagres, we could see women washing their clothes in the river, children playing with their dogs, families returning to their huts, and of course, other tourists. After approximately 10 minutes we abandoned our canoe and continued on foot. The short hike to the Chagres waterfall was well worth it as we drank it all in. It was wonderful to watch people from all different cultures, countries, races,and ages swim together and embrace one another.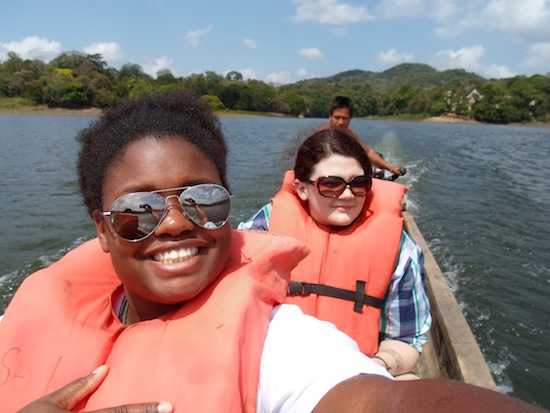 When we arrive at the village we are greeted by the Darien people who are awaiting the arrival of guests. We rushed to the homemade jewelry vendors and began selecting souvenirs for family members as our lunch arrived. Tilapia and patacones were served in a large leaf that was shaped like a cup. They completed the meal with a large serving of bananas, watermelon, pineapple, cantaloupe, and clementine oranges.
Beautiful presentation, beautiful scnenery, and wonderful people. As they began to dance for us, my mind drifted away, as I wondered what it would be like to live here, creating baskets (that require a 25-30 day process of coloring the material), decorating beaded skirts, caring for children. My mind was still in that world when a young boy approached, pulling me into the group of dancing women and men. The dance was simple yet fun.
Don't leave the Darien people without getting your Henna tattoo. There is so much to do in Panama that we could not complete it all but this was well worth the $105.00 deal. I am looking forward to zip-lining through the rainforest on my next journey through Panama.