Santorini – Not the Budget Traveler's Paradise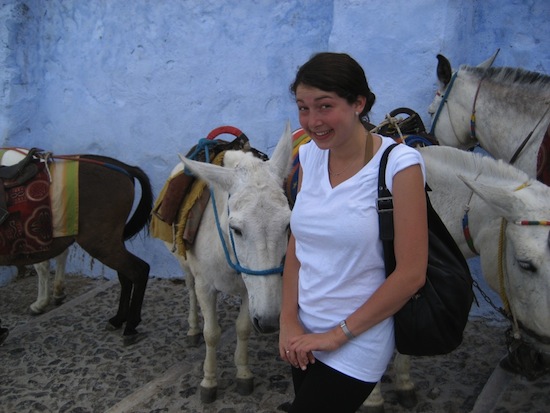 Here I am in Santorini, Greece with some donkeys. The area is beautiful – right next to the sea – but beware of all the poop!
Santorini definitely lives up to its reputation as the honeymooners' paradise. Unfortunately my friends and I were on a budget and didn't get to bask in paradise as much as we would have liked. But we did stay at a great hotel and used lots of public transportation and walked a ton. The food there was amazing – especially for those who are vegetarian or keep kosher – lots of fish and Greek salads, all very healthy. There were also tons of cute shops that sold art and jewelry, though they got pretty expensive -even in May when "season" prices are drastically reduced.
Though Santorini was beautiful and warm, Mykonos is really the place for young people.
Santorini – Not the Budget Traveler's Paradise
Related Reading

Have you traveled to Greece? What were your impressions? Email us at [email protected]pinkpangea.com for information about sharing your experience and advice with the Pink Pangea community. We can't wait to hear from you!
Santorini – Not the Budget Traveler's Paradise