Shop 'Til You Drop in Malawi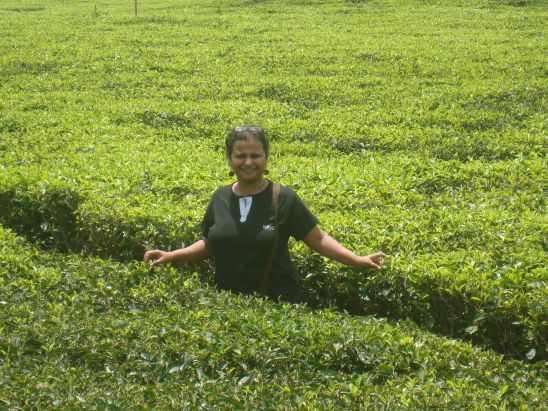 As an Indian, I love how my country has made its way into the hearts of people for being the womb of yoga, meditation, the Art of Living and many other things that soothe the senses. There are many who probably resort to these in order to connect with a higher being or their inner selves. Alas, all these methods have failed in my case. I begin with a new vigor, determined each time to let go of my impatience and anxieties. But it's always like a fad diet – I start with this burst of zest and after a while, I become so frustrated, I hog as though anticipating a famine.
Maybe I'm just not ready for it and I have no qualms about saying so. I am not going to force myself to wear a garb I'm not yet ready to drape. But I do know one method that always works for me. In fact, I speak for most women when I say that the ultimate stress-buster and soul soother is retail therapy!
Here in Blantyre, Malawi, there are no extravagant malls where I can wander off to buy popular brands of clothing and accessories. Then again, in Malawi, the appetite is for something rustic, traditional and
tribal. The choices that are present in this category are a complete treat. My explorations so far have
helped add some beautiful adornments to what I like to call my 'Mantle of Treasures'.
Within my first few weeks of landing here, Mrs. Asha Rao, a family friend, graciously volunteered to show me around town. That is when I was introduced to some interesting places like La Caverna and the African Habitat. La Caverna is situated near the Blantyre Market and prides itself as a monument. It's an ancient structure that has now been converted into a coffee shop cum memorabilia centre. I found this concept brilliant because there are many heritage sites around the world that have fallen apart due to lack of maintenance or lack of funds. This structure has stayed alive probably due to
the steady revenue that it earns from the business. The market sells the most exquisite pieces of art, which include wooden carvings, paintings, and cloth craft. Most of the carvings available are made of cedar or ebony. One can find something as tiny as an animal shaped fridge magnet to a life sized tribal figurine.
I like picking things which play the role of memorabilia and also have some utility value.
I like picking things which play the role of memorabilia and also have some utility value. So I ended up buying a fragrant cedar wooden jewelry box, a beautifully carved wine bottle holder, animal shaped hair pins, etc. There are also paintings made by independent artists that are so enchanting, they deserve a place in a Sotheby's or a Christie's auction. What mainly caught my eye were these organic lip balms available in tiny wooden cylinders. They come in different flavors and the primary ingredients are beeswax and macadamia oil.
The prices for most things are steep and it would probably be reasonable to go to the source to buy it, but the ambience and the location make La Caverna a must visit. Also, after looking around for collectibles, it is soothing to enjoy a latte and pie in the open-air coffee shop.
Another supermarket for lovers of African art is African Habitat. It houses colorful and vibrant fabrics,
handcrafted jewelry, furniture and dozens of other things. Interesting finds here are the chimes made
from cut-out wine bottles, miniature cycles made with soda corks, painted dry flowers which probably
don't fit inside the periphery of African Art but it goes to show how the creative local artists can even transform waste into such fine pieces of art.
Shop 'Til You Drop in Malawi
While heading back to India, I intend to buy some knick knacks from here for friends and family. They are easy to carry and will not make a glaring hole in my wallet.
Then there is Crystal Plaza that hosts a Saturday market every month. It is hybrid version of a Yard Sale and Flea Market. For backpackers who want to heave off some unwanted equipment luggage before heading home, this is probably the ideal place to sell most of their things. With no dearth of artistic wonders, one may find some stalls selling banana bark paintings and wooden art for a good price.
At Crystal's, there is no guarantee that you will find the same wares the next time. The place opens
at 7:30 am and I was warned that the place would be swept clean by 10:00am. So I had to sacrifice my
weekend slumber in order to hoard some good loot.
There are also places like the Heritage Centre a souvenir centre that sells paper recycled from elephant
dung made at its in-house printing shop. Its hours are slightly inconvenient as the place closes by 4:00 pm. I have just had a hurried glance at the shop but I intend to make a leisurely visit soon.
All these places have been a therapeutic shopping experience not just because of the things I have bought but because they have taught me that despite being such a small country, Malawi houses a treasure trove of talent in the form of its artisans.
Shop 'Til You Drop in Malawi photo credit by Shambhavi Pai.