Celebrating the New Year in Morocco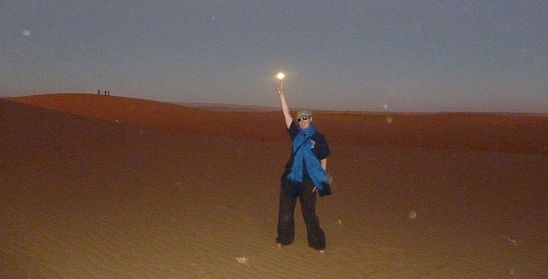 Mint Tea, chickpeas roasted with Cumin, Berber whiskey on cold desert nights, headscarves and a very special discount for my neighbor from down in South Africa… A few weeks traveling through Morocco and these are a few things that have been imprinted in my mind.
A last minute decision to spend New Year in Morocco–in the Erg Chigaga dunes of the Sahara in Berber tents in the heart of the desert was some of the best money I spent. It wasn't cheap but going with Sahara services meant that we drove in 4 x 4s, not buses, had an exquisite drive to M'hamid, and spent a night rockin' the Casbah with some fantastic fellow travelers before entering the vast golden desert.
The food was simple but full of flavor. I'd recommend the Berber omelet and a glass of Moroccan beer. The wine was not quite to my South African standards.
The infinity of dunes bathed in golden light is an image I will hold dear for eternity.
At sunrise we were taught how to tie our headscarves, and we saddled up onto a camel to enter the desert in true style and luxury. (I'll leave out the comfort.) Note: take cheap sunnys that will look good with a touch of sand blasting.
After a day spent riding, our Berber settlement was in sight with water and food and shelter from the gusts of sand. This Berber camp is based at the foot of an enormous sand dune. There is no way to know the vast height until you start to climb it – forget boot camp!
Exhausted I fell to my feet and turned to the setting sun. The infinity of dunes bathed in golden light is an image I will hold dear for eternity, and from behind, the 13th full moon started rising in cool pinks and violets. What a way to end a year and celebrate a new one.
As the cool desert air moved around the camp, guests were given Berber whiskey (nothing other than the tongue-in-cheek name for mint tea) and we sat around a fire for the evening's belly dancing and Moroccan music.
On route be sure to pick up a "silver" hashish pipe and "original" precious crystals from the Atlas Mountains found nowhere else in the world at a roadside stall. Be careful where you store them as the color is likely to run all over your white T-shirt.