Travel to Tunisia: A Gem in Northern Africa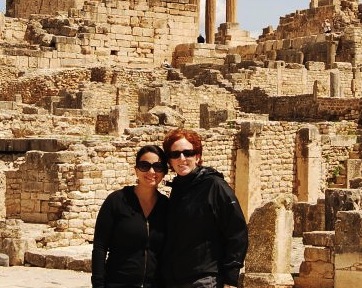 If you're like me, Morocco and Egypt usually come to mind when thinking of exploring Northern Africa. But if you look just in-between Libya and Algeria you'll find another little gem worth discovering–Tunisia. If you travel to Tunisia, you won't be disappointed!
Travel to Tunisia: A Gem in Northern Africa
Tunisian Sites to See
Known to most Europeans as a holiday beach destination, Tunisia has much more to offer than white sand beaches and deep blue Mediterranean waters.
Looking back on the past 8 weeks that I have lived here I am left thinking of just how many wonderful surprises it has offered up. Archeological sites from the Berbers, the Phoenicians as well as the Romans can all be explored. The Roman city of Dougga were some of the most impressive I've seen (above photo), the mosaics found in both Bulla Regia and Sousse are incredibly preserved and the coliseum in El Jem is not only fascinating, but also one of the last major sites built by the Romans.
Need a break from ruins? Head south to visit oasis towns, salt lakes, ride camels, visit movie sets and sleep under the stars amidst the otherworldly beauty of the Sahara. Or watch the sunset over the Mediterranean while sipping mint tea in the whitewashed town of Sidi Bou Said, a town that looks and feels more like Santorini, Greece than Northern Africa.
The amount of attractions offered up by this small country are astounding. The ease of travel is probably the best in the region as Tunisian women enjoy many rights not found elsewhere in Northern Africa. It is considered the most progressive in this arena compared to its peers.
Travel to Tunisia: A Gem in Northern Africa.
Safety Tips in Tunisia
The majority of women do not cover their heads although modesty still goes a long way and you should always keep in mind that you are visiting an Arabic Muslim state. Outside of the beach resorts it is better to opt for longer skirts or capris and shirts with some sort of sleeve instead of tanks.
When visiting tourist areas, especially the souks, you should always be mindful of your bag and of anyone getting overly friendly. However, I never had an issue with men being overly aggressive. If you've been to Egypt you're in for a treat and will even find it quite relaxing.
The best advice if planning to travel to Tunisia is to learn some basic French. English is at a minimum and only found at hotels and at tourist attractions.
Photo credit for Travel to Tunisia: A Gem in Northern Africa by Melissa V.