Skiing in Soelden, Austria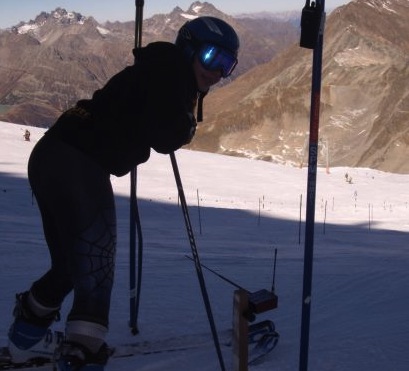 Well, my first time to Austria was also my first time to Europe. I headed to Soelden, Austria where the Alpine Ski Racing World Cup Opener is every year. My team and I went with my Austrian coach to do some pre-season training for the month of October.
Soelden is a small ski town with everything from 5 star hotels to hostels. When I was there, only the top most glacier was open for skiing, however in the winter, visitors don't even use cars. The gondola comes to the center of town so the entire town is ski-in and ski-out. It's pretty awesome. You can walk to the end of town and back in a half-hour and there are places to hike all around. You are completely surrounded by the Alps in this town and while actually getting to Italy is a trip the border is not far.
Though I was there training for the upcoming season and focused was skiing, I can tell you that there is no place be more charming and stereotypically Austrian. There are discos and beer pubs and restaurants with weiner schnitzel. For a night out, head to "Fire and Ice." There is NO cover charge, awesome music, drinks and company. Don't get there before 10 pm though, or it will be a ghost town.
For fancier accomodations, try the Hotel Regina. It's beautiful, complete with restaurant and bar. There is a spa there, too where you can use several saunas, tubs, and other features. It's one of the nicest hotels I've ever stayed at and it's family run. I know the daughter quite well and she is just a doll!
For the avid skier or a girls' trip to get away, Soelden is a wonderful place to meet gorgeous foreign men, grab a beer, and rip up the slopes. This is one of my favorite places in the world.