Travel Costa Rica: The Real Deal with Carolyne Whelan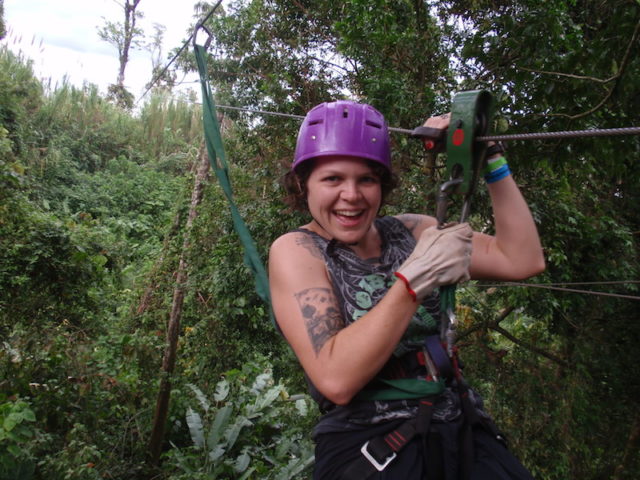 In Travel Costa Rica, Carolyne shares her experiences hiking, taking a zipline, and traveling during the off-season.
Tell us about yourself! What do you do when you're not traveling the world? Where do you live? What made you decide to go to Costa Rica?
I live in Pittsburgh, PA. I'm a poet, I teach sometimes but mainly I write. I also hang promotional materials for a living – it gets me away from the computer and into some fresh air for a while, and is pretty fun. My most recent destination was to New Mexico, which was originally going to be a whole mountain bike road trip around the American Southwest, but my husband and I had to change plans last minute.
The trip I'm reporting on today is Costa Rica, which we chose as a honeymoon spot because it had a romantic air and the Central American flair my husband loves while still providing some adventure and outside fun for me.
How long did you go for? How did you spend your time?
We were there for 18 days. We spent most of our time walking and exploring. In fact, we went first to La Fortuna to see Arenal Volcano, then headed to the southern Caribbean Coast because US friends we ran into had just come from the Pacific coast and said it was pouring rain. Once at Puerto Viejo, we fell into a very easy rhythm and spent most of our trip there. The last few days were spent in San Jose, the capital, visiting art galleries, restaurants, and historical sites.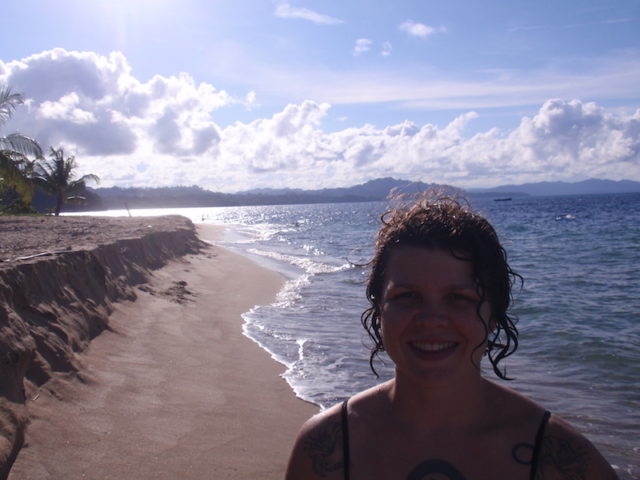 What were your most memorable experiences? What were the biggest disappointments?
The wildlife really stood out. Waking to the call of monkeys in the morning, visiting the sloth sanctuary, the incredible spiders lining hiking paths, orchids growing in their natural environment. In La Fortuna, we took a guided hike through the rainforest up the volcano, and then took a zip-line around the tree tops.
At Playa Grande in Manzanillo, we had the beach totally to ourselves and a herd of steer came right up to us. We thought we were going to get stampeded but they stopped right in front of us to drink from a fresh water feed. In Puerto Viejo, on the aptly named Playa Negro, wild white horses trotted by in the black sand.
As for disappointments, we had traveled during the off-season for cost reasons, and a lot of things were closed. Food was very limited and surprisingly bland, given the region. We were given a tip to head to Cahuita, and we walked the whole way to town, only to discover it was completely rundown and overpriced, so we just got a couple drinks and headed back to Puerto Viejo to reassess.
What do you wish you knew before you went?
I think this is a place where having an itinerary might have come in handy. There is so much to do, but it's also so relaxing that suddenly a week passed and we were still relaxing on the same beautiful beach. Because the roads are just roads, not highways, the distance between two places can be deceiving. I wish I spent some time researching bus transit times and schedules to get a better sense of what was reasonable to want to do.
We also stayed at a beautiful hotel in Manzanillo, but everything around it was closed so we had no access to food for about 24 hours. I would recommend calling ahead or looking on a map prior to staying anywhere, especially during the colder months, to make sure you won't be in a similar situation.
Any favorite restaurants/hotels/hostels/sites you'd like to recommend?
Food and lodging were not the highlights for me in Costa Rica, but I will definitely recommend the hostel in La Fortuna. The amenities were wonderful, the staff was very nice, and we were upgraded to a personal tent which felt very spa-like. In Puerto Viejo, all the hotels we stayed at were quaint and well-maintained.
Hotel Guarana, Hotel Pura Vida, and Jacaranda Hotel and Jungle Garden all stood out as especially charming. They are all in the same neighborhood and once in town, it was easy to walk the streets and choose a place to stay, especially in late October.
What's next on your travel list?
I have a few writing trips scheduled in the future: a fellowship in Vermont and a traveling workshop of sorts with Writing Walking Women, starting in St. John's in Newfoundland, Canada and hiking to Terra Nova. On my personal list, I've been saving my quarters (literally) and in a couple years should have enough saved to visit some pals in Europe and watch a bicycle stage race in Belgium.
Have you traveled to Costa Rica? How was your trip? Email us to at [email protected] for information about sharing your experience and advice with the Pink Pangea community. We can't wait to hear from you.
Travel Costa Rica: The Real Deal with Carolyne Whelan photo credits: Carolyne Whelan.