5 Tips for Avoiding Harassment in Ethiopia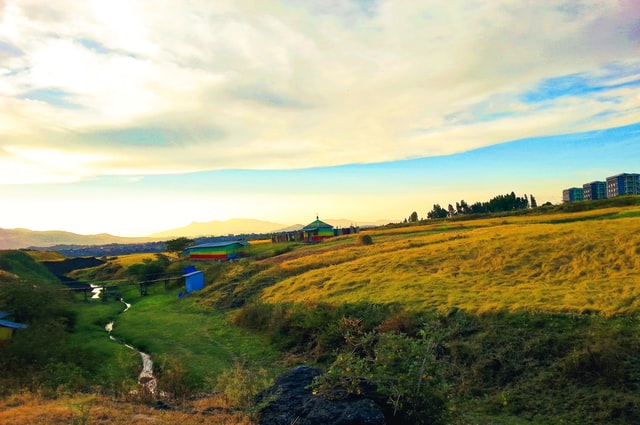 Ethiopia is a fascinating country to visit. While it may not always be convenient, Ethiopia travel is worthwhile and the country holds a variety of tourist sites that can accommodate anyone's interests. However, I don't think many would consider Ethiopia a common tourist destination in Africa. Partly because of the lack of foreign exposure here, one of the largest grievances foreigners traveling and living in Ethiopia have is the harassment.
Harassment here can come in a variety of forms. The most common is verbal, with people yelling (in both the local language and English) things like "foreigner" or "you." Young female travelers in Ethiopia may also get some sexual verbal harassment; the most common being called beautiful or honey.
Less common, though still possible, is physical harassment, which usually comes in the form of grabbing or touching. For example, my long, curly hair created quite a following in my town when I first moved there, causing me to have to dodge admirers who wanted to touch my head.
If you're preparing for Ethiopia travel, keep these tips in mind:
5 Tips for Avoiding Harassment in Ethiopia
1. Be aware
Coming from someone who might be the least aware person on the planet, I highly suggest keeping your wits about you as you travel in Ethiopia. I can't tell you how much unnecessary harassment I have endured because I was walking around with my head in the clouds. It's important to take note of the people around you.
Is anyone too close? Is that street child trying to put his hand in my pocket? Is that man walking toward me drunk? Has that person been following me for too long? While this may not deter any verbal harassment that may come your way, it will help prevent any physical harassment, such as grabbing and theft.
2. Don't stand still (in crowded places)
After a year and a half in my small town, I still draw a crowd while buying bread. The most mundane tasks done by a foreigner in Ethiopia will awe most local passersby. If you are uncomfortable being surrounded and stared at, like most people are, I suggest doing your shopping at indoor venues or going to less crowded markets. This is even more essential with large groups of foreigners simply because of their visibility when in public places.
This is especially true in smaller towns. People in larger, tourist towns are more accustomed to foreign faces. However, if you are doing any traveling in smaller towns in Ethiopia, where seeing foreigners are not the norm, it's best to keep this tip in mind.
3. Avoid markets (on market day)
Visiting a market can be a high point of anyone's trip to Ethiopia. It's fascinating to see the variety of food and goods that are sold in the typical markets here. However visiting the market on the actual "market day" can be a nightmare. In the town I live in, for example, the market is open and active every day of the week, even though Saturday is the true "market day."
I do not shop on Saturday because then the market has significantly more people than on other days of the week. On top of this, it is fairly standard for men to sell their goods in the morning and then go drinking afterwards. This makes the general crowd around the market a bit unsavory and more inclined to verbally or physically harass a foreigner in the area. To avoid this, if you are looking to see a market, ask a local when market day is and if it is also open on other days of the week.
4. Sit next to women
On public transportation, I always try to sit next to women. Buses here tend to be overstuffed with passengers. Therefore, if you are sitting next to men, you might be uncomfortably touched by one of your neighbors (whether it is intentional on their part or not). For example, I was crammed in the backseat of a mini-bus just yesterday with four men. I don't think my neighbors were trying to touch me or make me uncomfortable.
But, since they were practically sitting on top of me, it was inevitable. Other times, men will take advantage of their seat next to you by chatting with you. I'm not one to turn down a pleasant conversation, but I can't tell you how many times these conversations have morphed into getting asked for my phone number or to go on a date. The moral of the story is that, if possible, sit next to a woman!
5. Dress culturally appropriate
Ethiopia has an incredibly conservative culture. Women typically wear long skirts and dresses and keep their shoulders covered. Younger women do wear jeans. My standard outfit is jeans and a t-shirt or a long skirt with a t-shirt. Unless I am in a larger town, I keep my shoulders covered, and I never wear anything that reveals my knees.
Clothing is a personal choice, but be aware that if you choose to wear shorts and a tank top, you are probably going to get a lot more attention from men than you would if you were more covered.
5 Tips for Avoiding Harassment in Ethiopia
Related Reading

Integrating into an Ethiopian Community
My Experience with Ethiopian Men
A Tale of Two Ethiopian Villages
My Experience with Ethiopian Men
Birth Control in Ethiopia: A Conversation with Lizzie Pelz
Have you traveled to Ethiopia? Email us at [email protected]pinkpangea.com for information about sharing your experience and advice with the Pink Pangea community. We can't wait to hear from you. Photo by Unsplash.