A Tale of Two Ethiopian Villages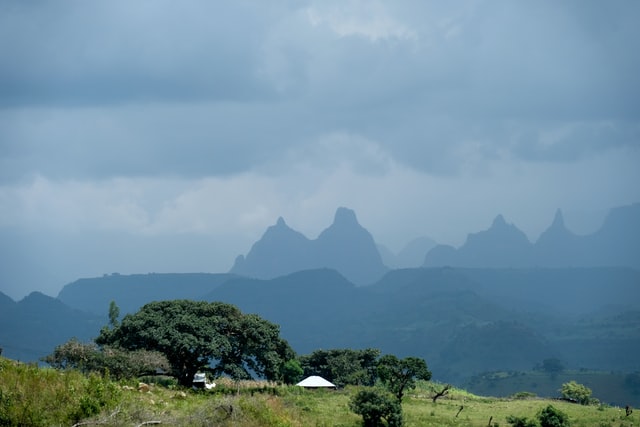 This is a tale of two villages: Alem Tefari and Satano Dima. Both are in western Ethiopia, almost to the border with Sudan. This part of Ethiopia is off the beaten path–quite a ways off. The road from Addis Ababa west to Dembi Dolla, the nearest town to these villages, is paved for a few miles out of Addis, but rapidly becomes a long stretch of corrugated cardboard and requires several days, great drivers and substantial jeeps or land rovers.
There is an airport, but no commercial flights. This part of Ethiopia has Christian Orthodox, Muslim, and Animist villages. Different villages have different customs and traditions, and they meet and mix in market towns and in Dembi Dolla.
Dembi Dolla is just what you'd picture for a remote small city in Africa – population estimates vary from 30,000 to 40,000. Colorful and dusty, the stalls lining the road offer necessities–there's no discretionary spending here. Everyone is at the poverty level or just above it. Roads in Dembi are even worse than the highway, and the land rover inches along to the guesthouse at a mission compound. Dembi isn't a tourist destination, and there are almost no options for hotel accommodations. For a group of five or more, the mission compound is about the only choice. Early missionaries built the guesthouse in the compound. It offers western appointments — several bedrooms, a full bath, and a kitchen. Comfortable and deceptive: plumbing and electricity that would appear to "work" only sputter out.
The setting for Satano Dima is equally bucolic–even more hills, valleys, stunning vistas. It's a reminder of the inverse relationship between stunning views and basic infrastructure.
The villages of Alem Tefari and Satano Dima are several miles outside Dembi Dolla. Alem Tefari is along one of the main roads, and we're greeted by the full contingent of village elders. They want to exhibit another "compound" –a cluster of one-story buildings, a non-working water pump, typical outbuildings. The elders know we're looking for a property that could house a "Women's Village" a facility that could house women before or after surgical and medical treatment. The village serves us lunch and lots of information about the village, hoping to convince us to partner with them.
All the elders speak English and they are well organized, well prepared, and eloquent about their village and the needs of women for better health care. The Alem Tefari compound could be extended to include land for crops of coffee, vegetables, or other projects to "fatten" animals for sale. The location is ideal: within the village, near a local clinic, school, administrative offices, and with easy access to the main road to Dembi Dolla. The support of the village elders is a major positive asset, and the setting is bucolic with a view out to hills in the mist.
A Tale of Two Ethiopian Villages.
Satano Dima is much more remote–requiring more time on the rugged road past Alem Tefari, navigating across fields, and finally through a deep gulch that would be impassable in the rainy season. Once again the village elders are gathered for a welcome–this time with enchanting small girls offering flowers. This village is full of enterprise and initiative: water projects, agriculture, reforestation, and they have built and staffed their own school. At the risk of idealizing their desperate poverty, they are energetic, humorous, generous, and gracious. They also need help with all the basics: health, education, water, agriculture.
I wander through the school courtyard and into each classroom. The first room has the smallest children, and one of them is scared by the presence of a white person. He cries and the other, older children, who have seen Westerners in town, giggle at him, and at me. Older children and teens are in classrooms that have benches and a few desk, and 60-70 students in each room. It's clear that our visit has prompted all the students to attend–and to be on their best behavior. The school building is a set of mud-walled rooms with small windows, no chalkboard, and almost no materials.
The school is not a government school, because it doesn't yet have enough materials to teach to the national Ministry of Education standards. The Director of the School is well educated and fluent in English. He and the teachers plead for help and support to improve the school. The setting for Satano Dima is equally bucolic–even more hills, valleys, stunning vistas. It's a reminder of the inverse relationship between stunning views and basic infrastructure.
A Tale of Two Ethiopian Villages.
These two villages are the first two villages for projects from The Village Health Partnership. The priority for this new non-profit is the prevention and treatment of maternal health problems in rural Ethiopia. We interview women in each village, and in Dembi Dolla, to understand their history and their options. The women are striking, elegant, shy, and depressed because they have no access to treatment. There is no room in a village for someone who can't contribute and women are literally the workhorses of the village–carrying water, crops, supplies.
Women who can't lift heavy loads can't contribute. The good news–many of the health problems appear to be preventable. The "not-so-good" news–the size of the challenge and the remoteness of the villages make solutions difficult. The drive back on the rough roads, out of Satano Dima, past Alem Tefari,into Dembi Dolla and the guesthouse is full of conversation, ideas,and hope, about how to make those solutions real.
A Tale of Two Ethiopian Villages photo credit: Unsplash.