Questionable Labor Wages in Cambodia
I'm working on a service project at an evening school on the outskirts of Siem Reap. The school is a collection of open air sheds, a group of young volunteer teachers, many of whom sleep on cots in the back corners of the open air classrooms while they also go to college, and students who are the poor neighborhood children who can't afford to pay for private English classes. English skills are the highest priority in Siem Reap. Without English, there are no jobs.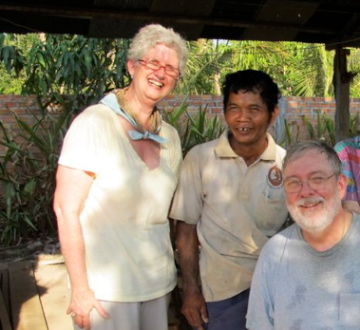 Our project is to build desks and to help teach English. Service projects are always characterized by challenges with tools, materials, and language. This project had more than the usual share of those challenges, so it was with a great deal of surprise and astonishment that the very first desk/bench was completed.
We were literally the Keystone Cops work team–everyone on first, and no clear order to the work and no clarity about the sequence of construction. Couple that with the most stubborn wood imaginable, no tools, and sweltering heat and getting even one desk complete was both unlikely and reasonably hazardous.
Frequently the best learning occurs in the least likely situations, and that was, of course, the case here. The learning wasn't so much about how to do a service project better, but about how to do the best in whatever the circumstances were. In our normal surroundings and circumstances, we go after the right and best quality tool, the skilled and disciplined team, the appropriate and tractable materials. With none of those possible, it's a good lesson to see just how much can be accomplished. And getting the first desk completed was proof possible.
Bao is a manual laborer, a recent widower, who lives with his four children in a hut near Angkor Wat, and he usually gets up before sunrise to seek work in the construction sites in the archeological park where well-funded NGOs are repairing the hundreds of temples in the park. His labor wages were $2 per day for his carpentry labor, literally not enough to feed, clothe and school a family of four children.
For two weeks he is getting $3 per day to help us–a group of nearly unskilled Westerners–build benches and desks for this outdoor English school. Our power tools are limited to a shaky and uneven "planer" and an equally worn out circular saw. The raw materials are planks and 2x2s of some unknown wood, characterized mainly by the difficulty of working it with any tool, manual or powered. This species of wood is the polar opposite of pine–uneven, stubborn, with a wily and recalcitrant grain that defies smoothing. The only virtues this wood possesses are low cost, and near permanence in the heat and humidity of the climate.
Questionable Labor Wages in Cambodia.
Our design for the benches and desks is simple, but does require a few notches to ensure strength and stability. Bao patiently–and with no English skills–helps a couple of our group with some woodworking background to learn how to hand chisel the notches, and he personally uses the old and reluctant circular saw to rip the planks into something approximately the size of the parts we need.
We work with Bao daily, sweltering in the heat and humidity, mostly without words, but with an increasing sense of humor and understanding. By the end of our project, we have finished 11 of the planned 12 desks, and we chip in $3 to have Bao spend another day to finish the final desk. We also stopped at the school supply shop downtown and bought some language books for his children, and a new polo shirt for him–hence the smile in the photo above.
I don't need to belabor the point about the differences in circumstance or whether we were actually doing anything that would matter a hill of beans for the school or the children. Projects like this one always make more of a difference to us. We learned some woodworking skills and some life lessons from Bao, and we're glad to see his smile.