How Studying Abroad in Ireland Changed My Life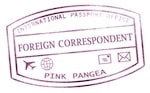 I have officially been in the United States for over a week. I never expected I would be on the verge of tears leaving Ireland, yet there I was in my taxi, holding them back.
Living abroad in Ireland has changed my life for the better and has given me a new found sense of independence and adventure that I never felt before. While traveling, some say that they feel like they're teetering in the unknown. Not all who wander are lost, and it is with traveling to new places that I feel one truly finds herself.
This summer brings excitement with my cousin's wedding on Saturday, and a Nashville road trip with my girlfriends in August. It will also be a process of readjusting back to life in the United States.
Readjustment includes remembering to drive on the right side of the road, and coming back to a culture, which despite the same language, is completely different than the one I was living in for the past five months.
Ireland, it's been real. Thank you for changing my life, and until we meet again. I really hope that we do. Sláinte!