15 Tips for Safe Flings with Foreign Men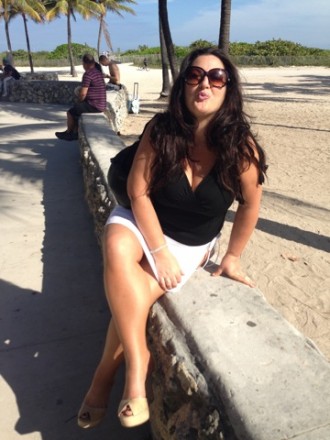 Virtually every online travel site offers safety tips for female travelers. Wear a wedding ring. Carry a picture of your "husband." Don't look men in the eyes or smile at them. This is pretty much common sense, but what if you have saved up all year for an amazing, one week Caribbean vacation and you want a stress reducing, spicy fling?
Perhaps maybe you're curious what it would be like to hook up with one of the Jamaican "Rent-A-Dreads" who became wildly popular, thanks to the movie How Stella Got Her Groove Back. Maybe you're wondering if the "Italian Stallion" myth is true.
If you seek to be a little naughty when traveling, it's important stay alert at the same time. Here are 15 tips on how to hook up safely.
1) Call or text someone you trust to give specific details about who you're with and where you are. Getting drunk on a weird local beverage, eating the worm from the tequila bottle, and going to a stranger's hotel room might sound fun, but let someone know that you're playing a hoochie for the night. It's better to be a bit embarrassed among your friends than to risk the chance of winding up with the same fate as Natalee Holloway or Robyn Gardner, both who went missing while on vacation in Aruba. Follow the Girl Scout motto: Be prepared.
2) Carry condoms and dental dams. You can get them free from Planned Parenthood. Don't count on guys to have them, especially in other countries where people can't always afford contraceptives. Always have several on hand in case one should break. In the event that something does go wrong, consider getting the Plan B pill. Taken within 72 hours of intercourse, the Morning After Pill may prevent pregnancy.
3) Read the U.S. Consulate's website for travel warnings before visiting a new country. In some cases, you may not able to prepare for an emergency, such as an unexpected tsunami or earthquake. However, it only takes some time to become educated about the political climate of a foreign country and to have some type of safety plan. When arriving in a new place, register with the American Embassy immediately.
4) Learn what the local laws are. In Bombay, my hot Indian lover and I were almost arrested for making out on a public beach, and we encountered an extremely embarrassing confrontation when a hotel manager asked him to leave my room. Apparently there, it's neither legal nor morally acceptable for locals to accompany a foreigner into their hotel room. And no matter how harmless you believe mushrooms, ganja or other drugs to be, the penalties and consequences in certain countries can be severe and are strictly enforced. Don't use, sell, or buy drugs, period!
5) Before you travel give someone close to you a copy of your itinerary and hotel info. Make copies of important documents like your passport, the nearest U.S. embassy, airline and flight info, IDs, bank, ATM and other account info, including emergency phone numbers and give them to someone you trust. Scan copies and email them to yourself. Carry yet another copy in your bag away from your passport and money belt. Leave original documents in the hotel safe, not the safe in the room. Always carry your hotel name and address with you.
6) No matter how tempting, do not leave your luggage unattended in public areas and never accept packages from strangers. Unattended bags in airports will most likely be seized and searched. Even if you're only running to the bathroom, don't do it. Having bags seized can cause you to miss your flight, and the huge fines are also awful.
7) Separate cash, credit cards, travelers checks and bank cards. Go to ATMs during the day with other people around and be smart while using them. Look around to see if anyone is lurking around suspiciously. When punching in your pin number, use your other hand to cover the keypad. Always take an extra ATM card.
8) Stuff important items in your bra. Sew a hidden pocket for cash, passport, IDs and other valuables, like the guy's number you just met.
9) Think like a call girl (sort of). Ideally, you should make a plan to always leave a party with the friends you arrive with and never going home with someone you don't know if you've been drinking. Have a friend cause a scene if you suddenly lose your sanity after twerking with a cute foreigner who doesn't speak English. Try and keep it on ice until the next day when you can meet up when you're not intoxicated. But if you're determined to hook up, then think like a hooker. Working girls use the buddy system; they call someone once they enter a room with a guy and immediately after they're done. Don't be shy about letting a guy know you're giving a friend details about him. Snap a pic of him and his license plate and text his number to a friend.
10) Hold and watch your drink at all times. Date rape drugs such as GHB and Rohypnol can be dropped in your drink while you are distracted so keep your cup covered.
11) Hold your head high. Literally, make sure your face is exposed to cameras in hotel and nightclub lobbies whenever possible. Doing the walk of shame can be mortifying but time-stamped videos can help in an investigation to save your life.
12) Fake diamonds are a girl's best friend. Don't wear flashy clothing or expensive jewelry or carry excessive amounts of money or unnecessary credit cards. Bring cute costume jewelry with you and leave them behind as gifts for local friends you meet.
13) Sleep with new friends. I know I just told you not to but get your mind out of the gutter, dirty girl. I mean SLEEP. I strongly suggest joining an online hospitality or travel group such as couch surfing. Not only will you meet locals who will offer to host you, having a local friend particularly in Muslim countries or hot spots like Mexico and Jamaica with high crime rates can make a huge difference.
14) Beware of chata cabs. Many places have route/gypsy cabs that are crowded but often cost less than a buck because strangers share rides. According to many reports, several women have been robbed, raped and murdered by fake taxi drivers in Jamaica. At night it's safer to pay more and get a private taxi.
15) Beware of men who prey on foreign women. These men can attempt to seduce or con you out of money usually by spinning tales of how with very little money they will help you build a house and start a business and together you'll live happily ever after in paradise. Many women have been scammed by men they meet while on holiday.
And, take a self-defense or martial arts course.
I get it. You're on vacation and you have an orange wristband, which entitles you to a week of unlimited tropical concoctions, so have fun. But please, stay safe.