Albuquerque International Balloon Fiesta: The Real Deal with Carolyn Keller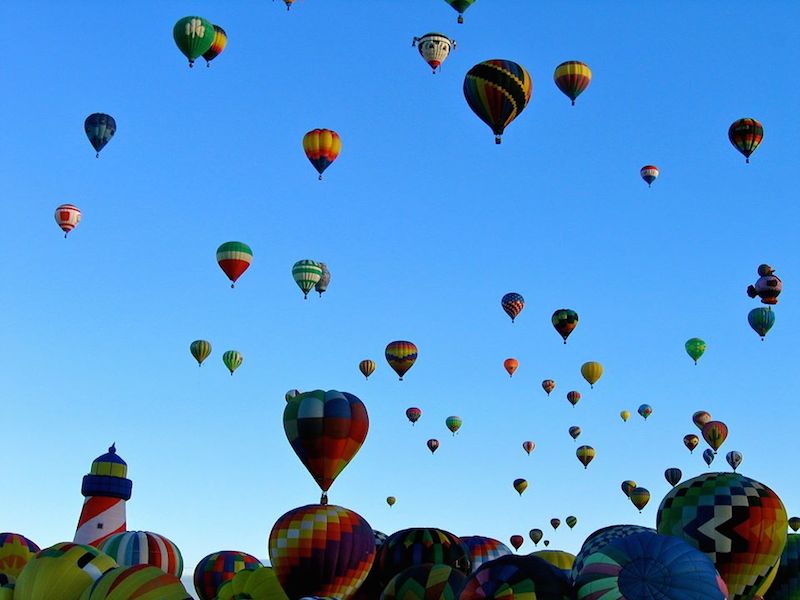 For Carolyn, the Albuquerque International Balloon Fiesta was a magical event — especially watching the preparation for it. Here's a glimpse into our conversation.
Tell us about yourself! What do you do when you're not traveling? Where do you live?
I'm newly 32, and a writer and ESL teacher. I'm currently pursuing my master's in English with an emphasis in creative writing at Binghamton University. I'm specializing in creative nonfiction. I'm technically still a freelancer, but because of school it's been awhile since I've submitted anything for publication. I'm from Williamsport, PA (home of the Little League World Series, but not famous for much else!).
Workwise, I've been a barista at Starbucks for seven years, which gives me my stability and benefits and such, and I still teach ESL as an adjunct at the Pennsylvania College of Technology in Williamsport during my summer breaks. I also not-so-secretly want to be Anthony Bourdain (but who doesn't? haha). Beyond travel, I love yoga, photography, hiking, and horsebackriding (though I rarely get to do it). They all conspire to keep me (relatively) sane!
When was the first time you heard about Albuquerque International Balloon Fiesta and what made you decide to go? How many have you been to so far?
I have been to the Balloon Fiesta exactly once, on Oct. 13, 2007, and I had never even heard of it before I went – how's that for sacrilege? But it's true! To top it all off, I really had very little choice in the matter, because the adventure was borne out of equal parts necessity and an odd situation.
I deal with an anxiety disorder, and travel has always been my way out. When I went to the Balloon Fiesta, I was fleeing my own carefully crafted mental hell in Tucson, AZ, where I'd moved with friends the August before. I barely lasted two months there, for a lot of reasons that included a broken swamp cooler, insect infestations, roommate drama, and a general aversion to sunshine that I never knew I had (I usually just tell people the universe kicked me out). Really, what was front and center and obvious to everyone but me was my anxiety disorder.
I was not in control of it enough to be able to push through and make my life work in Arizona, and I decided to move back to Pennsylvania and face down a cross-country drive by myself, because it was preferable to spending a moment more with my personal demons in our Tucson house on Linden St. I was running away, basically, and getting a cross-country road trip as a bonus.
While I would now embrace such an opportunity, at the time, I was 25 and terrified. There was nothing thrilling about the prospect of a solo drive so long and so far, in my 13 year old, 1994 Corsica. I was just that desperate to leave. When I told my roommates I was leaving, one of them stopped speaking to me, but the other convinced me to wait a week and come with them to Albuquerque to see the balloons, and leave from there.
I still don't know why I said yes. We left Tucson in the early evening on Oct. 12 and arrived in Albuquerque well after midnight. On less than three hours sleep, with my life packed up and stowed in a friend-of-a-friend's driveway, we got up in the dark to see the balloons.
What did you think of the Fiesta?
Well, it was cold, and I was strung out, stretched thin, sleep-deprived, and not even remotely caffeinated. One of the members of our party, who was once one of my closest friends, was no longer speaking to me. and I was terrified of what was ahead of me on the road. I had no idea what I was doing there, or anywhere, for that matter (quarter-life crises are a uniquely melodramatic sort, especially when accompanied by the threat of panic attacks). I was along for the ride, and hardly expecting anything magic. I just wanted to get through it.
It's funny how the universe sometimes knows what's better for us than we do. I will never forget the lines of baskets with their masses of fabric stretched out beside them, how the anticipation crackled like it could warm the air all on its own. The balloons were slowly, painstakingly, filled with air, and their burners then set alight. It wasn't even predawn, it was pitch black, entirely night, but suddenly there were these plumes of fire lighting up the dark, plumes whose sole purpose was to lift multicolored cloth into the sky. Dawn was beautiful, and the multitudes of balloons in the sky blew my mind, but I was still almost sorry to see the sun come up. I'd go back in a second, absolutely.
Did you have a chance to explore Albuquerque while you were there? Any tips for travelers?
We did a little, but it's been 7 years and there was a lot on my plate – I'm sorry to say the rest of the city's locked in a mental/emotional fog for me. I would like to be more helpful on this, and know what to do when I go back someday!
What do you wish you knew before you went?
GET UP AND GO EARLY. I wouldn't have done that if I hadn't been with a group that declared it would be so. Not a chance. I was exhausted and barely functional, but it was worth it a million times over. It could have been where I was emotionally at the time, but pre-dawn was far and away my favorite part. It was magical in that special, child-waiting-for-Santa-on-Christmas way that gets hard to recapture as you get older. It's generally hard to top seeing hundreds of balloons in the sky above your head, but seeing them prepare was far and away my favorite part.
What's next on your travel list?
Good question! I'm hoping to head to Argentina and back to Uruguay in January. If that doesn't work out, I'm eyeing a trip to Burma with a nonprofit, or a trip back to Ecuador. Peru has so far been a bit of a white whale for me, but I don't think it will be next. Latin America has my heart, but it's hard to decide!
Albuquerque International Balloon Fiesta: The Real Deal with Carolyn Keller photo credit by Carolyn Keller.