Road-Tripping Across Europe: The Real Deal with Jinjer Adams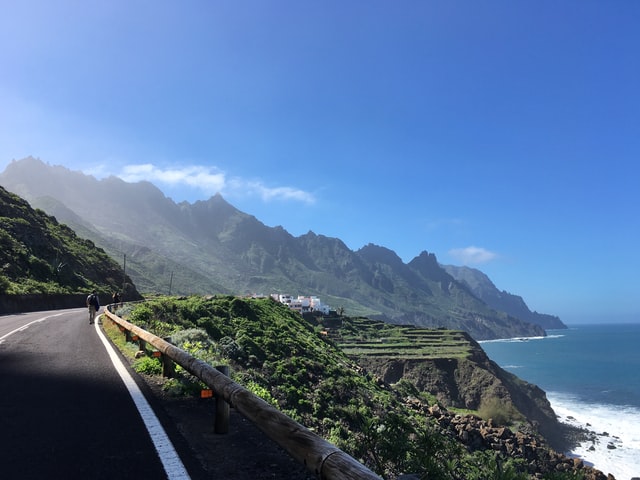 Have you ever had the urge to hit the road and solo travel around the world? We had the pleasure of speaking with Jinjer Adams, who did exactly this, and of hearing about her adventures across 12 countries in Europe. From sleeping on Egyptian cotton sheets on the road to her decision to settle in Portugal, here's a glimpse into our conversation with Jinjer about road tripping across Europe.
Road-Tripping Across Europe: The Real Deal with Jinjer Adams
Tell us about your experiences road tripping across Europe. How many miles have you driven?
I have done over 20,000 miles all around Europe. I have a 2004 Land Rover Defender called Elsa, she has a tent on the roof, a 42 liter fridge and a solar panel, amongst other things. I sleep on Egyptian cotton sheets and eat roast chicken cooked in a charcoal oven. It's like "glamping on the move" because I can go and stop anywhere because of her 4WD capabilities.
Which countries have you driven across? Did you drive through them alone or with a friend or partner?

I started in the UK, across to France, over the Alps to Italy then into Slovenia, Croatia and Hungary, up into Slovakia and then into Austria, along the Danube valley, Lichtenstein, Switzerland, France again, down into Spain and across the top, and then down into Portugal. I have done a little trip in and out of Andorra too, but only for a few hours whilst passing, so I don't think that really counts. That makes 12 countries in all.
I only ever travel alone. I would hate to have to consider someone else or argue about where to go/stop/move on etc. I'm far too selfish now! It's my life, my truck, and my journey.
Which was your favorite country to drive through and why?
Croatia, by a long shot. Beautiful, diverse, lovely people, not expensive, easy to wild camp and it just felt different, safe and lovely. Also, they have abundant fireflies, which is awesome.
What challenges did you face while road tripping around Europe? How did you overcome them?
I couldn't get over the border into Ukraine without losing all my kit, so I didn't bother. I broke down a couple of times but locals helped, which is always good. Other than that, it's been a bit of a breeze, so I guess I'm very lucky or it's just meant to be.
You now live in Portugal. What was the transition like from being on the road to settling in Portugal?
I didn't have a home in the UK any more when I arrived here, so it wasn't a conscious decision, "Oh I want to go and live in Portugal" type of thing, it just happened. I ended up here for a winter and just kind of stayed. Not just because of the country and the people, but specifically where I live, which, to me, is paradise.
I also have Elsa so I still travel as much as I want. It's easier as I can just go – no expensive ferries. I've just done a six-week trip back to the UK, which could quite easily have been done in two but it's so much fun in Elsa, it soothes my soul, and I needed the break. I'm planning a longer trip north next spring, up into Scandinavia. I need to research the mosquito issue first though, that's tough when you live outside.
Road-Tripping Across Europe: The Real Deal with Jinjer Adams.
Any tips for other women looking to go on cross-country road trips?
Yes, don't take stilettos, straighteners or make-up. They are completely pointless, and if you are even considering it then don't go travelling! Go it alone. I can't emphasize that enough. It's the best part of the journey.
As for the vehicle, go in something you love, that you can be one with. You will talk to her, say good morning and well done and thank you many many times. Make it your own. Personalize her. Make sure you have a great bed that's really comfy and that you can cook anything you want. Don't live out of tins, I didn't even take a tin opener. Also, make sure you are completely ant-proof. There's nothing worse, except the rain getting in.
Photo for Road-Tripping Across Europe: The Real Deal with Jinjer Adams by Unsplash.