Rediscovering Canada During Covid-19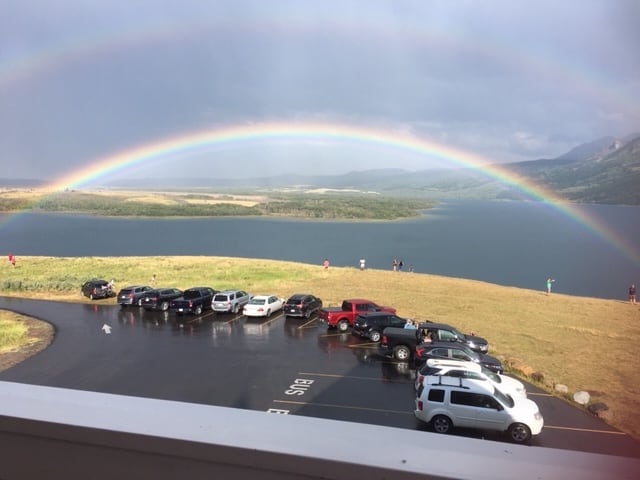 I have seen it twice by train; the country in stages: forests, mountains, prairies, and shield. But in the summer of 2020, with the global pandemic, the locomotive choice was out. The only option to see the country was to drive. In August 2020 my husband, heading for hip replacement surgery in Toronto, and I set off on the 5,000-kilometre 'staycation' in Canada, from Vancouver, British Columbia, to Toronto, Ontario.
We had traveled extensively in our home province of British Columbia over the last thirty years, and as a travel writer, I had written comprehensively about provincial parks, but my knowledge of many of the other provinces in the country I call home was limited to a few random trips taken over the years. Web sites optimistically suggested our planned cross-country journey could be undertaken in five days, but we wanted to take our time.
We originally considered driving our own older vehicle and shipping it back to Vancouver from Toronto, but this option was expensive, and friends told horror stories of train transported cars arriving late, damaged and dirty, so we chose to rent a vehicle. The three-week cost of our large, comfortable, Buick SUV being C$1,500.00.
Although I know the Canadian Rockies well, there were areas near the British Columbia/Alberta border I wanted to revisit. As with any repeated experience, there are always surprising, unanticipated aspects and forgotten elements to delight when return trips are taken. One of these was Waterton National Park and the wonderful, historic, Prince of Wales Hotel. Completed in 1927 this wooden structure sits alone with a panoramic view of Upper Waterton Lake, on what is reputed to be one of the windiest points in Canada.
In Covid times all hotel staff multi-task.
Before Covid, the hotel was a top tourist attraction during the peak summer months, as indeed is the adjacent town of Waterton. August 2020 saw rooms on offer for under C$300.00. Our corner room on the third floor of the seven-story building had wood paneling, creaking floorboards, a wrap around balcony overlooking the lake and high ceilings. In a quirky, unapologetic way, it also had no air conditioning, no wardrobe or coat hangers and a glass door to the balcony where no covering had been placed, allowing the 5.30am dawn to provide the unwanted wake up call.
The hotel staff wore tartan kilts and at 8:00pm a young man stood in the lounge and gave an informative presentation about the hotel. We later encountered him operating the elevator, an old contraption which needed a trained driver before it would move. In Covid times all hotel staff multi-task.
Leaving The Rockies the following few days were spent crossing Alberta, Saskatchewan and Manitoba, the Prairie Provinces. There were few large towns and little to see except huge farm equipment dealerships which were, it seemed, a feature of every small community we drove through. The slightest kink in the Prairie highway required at least three yellow road signs to announce its arrival, and with little else to entertain, sparked long conversations. Flashing yellow signs declaring an "important intersection ahead" always ended up being small roads.
In the Prairies, even the smallest road was celebrated.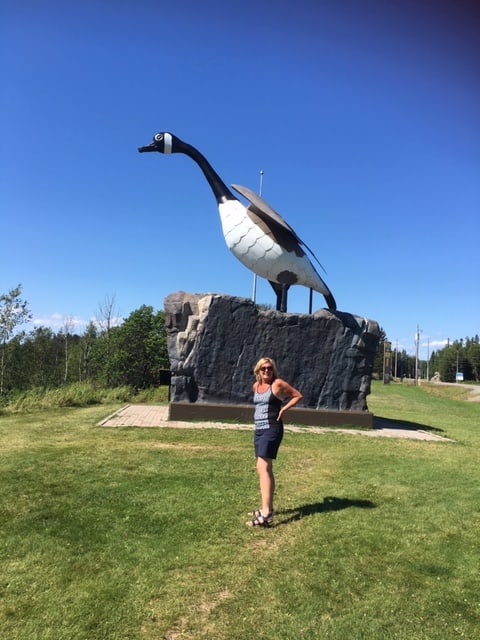 In the Prairies, even the smallest road was celebrated. Advertising boards proclaimed when we were departing Alberta and entering Saskatchewan. Without this notification it would have been impossible to discern the difference.
In Regina we registered at the Hotel Saskatchewan. This four-star establishment had deep plush carpets, high ceilings, ornate lighting, a huge reception area and, it appeared, no other guests. The room cost under C$120.00. The manager sent a personal comprehensive email prior to our arrival explaining, in precise detail, all the precautions taken for Covid to keep clients safe.
Everyone was very, very, friendly and upon hearing of our trip, genuinely delighted we had decided to travel and visit their city.
The hotels bars and restaurants were closed, so on the recommendation of the hotel staff we walked a couple of blocks to the Farmers Market and had coffee from a food truck. To support the local economy, we purchased a bottle of gin, made from local berries, and ate a gluten free hot dog, which when delivered consisted of a sausage without the bun. Everyone was very, very, friendly and upon hearing of our trip, genuinely delighted we had decided to travel and visit their city. It felt special; like we were the only tourists in town.
The following day we drove to Winnipeg, Manitoba. I had stayed at the Fort Garry Hotel over twenty years ago during the Winnipeg Jazz Festival and always wanted to return. Like the previous hotel in Regina, this old lady of hotels was constructed in the same decade to serve the development of the Canadian National Rail system. In 1981 it was designated a National Historical Site. There were few guests, so social distancing was not a problem.
Coffee was unavailable in the bedroom but supplied in the gift shop. Everyone wore masks. The staff apologised for not offering breakfast but suggested a cafe two blocks away. The contrast between the Fort Garry Hotel and this local's diner could not have been more stark, one promoting its presence in the downtown core and requiring clients have a considerable disposable income before entering, the other offering $10.00 breakfasts on plastic tables in an establishment located in an office block where the sound of the adjacent construction work could be clearly heard.
Only in Covid times could this prestigious hotel direct guests to the cafe.
Only in Covid times could this prestigious hotel direct guests to the cafe. Despite the surroundings we found the breakfast to be authentic and service awesome and told the proprietor, who had no idea the staff at The Fort Garry Hotel were endorsing his establishment.
After the Prairie provinces of Alberta, Saskatchewan, and Manitoba we reached Ontario. This province was in many respects the most difficult to navigate, as the options of where to spend the night were sparse as the distance between the larger communities, which had hotel options, considerable. An additional, unanticipated factor which delayed our journey was the road works.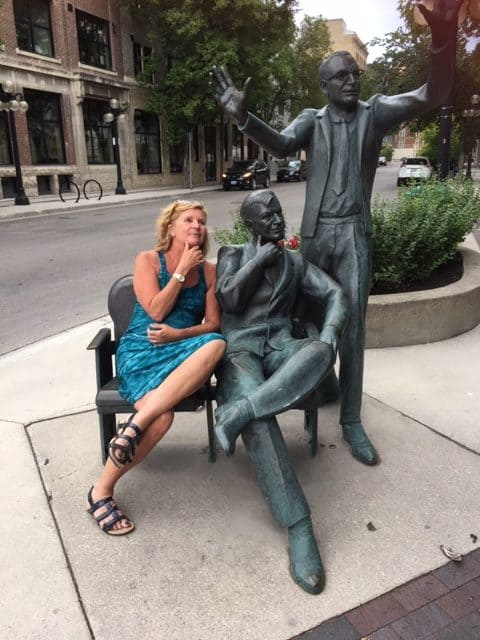 Construction on a highway network which for five months of the year experiences sub zero temperatures requires all maintenance takes place during the summer months. Suddenly a day where we had planned to be in the car eight hours was stretched to ten, or more. But even this disruption became educational as we slowly navigated huge chunks of the Canadian Shield, recently blasted to widen the road. Trucks the size of mountains were tasked to remove the debris while the sheer skill of the engineers tasked with ensuring anyone can cross the country reflected upon and appreciated. These nameless individuals were helping facilitate our road trip dreams.
The industrial, larger Ontario towns of Thunder Bay, Sault Saint Marie, and Sudbury held little by way of attraction. In Thunder Bay we stayed at a grand, newly renovated, historical hotel, with a massive front lawn, which in another life had been the town's courthouse, located within easy walking distance to the downtown core.
Looking for restaurants and bars to eat dinner was easy, but also a little sad, as for every open establishment two were closed.
Looking for restaurants and bars to eat dinner was easy, but also a little sad, as for every open establishment two were closed. This year the Thunder Bay Tourist Information Bureau was closed. In Sault Saint Marie the hotel we chose overlooked the locks separating Lake Superior and Lake Huron. Across the small expanse of water, we could see the State of Michigan with flags of the United States flying on numerous waterfront buildings.
There was a massive boarder crossing, now all but deserted, as were the restaurants and coffee bars in the immediate vicinity. The downtown core of Sault Saint Marie was eerily quiet. Our hotel in Sudbury, which in another life served the conference industry, was the only one we encountered during our travels attempting to provide a cooked breakfast. (Other hotels either did not offer any food or provided a 'brown bag' alternative). Four breakfast items were available, but the waiting staff were not accustomed to delivering a limited menu, serving coffee at a socially safe distance, supplying condiments in a Covid safe environment, and having their clients sit at tables far apart. It was a disaster, reminding me of a scene from a Fawlty Towers television episode.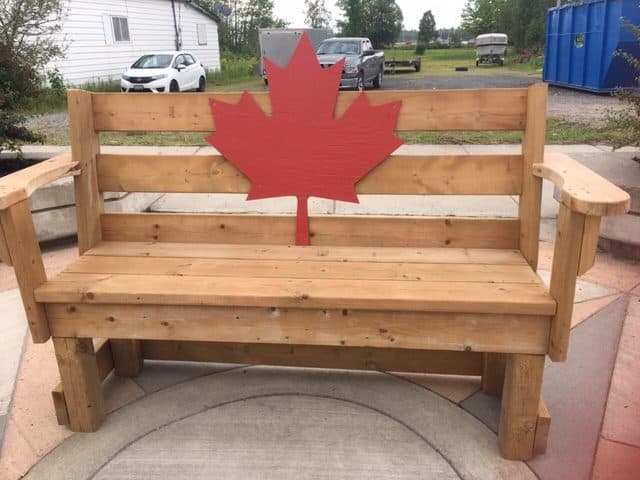 I would have liked to spend longer crossing the country, to have deviated from the main highways to explore the smaller communities all which seemed to have something to boast about. Despite having populations of less than 1,000 many communities promoted their unique backgrounds, such as being home to Canada's first female mayor (Webbwood, Ontario), the Smallest Canadian Tire – Big Box retail store in the country (Nipigon, Ontario), the World's largest truck (Sparwood, British Columbia), the largest Canada Goose Sculpture –  standing 26 feet tall (Wawa, Ontario), and the largest adult video store in the country (Thunder Bay. This claim, it should be said, was promoted by the store itself, not the local Council, so may be open to question).
Traveling during Covid did not provide any real problems.
Traveling during Covid did not provide any real problems. Our choice of venues to eat was reduced and hotels had more limited services (no bar or restaurant food, rooms without complimentary coffee, social distancing in elevators, no fitness centres or spas) but rates for the hotels were much more reasonable than in non-Covid times and reservations easy to secure, even in the most popular locations. When we did stop at the tourist locations (Waterton, Winnipeg, Toronto) there were no international tourists, nor tour buses, nor parking problems, nor crowds. We never met anyone who told us we should not be travelling nor visiting their community.
For the last four years I have spent at least five months a year away from Canada. This year I have not opened my passport. Covid taught me travelling closer to home, within your own country can be just as enlightening, entertaining, and rewarding as venturing further afield.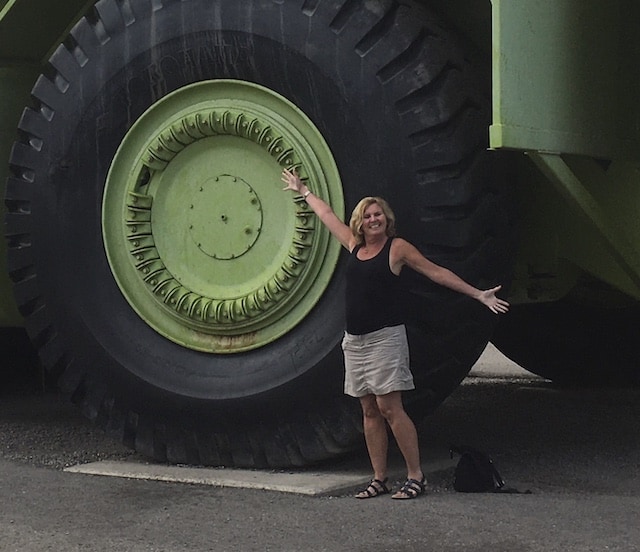 Photo credits for Rediscovering Canada During Covid-19 by Jayne Seagrave.