Skiing in Vermont on International Women's Ski Day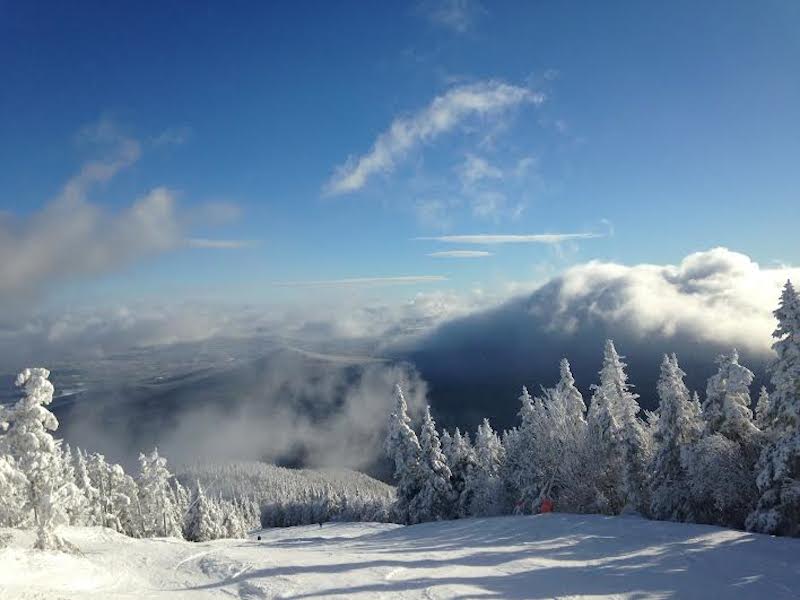 The initial plan was to leave New York on Saturday morning to go skiing in Vermont for International Women's Ski Day (IWSD). A week before departure, I saw a Facebook post about $12 lift tickets at Mt. Snow for those willing to play hookie on Friday. Since most ski passes range from $60 to $100, I knew that, yes, of course, I would make that happen. I was driving to Vermont for my weekend getaway anyway.
Skiing in Vermont on International Women's Ski Day
A "sick day" on the slopes
Leaving New York City is never easy and getting to Penn Station on a Thursday night during rush hour with skis, a boot bag and a backpack was the biggest challenge of the trip. But with many "excuse mes" and slightly sore shoulders we made it out on the NJ Transit to pick up a car and drive North. On Thursday night, we stayed in Brattleboro, Vermont with another friend, feeling very Vermontesque, as we drank ginger and discussed sprouted mung beans.
On Friday morning, we stood in line in order to get our $12 tickets and go. It was my first ski day of the year so waiting in line was tough (though I knew it was worth it for the killer deal). After a delayed start we hit hard, not stopping except for bathroom breaks until the final chair. Our goal was to do 12 runs that day, so each would cost just one dollar but when we bumped into some NYC friends, we ended up chatting and missed the last chair back up. Alas, each run cost almost $1.10.
Heading north to the land of snow
Mt. Snow is in southern Vermont, about four hours from New York City. Stowe, Vermont, our next destination, was further north, almost at the border with Canada. So after taking a professional call from the ski lodge (it was a work day after all), we jumped into the car heading north to where the radio stations are half in French and half in English.
Snowy conditions made the drive slow but we arrived by 9 PM to find a group of ladies greeting us. We were staying at my friend Megan's – a Stowe local who I had met through SheJumps, a national non-profit committed to increasing female participation in the outdoors. While International Women's Ski Day was happening all over the country at various resorts, SheJumps had specifically organized the event I was attending at Stowe Mountain in Vermont. Women had trekked from as far as Montreal (and Brooklyn, of course) and were scattered in Megan's basement on a mix of beds, pull-out coaches, air mattresses, and sleeping pads.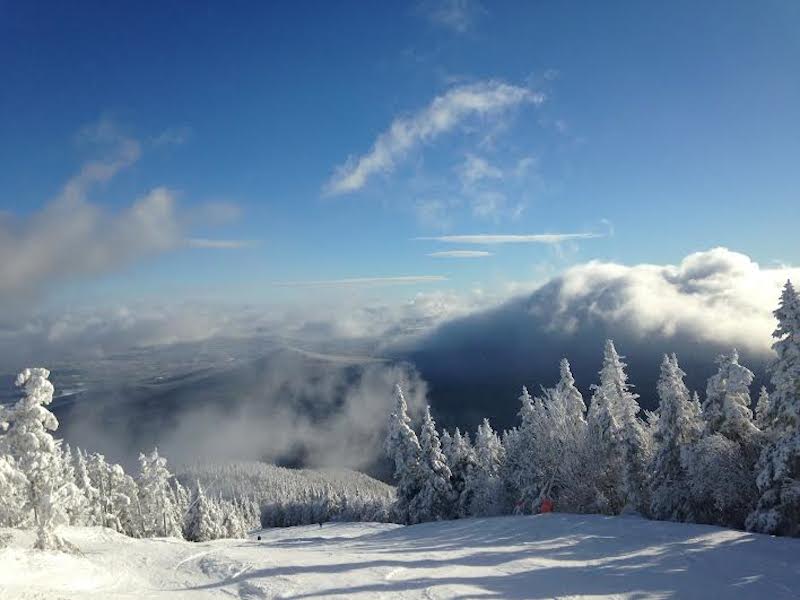 International Women's Ski Day
Saturday morning was go-time. We grabbed yogurt and coffee before heading to the mountain to fuel us for the day ahead. The leaders of SheJumps had set up a table in one of the lodges to check participants in. After registering, we went up to "Snowga" – yoga with your ski boots on the snow. Unfortunately, we couldn't find the yogis so we just enjoyed a few extra minutes standing outside and looking at the snow-covered mountain and early morning skiers. At 9:15 AM, about 20 women met at the base of the chair.
Our first couple of runs as a group were slow going (as it is generally with a group of that size) but it was a great way to start seeing the mountain. The runs were part warm up and part photo shoot as professional photographer Mike Hitelman joined to take pictures of everyone. Along with the traditional group shots we had some fun trying to ski in "mighty ducks" form and synchronized lines.
All of the women were talented skiers (and an Aussie + Canadian in the mix meant we were international as well), and we all enjoyed a full day spent exploring the "classics" of Stowe and even dipping into some tree skiing. It had snowed 20+ inches the week before, which meant terrific conditions and some of the best "early season" runs I've ever done. All of this was made better by new friends who shared my love for snow, skiing, and silly conversations on the chair lift. That day, I didn't make it even close to the last chair as my legs were throbbing after my first two days of skiing in Vermont in almost nine months.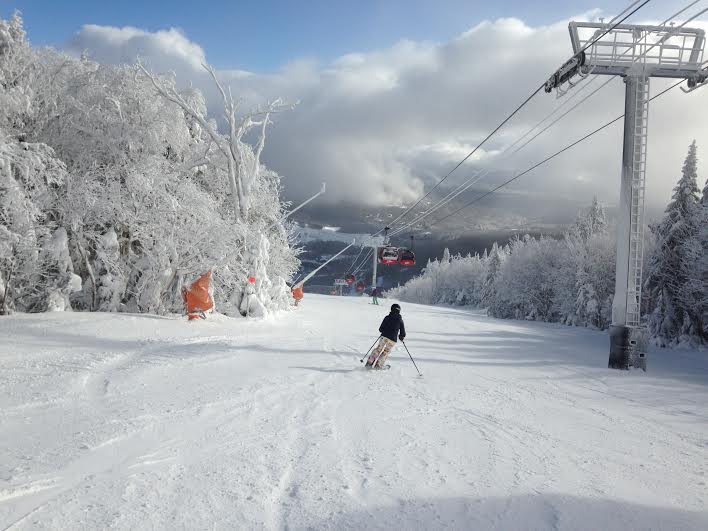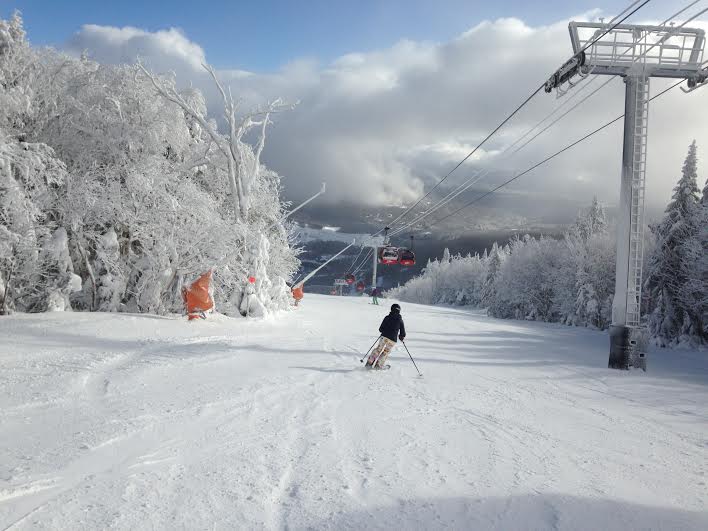 Tired legs and ugly sweaters
Inside the lodge I found that I wasn't the only one who had tired early. An ugly sweater party had started full of beer, raffles, and hideous outfits. Unsurprisingly, the ladies of SheJumps had shown up with the most flair and made it to the top 4 finalists in the official ugly sweater competition.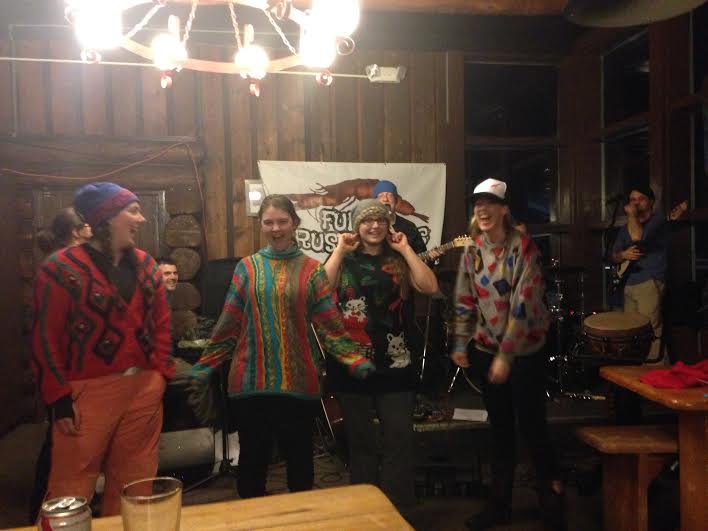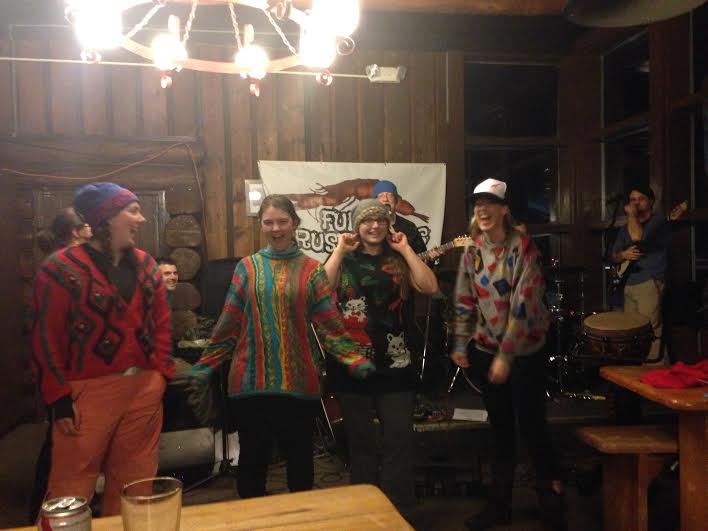 Mountain time is significantly different from NYC time because your "day" ends at 4 PM when the lifts close and socializing starts right after that. By 6 PM, we were all heading out to grab pizza and by 7:30, the goodbyes had begun. A dozen hugs and 20 friend requests later, I knew that the seven-hour drive back to New York on Sunday would be worth it. I had grown my community of female athletes and had already planned my next adventure in January.
Skiing in Vermont on International Women's Ski Day photos by Sarah Knapp.