6 Things I Wish I Knew Before I Decided To Visit Sweden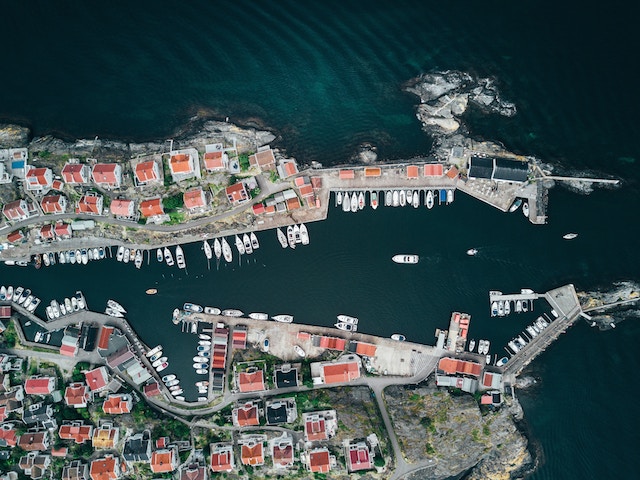 Last year, after a family trip to Amsterdam, I spontaneously decided to visit Sweden. I just felt like going somewhere new. Here are 6 things I wish I knew about Sweden before my trip:
Visit Sweden: 6 Things I Wish I Knew Before My Trip
1. It is seriously dark there – they were not kidding!
I've always heard people say that there are hardly any daylight hours in Sweden and other Scandinavian countries. In fact, some said that that explained the countries' high suicide rates.
On my first day in Stockholm, Sweden, I woke up before dawn, and no it wasn't 5 AM, but 9 AM. Though you could see the sun slowly rising, it was not fully light yet. I got up and grabbed some coffee to-go, wanting to make the most of the day… Imagine my surprise when the sun started to set no more than 6 hours later!
Caught off guard, I didn't quite know what to do. I felt like I was in a shop and the salesperson was starting to close the register in order to hint that it was time to go. Still, I was able to see one of the most beautiful sunsets I've ever seen–the bursting of colors everywhere, the sky burning with gold and red, and then suddenly hints of purple and blue followed by a green glare, all reflecting off the water. It almost felt surreal.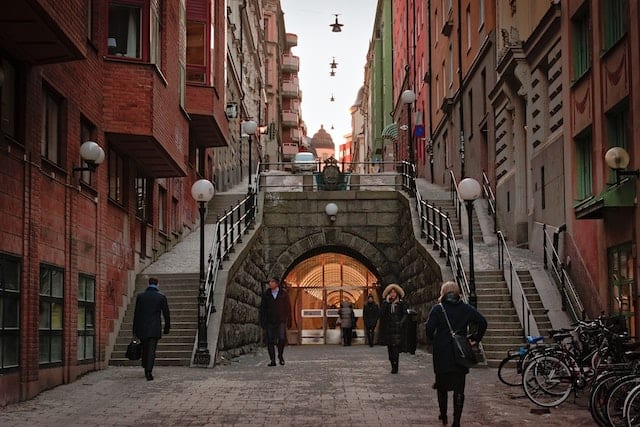 My advice:
Watch every moment of the sunset every day you're there! And, make sure you bring some reading material for the late nights (after 4 PM).
2. How about going for a drink once it starts getting dark? Or not.
Sweden is a country with a high alcoholism rate and a high death rate caused by alcohol consumption. So, in an effort to control alcohol consumption, the government has set up some alcohol consumption awareness laws: in most places in Sweden you cannot purchase alcohol after 6 PM, you cannot purchase alcohol on weekends, and you can only buy alcohol at one chain store, which was set up by the government.
You can order alcohol in a bar or club, but alcohol taxes are so high, you'd better not. (A beer costs $12-14 USD in most bars!)
My advice:
Don't drink… But if really want to, buy it at SystemBolaget. Otherwise, you will pay the insane taxes. Oh, and make sure you stock up for the weekend.
3. Take trains!
Because Sweden is made up of little islands and rivers, it can sometimes take forever to get from one place to another. Do NOT plan on taking a taxi from the airport to Stockholm's city center–it will bankrupt you! What seems quite close is really an hour/hour-and-a-half drive.
Some small towns are even worse, taking up to six hours to reach, even when "they looked so close."
My advice:
Take the train. It's fast, it's underground, it's always on time, and it's quite comfortable.
4. Get ready to walk!
Stockholm, like the rest of Sweden, is also separated into small bits and islets. It's hard to experience by public transportation alone, and as I found out, it can be seen best by foot. If you want to minimize walking, you can take the tram to the islet.
What to do?
Bring comfortable shoes that will last, be ready to walk, and make it your goal to cover at least 1-2 islets every day. Then you'll be able to see most of them in a 2-3 days.
5. When in Sweden, do as the Mexicans do?
As a huge fan of Mexican food, I was quite surprised to find a Mexican restaurant on almost every street corner in Stockholm (don't they have their own cuisine?) and I was even more surprised that some were just as good as ones I had in Mexico!
My advice:
Stay away from chains like Zocalo. It might be tempting to just stop at any of the restaurants on the way, but don't waste your time on their mediocre Tex-Mex. Instead, be patient and go to the best: La Neta at Barnhusgatan 2, Stockholm.
6. Not as friendly as they say.
As a solo traveler, I love meeting local people, making new friends, sharing experiences and learning new sayings in the local language.
Unfortunately, I didn't find the Swedish people to be too patient or welcoming, From my experience, they weren't worse than people from other countries, but they also weren't better. Before my trip, I'd often heard that Swedes are very friendly people. It turned out that only once you get to know Swedes, they can be very warm.
Luckily, I chose to stay at a hostel, where I met a fun-loving bunch (two guys from the US, two guys from New Zealand and one Welsh!). They kept me company during my trip to Sweden.
My advice:
Get a shared room in a backpacking hostel or an inn. It's a great way to meet awesome people, and it is, in fact, the essence of travel. Or just go with a friend.
All in all, my trips to Europe would not have been complete without my last excursion to this amazing Scandinavian country. The Swedish countryside is so stunning, you can stare through the train window for hours. Both Stockholm and Malmo are incredible cities, and I would love to visit Sweden again.
Visit Sweden: 6 Things I Wish I Knew Before My Trip
Have you traveled to Sweden? How was your trip? Email us at [email protected] for information about sharing your experience and advice with the Pink Pangea community. We can't wait to hear from you.
Visit Sweden: 6 Things I Wish I Knew Before My Trip photo credits: Jessica Shen and Unsplash.