7 Tips for Your Next Solo Bike Trip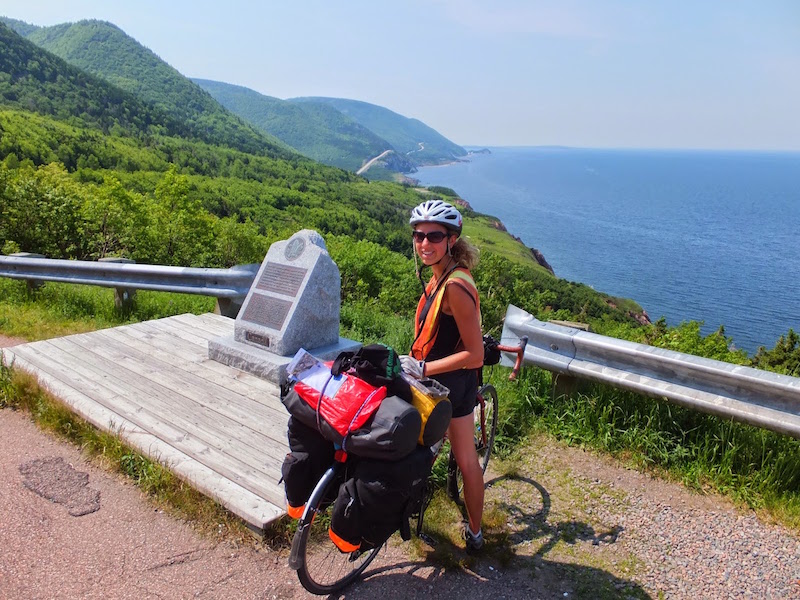 When I tell people I venture out on my red bicycle (affectionately known as "Poppy") for months at a time in different areas of the world, they call me crazy, assuming it must be the most dangerous thing a woman could do with her time. Call me what you will — some of the most meaningful moments I have ever experienced were from the saddle of my beautiful bicycle on a solo bike trip, weighed down like a pack horse, saddle bags filled with everything needed to survive. It's the most empowered I have ever felt.
Which is not to equate "empowerment" with "easy breezy." Sure, some days the sun is warm on my bare shoulders, I've got my wind-up radio playing from my handlebar bag, blaring out some old classic rock tune as I sing along, my legs feel strong, the wind is at my back— mother nature providing her beautiful push as I glance across the road to see a nearby lush green forest.
But there are others that are far more difficult. It's in this challenge that I dig deep into myself to complete a ride, then eat lots of food and pour myself into my sleeping bag, all the more strong, confident, and powerful. In a culture that is so rampantly ready to diminish the intuitive power in each woman I know, it's amazing that an activity as simple as peddling a bike can enliven the deep strength within us.
7 Tips for Your Next Solo Bike Trip
1. Learn how to change a flat tire.
No sweat if you've never had to do this before, it really is easy once you get a few solid hands-on practices in. This time, mere watching a YouTube video won't help! Find a bicycle co-op near where you live. At bike co-ops (rather then bicycle shops) you can take your own bike in, and work/learn on it yourself, with the guidance of a volunteer and gain access to any bike tool you'd need.
Often times, bicycle co-ops (like PEDAL in Vancouver, BC for example) have special drop-in nights for woman and trans folks only. This often creates safe environments for learning through trial and error. Co-ops are super supportive places and a great spot to practice with tire levers, tires, and tubes before hitting the road.
2. Invest in a good map.
So that you can feel that sense of complete self-sufficiency, it's important to be able to refer to a hard copy map when, inevitably, the street name changes or you think the guy back at the picnic spot gave you the wrong directions. Don't rely solely on your wireless GPS devices.
Though these can certainly be handy, you may end up cycling in a spot where there is no wireless/cell phone service, or you may not be able to charge it at every opportunity, so it may not have the juice to provide. But a hard copy map on the other hand— 'tis always juicy! Try to get a 'backroads' map – one that features smaller roads, as you'll want to route off of the big highways, and onto as many quiet roads as possible.
3. Wear a brightly coloured safety vest.
An opportunity to shine as the wonderful woman you are! At all times of day, in all types of weather. Be seen by those pesky metal boxes we call cars.
4. Know the local place that you are in.
Know where you can get help should you need it. Are there bicycle shops on your route? What do they stock? (Do take the basics with you for fixing flats, plus a multi tool for minor adjustments). Is there alternative transportation like a bus if you needed it? Are there unsafe highways to ride on? Where are the clinics or hospitals? (Get travel insurance if you're cycle touring out of your home country!)
Are there unsafe places to camp? Using the power of the world wide web can be really handy for finding out the answers to these questions before you head out on your wheels. Seek out other folks' blogs, and don't be shy to email or call bike shops, riding groups, or co-ops in the area you'll be travelling to, locals know heaps!
7 Tips for Your Next Solo Bike Trip.
This is a really rad website that links up folks who love cycle touring and who love sharing their space, with others who are currently on a bicycle trip. It's a small but mighty community, and I have had some absolutely wonderful experiences where I shared meals, cycling stories, and time with such generous people. These folks won't call you 'crazy' for your cycling adventure.
Instead, they will cheer you on! The website allows you to email back and forth with hosts as often as you want before you arrive, so you can ask important questions like what kind of space you'll be sleeping in, and seek out either solo woman hosts, or couples and families.
6. Stop and smell the roses.
Part of what is so beautiful about bicycle touring is that you are truly in your environment. Take pictures where and when you want. Follow your ears to music that you hear nearby. Go for a quick swim. Get tips from locals of where the best spots to explore are, off the beaten track. Seek out interesting break spots by rivers, lakes, creeks. And find the most delicious fromageries, ice cream parlours, bakeries, and farmers markets. After all, you are burning through a ton of calories and need to replace them!
7. Know what your body can handle.
If you are heading out on your first bike tour, be gentle with yourself. Your body will adjust, so don't push it. Start with shorter distances (maybe 25-50km) and work your way up to further distances (maybe 65-95!). Don't be afraid of what is called the "granny gear" (the largest cog in the rear and the smallest chain ring in the front)— use it on every hill, so that you are just sitting back and pedaling!
Nurture your muscles, bones, and body by eating LOTS of good nutritious food, and definitely eat ice cream every day! The great thing about solo travel is the ability to move at your own pace, so take advantage of this luxury and stop when you need to.
Mostly, be ready for an experience of a lifetime. Bike touring on your own as a woman is one heck of an adventure— of mind, body, and spirit. You'll finish the journey with stronger thighs, a tough bum, a clear mind, and a glowing twinkle in your empowered eyes.


7 Tips for Your Next Solo Bike Trip photo credit by Kayla Siefried.