How to Spend 48 Hours in Sukhothai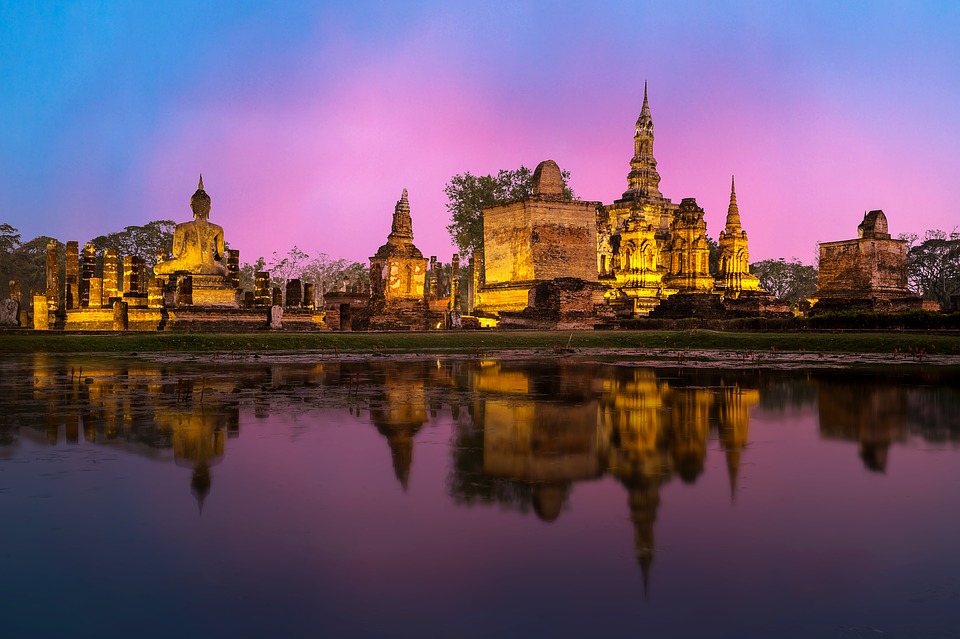 It's hard to believe that in two weeks, after living and teaching in Sukhothai, Thailand for 5 months I will be leaving. My adventures will continue to take me on a journey through Thailand, Cambodia, Vietnam and finally Indonesia. However, I will truly miss this rural Northern Thai town, which has welcomed me and become my home.
Sukhothai is located 6 hours north of Bangkok and 5 hours south of Chiang Mai by bus. It's the perfect middle stopping point between the two large and popular cities. Many stop here for a couple days to visit Sukhothai Historical Park, a UNESCO world heritage site, consisting of spectacular 700 year old ruins.
About 700 years ago, Sukhothai was Thailand's first capital, under the rule of King Ramkhamhaeng, who is famous for creating the Thai alphabet and for bringing peace and prosperity to the kingdom. The name, Sukhothai, translates to the "dawn of happiness" and its residents' friendliness and smiles definitely help this town live up to its name.
In the time I've lived in this charming town, I have come to love many people and places. Here are some of my favorite ways to spend 48 hours in Sukhothai:
How to Spend 48 Hours in Sukhothai
Day One
Sukhothai Historical Park
It is almost always extremely hot in Sukhothai, therefore the morning is the ideal time to explore. From New Sukhothai, the wooden bus, Songtaew, will take you to and from the Old City (Sukhothai Historical Park) for some sightseeing. The ruins are all located in one place, however, since it's a bit of walk between each one, I recommend renting bicycles to explore the ruins.
Wat Mahatat
Wat Mahatat is the largest temple on the grounds and is located at the front of the park on the right hand side. This significant temple is believed to be the place where the Lord Buddhas relics have been enshrined. Spend some time walking through the ruins, and paying respect to the many beautiful Buddhas statues located throughout.
Wat Si Sawai
Within walking distance of Wat Mahatat, towards the back of the park, stands this stunning corn-shaped stupa temple. Initially a Hindu temple during the Khemer period, there are fragments of images of Hindu gods decorating the walls. However, during the Sukhothai period, Wat Si Sawai became a Buddhist temple. I've explored this unique temple with friends and on my own, and every single time the structure and the mythical creatures leave me astounded.
Wat Si Chum
Bike north outside the town wall to visit this beautiful temple. Inside this temple, there is a single large Buddha image that completely fills the space of the building. This Buddha image, Phra Achana, means 'one who is not frightened'. The fingers on the right hand of the Buddha extend downwards and have been covered in gold leaf by Thais.
According to Thai legend, during the reign of King Ramkamhaeng, a Burmese army invading Sukhothai fled at the sight of this Buddha image. On my first visit, during a quiet evening, one of my Thai friends taught me how to chant and pray to Buddha.
After biking through the park and checking out some of the ruins, I love walking through the shops and eating at some of the stands across from Wat Mahatat. They have anything I recently discovered mango sticky rice, a perfect snack or desert after a long day of biking.
Saturday Walking Street
On Saturday evenings, I love to wander through the walking street, which is filled with food vendors, clothing shops, and lots of music. From the guesthouses, simply make a right and walk over the bridge, and the walking street begins on your right. I recommend trying a little bit of everything!
Listen to the music and watch some dancing if you're in the mood. For desert, I love eating a banana roti. It is similar to a pancake, but fried with butter and lathered in condensed milk and bananas.
Day Two
Rent a motorbike and drive through different parts of town. My favorite thing to do is to drive and get lost in different areas, because you never know what you will stumble upon.
Shrine of Phra Maeya
Located at the end of the same street of the walking street, this temple has become my favorite place. Phra Maeya was the mother of King Ramkhamhaeng and is revered by many Thais. Many local townspeople come here on regular basis to pay their respects to Phra Maeya, as well as making offerings. Behind the temple, there is a beautiful white corn-shaped stupa temple containing 8 gold Buddha images.
It is an extremely peaceful place where I have gone to reflect, write, and just feel solace.
Behind the temple, there is a beautiful white corn-shaped stupa temple containing 8 gold Buddha images.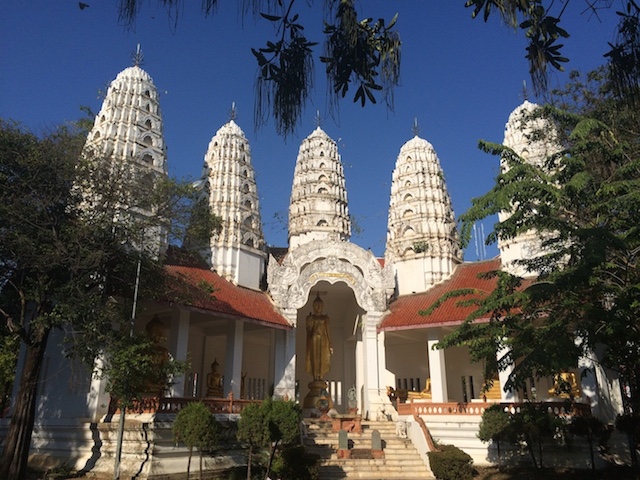 How to Spend 48 Hours in Sukhothai
Sukhothai Noodle Shop
Sukhothai is famous for a special noodle dish named after its province. There are several shops throughout town that sell this dish, however my personal favorite shop is located on the road on the way to the Old City. Most food shops do not have names in English, but it is the brown hut restaurant right next Mrs. Ann's Bakery.
Sukhothai noodles is a mix of rice noodles, in a sweet and sour lime sauce with string bean, crushed peanut, roasted chicken leg, roasted pork shoulder and deep fried pork skin. I usually order the noodles dry without any soup, while most of my Thai friends prefer the soup. For desert, I always opt for coconut ice cream inside a coconut shell with peanuts. I always leave this restaurant pleasantly happy.
Heart-Shaped Lake (Tung Ta Lae Luang)
One of my favorite things to do is drive my motorbike to Tung Ta Lae Luang, the manmade heart-shaped lake in town. It's a bit difficult to find–drive towards the bus station, continue on the road and make a left when you see the heart shaped signs to the lake. Follow the signs driving through the rice fields, and you will eventually come to a beautiful temple in the middle of a heart shaped island in the middle of a heart shaped lake.
This is definitely one of the most beautiful places in Sukhothai. Enjoy watching the sunset and the perfect way to end a weekend in Sukhothai.
How to Spend 48 Hours in Sukhothai
Related Reading
Living in Northern Thailand: The Real Deal with Laura Lopez-Blazquez
Have you traveled to Thailand? What were your impressions? Email us at [email protected]pinkpangea.com for information about sharing your experience and advice with the Pink Pangea community. We can't wait to hear from you.
How to Spend 48 Hours in Sukhothai photo credits: Laura Lopez Blazquez and Pixabay.