Holidays in Thailand: 6 Celebrations in 4 Months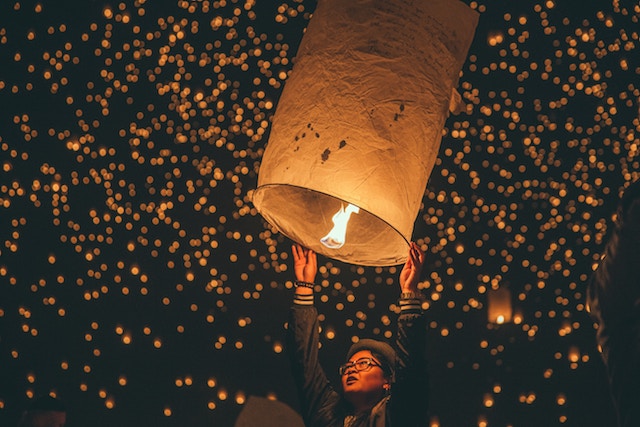 There always seems to be some kind of celebration in Thailand. Thai people love to celebrate, have a good time and dress up. Although most Thais are Buddhist, they celebrate many other religious and cultural celebrations in addition to their own.
In the four months I have lived in Thailand, I have celebrated more holidays than I would in a typical year. In fact, just this past week, I wore a wedding dress on Valentine's Day and a Chinese style outfit for the New Year. While I was new to celebrating many of these holidays, even the ones I had celebrated before, seemed different. However, the goal has always been the same: to teach others about the holidays that different cultures, religions and countries celebrate and to have a good time. None of these holidays were too commercialized; instead, they were just filled with laughter, food, music and smiles.
Here are 6 holidays that I've been lucky enough to celebrate while living in Thailand:
Holidays in Thailand: 6 Celebrations in 4 Months
1. Loy Krathong Festival
From November 2-6, there were food vendors, competitions, concerts, elephants, and parades surrounding the 700-year-old ruins in the Old City of Sukhothai for the Loy Krathong Festival. In Thai, loy means 'to float' and a krathong is a circular floating object decorated with banana leaves, flowers, a candle and incense sticks. The purpose of the festival is for Thai people to pay their respects to the Goddess of the River, Phra Mae Khongka, to show their gratitude for their plentiful water and to ask her forgiveness for the ensuing pollution. Additionally, floating the krathong away, also represents floating away misfortune in the past and asking for good luck in the future.
During one of the nights of the festival, my boss took my co-teacher and I to the festival with her family. She bought us krathongs, led us toward the river and said: "Put all of the bad things inside the krathong and let them float away for tomorrow will be a better day." The Loy Krathong festival is also known as the Festival of Lights, so I launched a sky lantern, known as khom loi into the sky.
I let it go and wished for happiness, love, and health for all of the people dear to me. It was such a symbolic and beautiful gesture, and I was so grateful to have been a part of this festival.
2. King's Birthday
December 5th is the King of Thailand's birthday. Thais love their king and consider him to be a father figure. In fact, the King's Birthday is also known as Father's Day in Thailand. During the week leading up to his birthday, all of my students drew portraits of the King and made Father's Day cards.
In honor of the King, we wore yellow, the color of the monarchy, during all of December. During the week of his birthday, there were festivities throughout the country, but since we had some time off of school, my friends and I celebrated in Bangkok.
On the night of the King's Birthday, we joined thousands on the lawn of the Grand Palace to light candles for the King and to watch fireworks. It was really fascinating to experience how much love and admiration the Thai people have for their King.
3. Christmas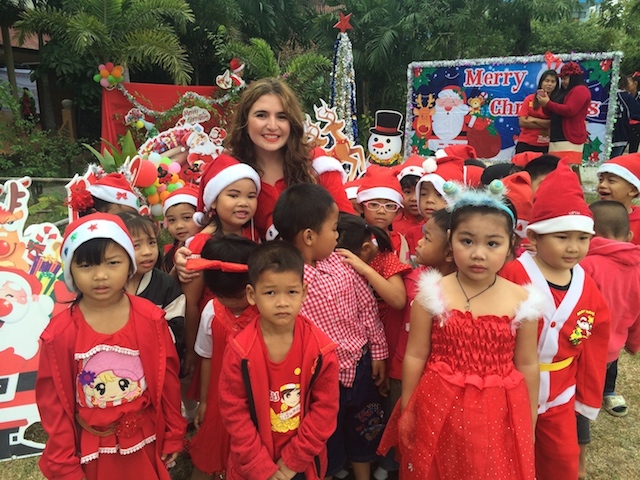 It was very surprising to me that Christmas was a big deal in Thailand. In the weeks leading up to December 25, there were decorations everywhere and all we were doing at school was singing Jingle Bells and preparing for the Christmas Day assembly. Our school director explained that we celebrate Christmas to spread good cheer and to teach the students about a holiday that other countries celebrate. On Christmas Day, my coworker and I dressed up as Santa Claus, while all of the other teachers and students wore red, as well as Santa hats.
We took hundreds of pictures, had a Christmas card competition, sang Christmas songs and dnced all day. All of the teachers pitched in and got each student in my school a gift and a piece of cake. Our students could not stop smiling. In the evening, my friend's family hosted a Christmas Block party, which included Thai food, chicken fingers, karaoke, and a Secret Santa exchange.
Overall it was definitely the craziest and most eventful Christmas I have ever celebrated. Christmas was not commercialized, and people did not stress out about it. They just decorated, bought funny gifts for each other, and sang and danced to Jingle Bells
4. Teacher's Day
On January 16, all schools and businesses were closed for Teacher's Day, a national holiday in Thailand. One of my coworkers explained to me that Buddha and the King of Thailand are both teachers. She told me, "Thai people believe teachers are number one." Teachers are highly respected and valued in Thai society. In fact, once I tell random strangers that I am an English teacher, they immediately treat me differently and show how deeply they respect me. To celebrate teachers, the mayor of my town organized a special sports day for us, in which we played a bunch of funny games. Teaching is an important and difficult job in any country and I am so happy that Thailand celebrates teachers every year.
5. Valentine's Day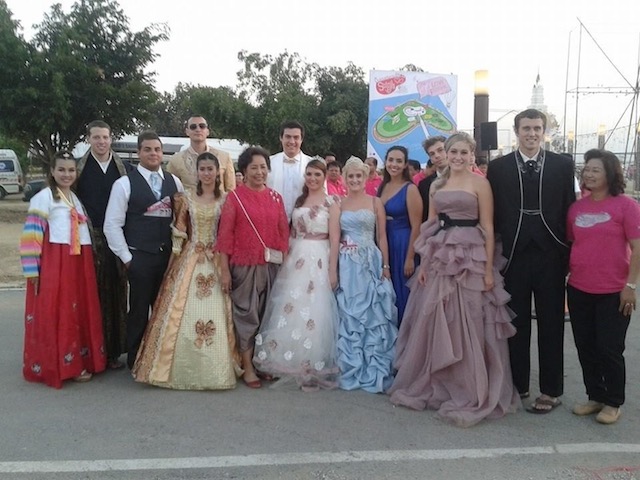 On Valentine's Day, there was a "Love Festival" at the heart-shaped lake in my town. My friend was one of the event organizers, and she asked all of the foreign teachers to dress in fancy outfits and participate as the celebrity couples. Several couples from my town and other provinces competed with us in a relay race to prove our love. We ran in wedding dresses and ball gowns to various stations, which included popping a balloon, walking tied together and releasing fish into the water.
Running in a wedding dress was not easy, but it was pretty funny. We walked through a lit tunnel, posed for pictures with the townspeople, enjoyed a fancy dinner, and watched fireworks. I felt like Cinderella at Disneyworld. Needless to say, this was an interesting and fun Valentine's Day. Just like during Christmas, I didn't feel the pressure of the holiday. I also didn't feel bad for being single, and my friends in relationships didn't feel pressured to have to do something because of the day. It was just a day filled with too many laughs.
6. Chinese New Year
Many Thai people have Chinese descendants, which is why they celebrate the Chinese New Year. On Thursday, February 19, all of the teachers and students in my school arrived dressed in Chinese-style costumes. Many wore typical Chinese dresses or shirts, while others simply wore red. The Chinese language teacher at my school decorated the stage, and prepared a special celebration.
During the special assembly we made offerings of food, said prayers, lit some incense candles and watched the students perform. It was a wonderful celebration!
Have you traveled to China? How was your trip? Email us at [email protected] for information about sharing your experience and advice with the Pink Pangea community. We can't wait to hear from you. Photos by Unsplash and Laura Lopez-Blazques.