6 Important Things to Expect While Volunteering on a Sustainable Farm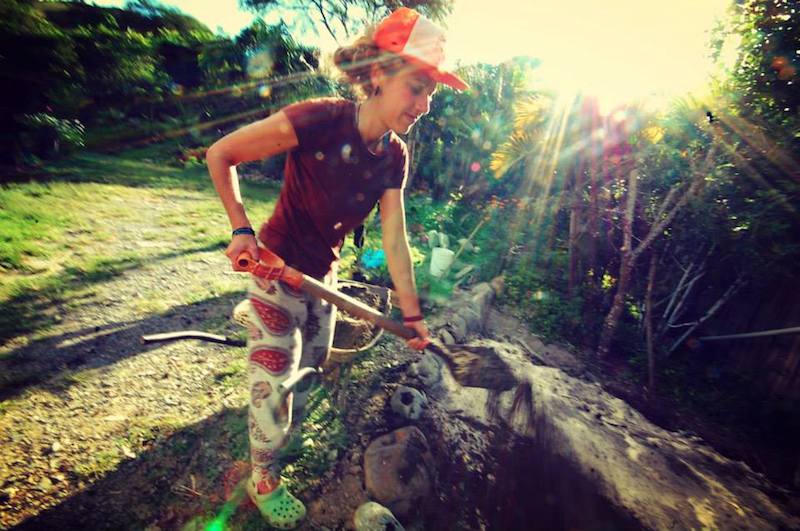 If you've ever traveled before, you likely have an idea that there are a wide variety of ways that you can move about this wild wonderful world. There's everything from the high hotel life, to the guesthouse/hostel style living. There's cycle touring, and roughing it in the woods with your tent, there's hanging with the locals through networks like CouchSurfing and Airbnb. Another way to experience a new place is to do work exchanges on farms, often organized through websites like WWOOF and Help Exchange. It works like this: you contribute labour for an agreed upon amount of time each day, in exchange for a place to sleep and food to eat.
I've had many experiences volunteering on farms in exchange for room and board. From the rolling hills of Quebec, to the flowery lakes of Nova Scotia, the West Coast of Canada, the Pacific Northwest of the United States, and the subtropics of Australia. And now I'm on a little permaculture haven in Ecuador. Each experience has been unique, but there are also some similarities from farm to farm, which has helped me prepare. Working on farms is a really eye-opening and special experience, where one has the opportunity to experience how a culture grows, cooks and eats food, and connects to the earth.
Economically speaking, it's also a great option for the budget traveler. But mostly it's about developing relationships with the residents of a country, with food growers in a country, and with the foreign soil that you tread upon.
If you're thinking about embarking on a travel adventure that incorporates a work-stay experience on a farm, I highly encourage you to go for it. Here are a few things you can expect to find:
6 Things to Expect While Volunteering on a Sustainable Farm
1. Be ready to experience a steep learning curve.
Being from Canada, I had no idea how a macadamia nut tree grew, nor how to de-hull one when I arrived at a multi-use farm in Australia. In fact, I didn't know the flora or fauna at all, and couldn't quite comprehend what was going on when I was woken up at 5 o'clock in the morning by the horrid sound of mating koalas. There is so much to learn out there!
2. Delicious food.
Depending on the farm, they may ask you to contribute some money for food. But more often then not, in exchange for your labour, you'll have a pillow to lay your head upon, and delicious and nutritious food every day. Often this food is coloured with the fruits of your labour, and often they are cooked for you with local and fresh ingredients.
At a farm in Quebec where I volunteered for a month, I fell in love with the reject vegetables–those slightly not good looking vegetables that perhaps aren't market worthy, but still taste crisp and fresh, having been picked that day. Sautee up some onions and greens and scramble them along with eggs you collected from the chickens that morning, and you have yourself a mighty fine tasting meal–from the fields you've been working. In farms in Australia, I had the pleasure of eating copious amounts of ripe fatty avocados that were weighing down a tree, and I discovered that you can smear macadamia nut butter on anything and it will always taste delicious! The foodie farm world awaits!
3. Be respectful and humble of your hosts and the environment around you.
Respect goes a long way. When you show genuine curiosity, awareness of the physical and mental toll you have on your hosts, and respect others' life decisions, you'll no doubt have a more positive experience. I was amazed the first time I experienced a composting toilet. With curiousity and humility, I asked questions about why I was pooping in a toilet. Humility folks. Humility.
4. You might have to compromise on your normal creature comforts.
Part of being a helper on a farm is living simply. And it in turn gives us a great deal of perspective on what is really important to us in this world, and what habits we might have that aren't environmentally sustainable. You'll likely be doing physical labour, perhaps living in interesting living quarters (funky tents, trailers, in the farmer's home, in hammocks) and getting good and dirty. The reward of getting your hands in the soil, and eating a meal at the end of the day that perhaps you had a hand in growing, is remarkable. And truly, abandoning the bed for a while exposes you to nature like nothing else. Take for example the time I lived with a python under the same roof for a month. At least my food never had a rat invasion?
5. Expect to develop meaningful relationships.
Farmers are some of the hardest working people I know. It's not just about putting seeds in the ground, it's about caring for the soil in which the vegetables gather all their nutrients. Sure, not all farmers are putting environmental sustainability first, but when you meet those who do, you really recognize the importance of having farms with responsible practices, and you'll feel it in your physical body. These hard working farmers, are some of the most inspiring, open and generous people I've met in my life, and getting to know them has been formative.
6. Be open.
If you approach a farm stay with an openness of heart, the experience will be all the better. If you are open to trying out new tasks, new foods, new conversations, new activities and really challenging yourself, you'll gain so much from the experience. You'll learn where your boundaries exist, when you tire, how to communicate better, how to respect others' ways, and how to be humble. These are life skills that stretch way beyond that row of carrots you just weeded, or that fence post hole you just dug!
Photo by Kayla Siefried.