American Cities To Drink in the Streets In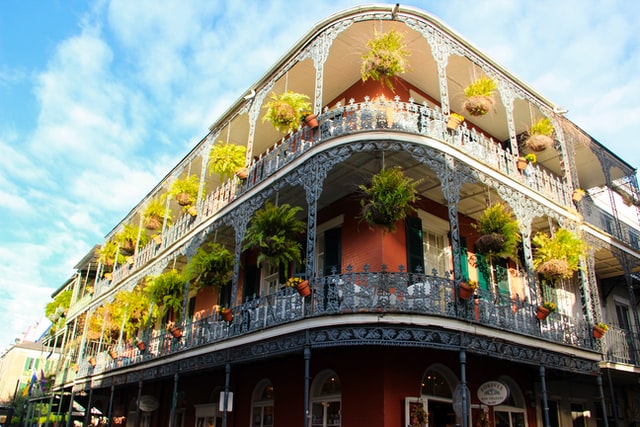 In most places in the USA, drinking in the streets is forbidden. But for those places where outdoor alcohol consumption is allowed, there's a whole different drinking culture. Here are some of my favorite American spots for drinking outside. Just remember to drink responsibly!
5 American Cities To Drink in the Streets In
New Orleans, Louisiana
It doesn't get much better than NOLA. The French Quarter is notorious for sensational block parties and street parades that emulate a distinct jazz-age, whimsical spirit throughout the streets. Bourbon St – aptly named after the alcohol – is blocked off every night for the crazy festivities that take over the city.
I spent a little over 12 hours in New Orleans, on a random Wednesday night last summer. I still maintain that it was one of the greatest nights I've ever had out. I've always been fascinated by the charm of the city, its rich history of witches and voodoo, slavery and colonialism well documented throughout pop culture, from American Horror Story to Now You See Me.
In terms of drinks, you cannot really pass by the NOLA specialities – Bloody Marys, Hurricanes, Shark Attacks and my personal favourite, the Hand Grenade. Don't be fooled by their novelty shark accessories or bright colours and sweet taste. These drinks are deadly!
If you're there to tear up the dance floor, there is something for everyone. Get down to some Dixieland music and maybe even join the band on stage to play the spoons. Rock out to some line dancing amidst Calvin Harris hits in a warehouse club. Get mixed up in the craziness of the place, talking to strangers and bartering for free beaded necklaces. But do beware. It is as easy to make both friends and foes in NOLA. Keep an eye on your bag, and travel in pairs.
Key West, Florida
It seems like the unofficial motto of Key West is "It's 5'oclock somewhere." And 5'oclock is definitely something to be celebrated in this, most Southern point of America. Every night, locals and tourists alike flock to the beautiful waterfront to watch the sunset. Streets are lined with street performers, craft stores and shops full of merchandise sprouting the very famous phrase. There's something so special about a quaint, beachside town that essentially closes down to appreciate the daily phenomenon of the sunset…with a drink in hand, of course.
Savannah, Georgia
As the oldest city in Georgia, Savannah has a beautiful and well-preserved historical district. Amidst the gorgeous hanging trees, Savannah is bursting with charm and history…and ghosts. Walking tours throughout the city will explore the rich civil war history while entertaining you with stories and 'evidence' of ghost encounters throughout the town.
Outdoor drinking is the way to go, whether on a rooftop or on the street because the town is just beautiful. Enjoy the beer garden at the Moon River, the "most haunted" pub in Savannah as seen on Ghost Adventures.
While bicycle pub crawls are popular around the country, permission to drink on the streets make cycling around to get to the next bar more endearing. I strongly recommend it. It is the one activity I was so thoroughly looking forward to, but missed out on due to spontaneous flash flooding.
Las Vegas, Nevada
If you've ever been apprehensive of day drinking or drinking on the street yourself, Las Vegas is for you. No matter the time of day, you'll be met with much drunker people on the streets either winding down from the night before or just getting started. You'll always feel like the most sober one on the Strip.
Las Vegas is an intense city; definitely not one for the light-hearted. The bright lights, the constant bustle, the smoke that fills the casinos (smoking is permitted inside) is a lot to take in for more than a few days. Undeniably, it is a one-of-a-kind party experience. Just beware of any wedding chapels or Mike Tyson's tiger.
Here's one drinking tip for Vegas: invest in a cup at Fat Tuesday. The collectable cups will earn you cheaper refills at the many stores littered throughout every casino and all down the Strip. A delicious, sweet slushy – with only a $1 cost to overflow it with an extra shot – is one of the cheapest alcohols in the city, and bound to get you as drunk as downing a couple of Smirnoff Double Blacks like a tween.
5 American Cities To Drink in the Streets In
College town on Game Day
Technically this is not a licensed street to drink on, but I couldn't create such a list of drinking cities without mentioning the college town. Game Days are an unprecedented phenomenon. And with no bias at all but a little bit of deep-seated Badger Pride, there is no town that does it better than Madison, Wisconsin.
After spending a semester – and more importantly, Football Season – there, day drinking is just a fact of the game. Tailgates and game day parties put the smell of sausages and cheap, keg beer in the air. The city closes down as anticipation builds but nothing can truly prepare you for the sight of overwhelming grateful red in a stadium of thousands. Add some beer pong and been bag toss and you're game day ready. Go Badgers!
5 American Cities To Drink in the Streets In photo by Unsplash.